Site of Xanadu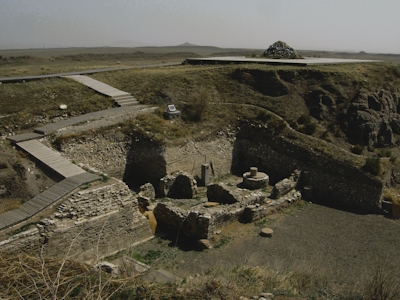 Photo provided by Boj Capati
The Site of Xanadu encompasses the remains of Kublai Khan's legendary summer capital of the Yuan Dynasty.
Located on the route between the former Mongolian capital Karakorum and the Han center Dadu (Beijing), it shows a unique mix between Mongolian and Han Chinese traditions. It is located in the current Chinese autonomous region of Inner Mongolia.
The city was built in 1256, and became summer capital in 1274. The city became an important stopping place on the silk route, receiving many foreign envoys. In 1368 it was conquered by the Ming and destroyed.
The site at the edge of the Mongolian plateau includes the former city with temples and palaces, water control works, tombs, natural features (grassland, wetland) and traditional oboo (stone cairn) shrines of the Mongolian nomads.
Map of Site of Xanadu
Legend
Community Reviews
---
Just returned from the site (February 2013). It is not very wise to go there in winter (temperatures are currently around -16 C and it is extremely windy). But in spring, summer, or autumn it must be a lovely place.
To get there you need some preparation. I was advised to go to Doulun (direct bus from Liuliqiao Long Distance Bus Station in Beijing, 8 hours). In Doulun you should hire a taxi to take you to the spot but it is not easy. The roads are very bad and you will encounter some language problems. Xanadu (or Chinese Shang-du) is also a name of modern town which lies some 20 km from the site of Xanadu. Be sure that your driver knows where to go, otherwise he will probably drive you to Shang-du town.
There are no signs, marks of Xanadu (site) in neither of the 2 towns (Shang-du or Doulun). But once you get there everything is well described, prepared for visiting (signs in Chinese, English and Mongolian). The whole area is fenced and there is an entrance fee (but I was the only guest in February, so I paid nothing). It was not much left but at least you can see the walls, moats, ruins of temples and palaces, the roads, the layout is still visible. The whole area is surrounded by grasslands of Inner Mongolia
---
Community Rating
Community Rating 3.00. Based on 1 votes.
Your Rating
Site Info
Full name: Site of Xanadu
Unesco ID: 1389
Inscribed: 2012
Type: Cultural
Criteria: 2 3 4 6
Site History
2012 - Revision

Formerly on Tentative List as Historical Remains at Yuan Shangdu (1996)

2012 - Inscribed

1981 - Deferred

At Bureau - Concern regarding Dam (As former TWHS Historical Remains at Yuan Shangdu)

1980 - Deferred

As former TWHS Historical Remains at Yuan Shangdu
Site Links
Unesco Website
Official Website
In the News
Connections
The site has 13 connections. Show all
Visitors
11 community members have visited Site of Xanadu. Show all