Selous Game Reserve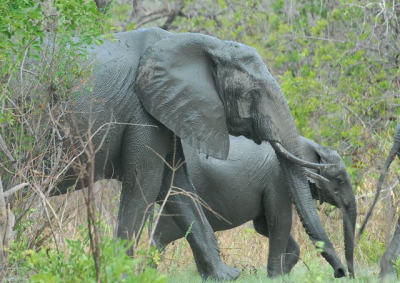 The Selous Game Reserve is one of the largest fauna reserves of the world, located in the south of Tanzania.
It was named after Englishman Frederick Selous, who died in 1917 while fighting against the Germans in World War I. It was designated a UNESCO World Heritage Site due to the diversity of its wildlife and undisturbed nature.
It has a total area of 54,600 km2. Some of the typical animals of the savanna (for example elephants, hippopotami, African Wild Dog and crocodiles) can be found in this park in larger numbers than in any other African park.
The area became a hunting reserve in 1905. Nowadays it has a touristic importance and most of it is rarely visited by humans. The strong presence of the Tsetse fly discourages visitation.
Community Reviews
---
2.00 Chinese-Canadian - 26-Aug-23 -
One would think I enjoy a nature park with animals and on paper the vast area is extremely impressive. However, there are so many problems with the park.
For one it's now called Nyerere after the Tanzanian hero rather the British big game hunter Selous (Seluuu) although everyone still calls it Selous around here. I also saw a map in the management office that splits up the park so technically Selous Game Hunting area (yes, HUNTING!) is south of the river to the edge of the park. The west side is Nyerere NP whereas the park area you will visit is an extra territory all together.
Basically the tourist area is really small. From one gate to another is 70km or so and the circuits around the sides aren't too big. Some are even private due to lodges and villages. You can still easily spend a day driving around.
It's easy to get to Selous actually despite what other reviews say. It's NOT an easy drive from Dar Es Salaam although I did it in 4h rather than the 6½h going the long way on paved road. However, don't do a self drive. Actually don't do a self drive in Tanzania in general. It's not worth it. You can hire a guide with professional safari jeep for decent prices and you get so much more out of it. My Prado even had issues getting around the tall grass where the lions hang out and this was dry season. 99.999% of tourists fly into the airstrip just at the gate, get picked up and immediately start their game drive. It's so easy and smooth, why would you bother with expensive rental, Tanzanian roads, police checkpoints, petrol (no gas around the west side of the park although one station is about to open), risk car damage and don't forget the drive back!! So unfortunately I did do alll that, had to pay extra to get gas delivered to me, then later figured the road west out of the park is faster towards Moro but it's not an easy drive (there were some shifty gas stations though). Once again, don't. As much as you love self driving for flexibility or prestige etc just fly in and go on a tour. You save money not staying at the expensive lodges and save soooo much time.
As for the wildlife, didn't see as much as expected. Elephants are rare. In fact their numbers dwindled so much it's crazy. Lions were around, giraffes, many birds, sometimes zebras and definitely the usual suspects like wildebeest, nile crocodiles and hippos. Rhinos are going to be impossible to sight in the northern section of the park. The entire southern part of the park is unofficially open for poaching, they say it's in cahoots with the local authority. The number has dwindled so much that the site is in danger due to poaching and I think it should be delisted not just for that.
UNESCO also approved of the site boundaries to change to allow uranium mining. While I have seen this done in other sites that's alright a bad start. Second is the poaching, third is encroachment because local cattle drivers will just go in the park (not the touristy part) and every morning I saw them across the river. Fourth has to be the horrible management because I wonder what they do for protection. The park definitely makes money from all the tourists and with some investment into the road from Dar Es Salaam there would be more income for the local lodges. I was the only guest at my lodge and afterwards there was a week downtime before the next guests would arrive. It's also possible to stay in a lodge within the park by the way, which might be better anyway.
So in summary I believe there is nothing unique about the endangered park that had so much eroded already. You can do a game drive in any random national park around Tanzania and see similar stuff. No wonder more tourists enjoy the northern parks more.
---
Continuing our southern roundtrip in the south, our guide took us from Kilwa Masoko to Kibiti (about 180 km) on the B2 road before turning west. On the map it looks like turning west at Ikwirir would be better, but apparently a bridge was out of order. From Kibiti it's dirt road for 70-80 km, and it's a lot of heavy traffic due to the construction of the giant hydroelectric power plant.
It took roughly 5 hours to the Mpingo Lodge a few km outside the Nyerere National Park, which is the part of Selous Game Reserve you can visit without a hunting license. The lodge is run by two local tough girls which really make your stay special and the place has a wonderful overview og the Rufiji river. As at our prior lodge we were the only guests which suited us just perfect.
Still early afternoon, we managed to arrange a visit to the nearest local village, Mloka. While enjoying the local life we couldn't help noticing that this village recently has been drastically changed. Heavy trucks were parked everywhere, either to be fixed or the drivers simply having a break. The enormous "clouds of dust" these vehicles make is devastating to the plants, animal life and the local villages.
Early morning next day we started with a river safari upstream on the Rufiji river. Since this wasn't our first ever river cruise we had expectations and they werer fulfilled. WE really appreciate this kind of safari. It's rather a quiet way of enjoying animal life and it's wonderful. Halfway we registered at the park gate, then we continued the river cruise until lunchtime. There our driver/guide picked us up and continued the safari (land) the rest of the day.
We had one more day with a full day (land) safari which took us to remote corners of the park. We met our first lions in the wild ever. A fantastic moment. Later that would become more of a habit.
As this was our first safari on this journey, we didn't have anything to compare it with, but later we could. The good thing is that this park is very relaxed, you don't meet many other safari vehicles (as long as you get away from the trucks). Being "on your own" out here is a good feeling. In addition, the river cruise makes the difference (combined with "standard" safari).
Driving offroad gives an ambiguous feeling. Sure, you can go almost anywhere but the impact on the delicate environment must be substantial. Maybe that's why they decided to ban it.
On the last day of this roundtrip we headed back to Dar by another dirt road from Mloka heading northeast. Some places the road is really bad, but our experienced driver manged it without any trouble (and I think we would have managed it too). The landscape rises when leaving Nyerere Nation Park so it's time to get a good overview photo.
After 3-4 hours we were let off at Julius Nyerere Airport of Dar es Salam. Our first roundtrip of Tanzania was completed.
---
Though Selous has been visited by much fewer WHS enthusiasts than the other Tanzanian natural entries on the WH List, the park is by no means difficult to visit. Selous is located on a tourist trail, it is visited by many and there is no problem finding a safari there from Dar es Salaam or Zanzibar. Most of the visitors come there with small light aircraft from Zanzibar. You can get there from Dar by plane, but many tourists come also by land. The route takes about 5 hours and is terrible in places - I definitely do not recommend it without a decent 4x4. The accommodation base at the park itself is quite large, although due to the crisis caused by the pandemic, some places have been closed - temporarily or even permanently. I stayed at the African Safari Lodge, which I can recommend for its good cuisine.
At the beginning I would like to add that although the entry on the UNESCO list is still called Selous Game Reserve, the national park is not called that anymore. As part of the decolonization of names, at the request of president Magufuli, it was renamed into Nyerere National Park. This is how almost everything in Tanzania is named after the country's first president.
Selous is the largest national park in Tanzania, occupying 55 thousand square kilometers, which is about the same as the entire territory of Croatia. However, tourist traffic is concentrated mainly in its north-eastern part. A standard trip to Selous includes three elements - a boat safari on the Rufiji river, a short guided walking safari, and a standard car safari. All three are highly recommendable, although in my case only the car safari took place inside the park's gates. I started with a boat safari which is the best chance to see Nile crocodiles, hippos and water birds up close. In a pedestrian safari, you can even come across an elephant or a hyena, although a guide with a spear and a guard with a firearm make mzungu feel safe at any time.
The basis of the visit is of course the car safari and I tell you, there is probably no better place than Selous to observe the wildlife up close. Not because there is the most of it here (in terms of the density of animals, nothing beats Ngorongoro), but because Selous - as probably the only national park in Tanzania - can still be explored off-road. I was told that although off-road driving has been officially banned, the park management has yet to establish official roads and until this happens the ban is being ignored by everyone. Thanks to this, you can get very close to all animals that are not shy. In Selous you can meet most of the African animals, although, for example, rhinoceros are kept only in strict reserves. The peculiarity of the park is the East African wild dog, but I did not have the opportunity to see it during the 10-hour safari. From the big five you can easily see buffalo, elephant and lion, and from other animals - dozens of hippos, giraffes and antelopes and other smaller ones.
Although I liked the visit to Selous very much, I have doubts whether this park will remain on the UNESCO list for a long time. The current Tanzanian president Magufuli not only changed the name of the park, but also approved the construction of a giant hydroelectric power plant in its center.
https://en.wikipedia.org/wiki/Julius_Nyerere_Hydropower_Station
The project to build a power plant here has existed for a long time, but all previous presidents bowed to the global public alarming about the threat to wildlife. Magufuli had no such scruples. While European and North American companies boycotted the project, Tanzania found partners in Turkey and China. Currently, a wide road runs through the center of the park, on which trucks and cement tanks pass every few minutes. Sorry to see the animals scared by the roar of trucks. Of course, the greatest environmental impact will be from closing the dam and creating a huge artificial lake in the park. If that's not an argument for taking the park off the list, then I don't know what is. The magnitude of the infringement appears to be comparable to that of the Omani oryx case and much greater than that of the German Elbe Valley.
---
We visited the Selous Game Reserve last February. There were heavy rainfalls the week before our visit so we have been stuck with our landrovers regularly, even worse we got stuck in the mud with our small airplane as well when we went from Mtemere airstrip to Zanzibar. Luckily we travelled in a group of 3 landrovers, so there was always someone to help.
Selous Game Reserve is huge. Being a tourist you can only see a small part of it, another big part is reserved for hunting. We stayed at a bush camp at Lake Mwanze. From there we did a walking safari with a ranger on which we encountered girafes, elephants, monkeys and hippos. Really impressing, especially when you are on foot. Although it was early in the morning the temparatures were already quite high, about 30 degrees at 8 o'clock already. By the way: the hippos also visited our bush camp at night when they came out of the water for grazing, they just walked over the campsite and went their own way.
Our second place to stay was the Selous Mbega Camp on the banks of the Rufiji River where it is possible to do a boat safari to see hippos again, crocs and lots of birds.
Selous Game Reserve is a great place to see with lots and lots of game and beautiful diverse landscapes and not many tourists at all. If you ever get the chance to visit it, do so, it's really worth a visit.
---
Site Info
Site History
2021

Advisory Body overruled

IUCN advised to delist the site due to construction of Stieglers Gorge dam. Overruled by WHC, to be further discussed at 46th session.
2014

In Danger

Due to poaching
Site Links
Unesco Website
Official Website
Related
In the News
Visitors
39 Community Members have visited.