Sarazm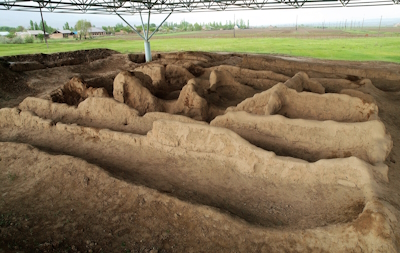 The Proto-urban Site of Sarazm comprises the archaeological site of an ancient settlement along a major trans-Eurasian trade route.
It had connections to Central Asia, Mesopotamia and the Indus civilizations. From the Bronze Age onward, its agricultural and trading activities were extended to metallurgy (tin and copper) and handicrafts. It was abandoned around 2000 BC.
Community Perspective: a low-key site with a tiny on-site museum, that takes an hour to visit at most. It can be reached from the Tajik town of Penjikent (by taxi or your own transport), or more easily since 2019, as a "country hack" day trip from Samarkand (Uzbekistan) as described by Zoë and Nan.
Community Reviews
---
Sarazm in Tajikistan is one of the oldest settlements in Central Asia, dating back over 5,000 years. Excavations in the 1970s revealed a thriving Bronze Age urban centre engaged in agriculture, trade and metallurgy. The Zerafshan valley had many mines, especially for tin, which was needed to make bronze in the Bronze Age. The area was therefore an early trading centre.
As is often the case with Bronze Age sites, there isn't much left. The foundations of several houses can be found, sheltered under tin roofs. The paths are covered in thorny grass, so bring long trousers. Although the surroundings are rather barren, the views of the mountain range are stunning.
The nearest town on the Tajik side is Penjikent, a little further upriver. And across the border on the Uzbek side is Samarkand, which outshines everything. There are a few houses around Sarazm, but nothing you could call a town. Don't expect a cafe, bank or any other kind of tourist amenity.
The place has been given some tourist treatment. They have a fancy entrance arch (see Zoe's picture) and there are stalls for vendors. But they were all closed as there simply weren't any tourists. There is a museum on the site with a small exhibition and some outdoor replicas. It's pretty basic and doesn't add much value. If you want a special experience, ask the museum for the key to the toilet... Trust me, you will be in for a treat.
Getting There
As described by Zoe, Sarazm is an easy day trip from Samarkand. To avoid the hassle of finding the bus stop in Samarkand, I took a taxi to the border. The border post is in a green field and I just walked across. While Tajikistan now offers Visa on Arrival for most Western countries, the immigration process in Tajikistan was still a bit chaotic: first get a stamp at this booth, then here, then ...
Beyond the border, there was a single money changer and plenty of taxi drivers waiting. You should probably change money in Samarkand beforehand to get a better rate. Instead of taking a taxi for 5km, I decided to walk to the site. The walk from the border to the site offers stunning views of the surrounding mountains.
On my return to Uzbekistan, many taxi drivers were waiting on the Uzbek side to take me back to Samarkand. But their initial prices were insane and I didn't want to go back to Samarkand just yet. I took a minibus to Jartepa II Temple, another Silk Road site near the border post, before taking a taxi back to Samarkand.
Another option is to continue to Dushabe via Penjikent.
While You Are There
Along the Panj River you will find several Silk Road sites. If you're planning to spend a night in Tajikistan, Ancient Penjikent should be nice and is also a Silk Road site. On the Uzbek side of the border, the Silk Road continue as the road follows the original Silk Road. The Jartepa II temple is worth a quick visit before heading back to Samarkand.
---
1.50 Chinese-Canadian - 19-Aug-22 -
Feel a bit cheated spending all morning to get here but at least it didn't cost a lot of money and the local Tajiks are very happy to see foreign tourists visit - not that many will actually pass the border crossing from the guard's astonishment to see one.
So I did this from Samarkand which is only 1h by car. Get to the local minibus station called Kaftarxona and you'll find a bus leaving very soon, most people just going to the east of the country not actually to the border. It only costs $2 and don't let the driver fool you it's expensive. You can then walk across the border, usually it's fast, and after 10 minutes you can find a taxi at the Tajikistan side. It should be max $10 to drive you to the site and wait to drive you back. It's too far to walk. On your way back you'll get through the customs again, find a minibus going to Samarkand (may also go to Registan if you are lucky) and the entire thing could be done in 4 hours.
Main reason I say this is because the site is very small and there's not much to see. The dig sites give an impression how the building interiors looked before, take a picture and move on - there's a museum at the end which set me back $3 (lady took Uzbek money) and you see some shards and tools. Overall this isn't impressive and one has to keep in mind that the society was somehow ahead of it's time or something but you don't really feel that from the small displays. I wonder if lots of stuff is not shown. There are also not enough info panels to give a better impression so I'll have to go away disappointed and this all felt like a "country hack" to get Tajikistan on my seen list plus another site of course too. I guess I'm happy not to do this from Dushanbe in the future.
---
2.50 Switzerland - 24-Aug-19 -
Sarazm is an archaeological site of a proto-urban settlement dating from the 4th millennium BCE to the end of the 3rd millennium BCE. The ruins demonstrate the early development of human settlements, with proto-urbanization, with signs of early cattle rearing, then agriculture and then of existence of commercial and cultural exchanges.
Sarazm is situated on a western tip of Tajikistan, some 5 km from the Uzbek border. The good news for 2019 is the re-opening of the border crossing, and so Samarkand is now only 50 km away. It is possible to visit on a day trip (most nationals will still need an e-visa for Tajikistan though). I made the long (but scenic) trip from Dushanbe on a perfect brand-new road with a local driver, as it is almost impossible to rent a car in Tajikistan. The site is next to the main road and easy to find.
Saraz was only rediscovered in 1976 and excavation soon started and are still in progress now (see picture). Four layers of stratification are interconnected. The most important archeological finding on the site is the burial site of a woman with fine jewelry. She is called "the Lady of Sarazm" and her remains are displayed in the Museum of National Antiquities in Dushanbe.
The site is low key. It consists of several excavations sites some protected by metal roofing, in the middle of a much larger field. Plans for a parking area and a monumental gate to the field is being worked on. They seemed not to endanger the site though. Several explanation plaques allow better understanding on the remains.
Half-an-hour to an hour is sufficient to extensively visit this site. I would strongly recommend to allow some time for two nearby TL: the ancient town of Pendjekent and the Mausoleum of Mukhammad Bashoro.
---
Visited this site in September 2018 as part of weekend trip to Tajikistan. It took approximately 3 hours to cover 250 km through picturesque Zaravshan river valley (nomination for 2020 as part of Silk Roads: Zarafshan Corridor) to the site. Sarazm was already inhabited over 5,000 years ago (and this lasted for 1,500 years) and is one of the most ancient cultural place on the earth. It doesn't look much remarkably: there are five covered archeological digs with clay structures. I was trying to identify the place with round structure looking very similar to small Roman theatre located in Excavation V (this view is featured in a number of old photos as the postcard of the site), but currently there is nothing left resembling this structure, probably it was covered with clay for preservation purpose somehow. The site was discovered only in 1976. Tiny on-site museum has some basic finds and photos of presidential visits to the site. Going back to Dushanbe I also visited ancient Penjinkent ruins, where many Sogdian frescos were found (and moved to Saint Petersburg's Hermitage). As per the guide, more frescos were identified on-site by the recent dig-outs; they have been conserved and will be unearthed during next season.
---
Site visited in July, 2017. Located around 2 km from Sarazm village, 14 km from Penjikent, north-western part of Tajikistan. There is no direct public transport to the place, although there are marszrutkas from Penjikent to Sarazm village (not very frequent, mostly in the morning). The most convenient way to get there from Penjikent is to take a local taxi. Standard fare for such a trip is around 20 somoni (one way) plus 10 somoni for waiting time on the spot.
The whole area is fenced and can be visited free of charge. It consist of 5 excavation places, all covered by steel roofs for protection. In fact apart from walls measuring up to 1 meter high there is not much to see but have in mind that the city is 5500 years old. Small museum located nearby was closed during my visit, probably there is much more to see in the museum in Penjikent.
The site is pretty similar to Shahr-i Sokhta in Iran (similar semi-desert location, comparable age and material used for construction) althouhg the latter one is much bigger and by far better exposed and prepared for visiting (visitrs centre, plaques, walking paths, tables with English description).
---
The ancient site of Sarazm is to be found about 15 kms west off Penjikent in north-western part of Tajikistan. Travelling from Dushanbe, it takes about 4-5 hours to reach Penjikent and let me tell you, even though you might think otherwise, that's one of the best roads to be found across the country. The site itself is well-marked, behind a small fence and the excavations are protected by a roof. Some basic information is provided, but not very much. Info booklet can be bought in the Rudaki museum in Penjikent. I really missed a local tour guide here who would give us some context of the culture and the excavation works, as, for example in Cattalhoyuk in Turkey. Some of the artifacts that have been excavated from the ancient Sarazm can also be found in the Rudaki museum, so I'd recommend visiting that first.
---
Site Info
Full Name

Proto-urban site of Sarazm

Unesco ID

Country

Inscribed

Type

Cultural

Criteria

2

3

Categories

Link
Site History
2007

Deferred

To "Explore further the values and significance of the property" and add more protection to the site
Site Links
Unesco Website
Official Website
Visitors
33 Community Members have visited.