Santa Cruz de Mompox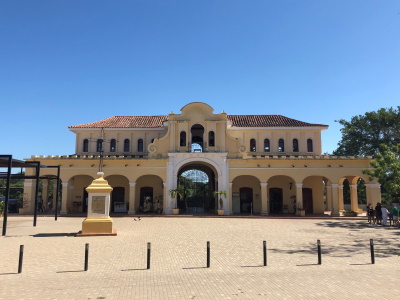 The Historic Centre of Santa Cruz de Mompox has preserved its Spanish colonial character well.
The city was founded on May 3, 1537 by Don Alonso de Heredia as a safe port on the Magdalena. Santa Cruz de Mompox became quite prosperous as a port for the transportation of goods upriver into the interior. A royal mint was established here and the town was famous for its goldsmiths. This prosperity had begun to wane in the Nineteenth Century, but continued until early in the Twentieth Century when the river shifted and sediment accumulated on this arm of the river.
Community Reviews
---

A major element in the attraction of Mompox has been its relative remoteness and difficulty of access. It is situated on Colombia's largest inland "island", Isla Margerita, and any visit to it involved a water journey using a ferry at Yati near Mangague to La Bodega (still 35kms by road from Mompox). And this ferry doesn't just "cross" the river but takes a 40 minute voyage downstream and then up into a different arm of the Magdalena! This added to the mystique of reaching somewhere "up river" where things were "different" even if not quite the "Heart of Darkness"!!
We visited in Dec 2019, but Mompox is undergoing considerable change and its "remoteness" is being rapidly eroded. A bridge was built in 2006 at El Buton on the road from Bucamaranga to the South East. In Nov 2015 another new bridge was opened at Talaigua which permitted a complete road journey to/from Cartagena via La Gloria - longer in distance than the traditional route via the ferry but quicker and more certain! And more change is on the way – the route via Mangague is about to get 2 new bridges across arms of the Magdalena in what is a major infrastructure investment for Colombia. These are expected to reduce travelling time between Cartagena and Mompox from 5.5 to 3.5 hours. Luckily the opening of these had been postponed until Feb 2020 following the discovery of archaeological remains during the building of the approach road, and we were still able to take the ferry by taking the "traditional" route from Cartagena. And a delight it was too, on a crowded rackety old ferry boat with our vehicle having to push the cattle also being carried, out of the way in order to get a parking spot on board! We also noted that we were crossing the same river whose gorges we had visited almost 2 weeks before hand near San Agustin around 1000 kms to the south.
So perhaps it isn't surprising that, as we drove into Mompox at around 4pm we got, not the impression of a sleepy up-river backwater, but of a traffic filled town. And it can surely only get worse? And not only because of the new roads - on the way in we passed the town's airport – this apparently doesn't have scheduled flights - yet?
As the previous review has stated – the old portion of Mompox is limited to a few blocks along and behind the river (c 3 x 8). They won't take you long to explore – but are worth doing so in depth and at different times of day. You may have to "work" to find the town's 6 churches open. We were lucky that the iconic Sta Barbara church with its octagonal "Moorish" style tower (photo used by Watkinstravel) was open for some "deliveries" and we were allowed in, but we never made it into the oldest (1580) - San Francisco.
Mompox is hot, hot, hot, but we found one of the best times to wander was in the heat of the day – the streets were empty of people and that tropical, lethargic atmosphere for which we had come was enhanced. The architecture is certainly well preserved and the central portion seems to have avoided any jarring modern developments (or least insisted that they all adopt standard "colonial" designs). In the midday heat some nice photos of even the main streets with their gleaming white facades and wrought iron grills can be obtained, empty of people and traffic! Evening is another good time – traffic has ceased and people sit out in on the verandas on those famous "Mompox rocking chairs" Along the Malecon (photo) the river slips quietly by – moving surprisingly fast and bringing down large amounts of plant material. The only boats are the occasional local "chalupas" or water taxis. Iguanas scuttle about among the trees and a wide variety of bird life can be seen. By the riverside you will see the memorial commemorating the several visits of Simon Bolivar to Mompox ("If I owe my life to Caracas, I owe my glory to Mompox"). Marquez used one of them (the last) in his semi-fictionalised account of Bolivar's last days ("The General in his Labyrinth"). It takes time to get there and away and, you will probably need to stay a full day as well unless you "push" the transport timetables with late departures or early arrivals and/or the new bridges increase the options. But Mompox is worth the time even if it's not in the top "echelons" of WHS. The "List" contains a lot of "Latin American Colonial" towns but this one is a bit different. It reminded me rather of Mexico's Tlacotalpan – another "steamy" (albeit less so) river port but from another era (late 19thC). That has (perhaps a bit unfairly) received short shrift from reviewers. Mompox is certainly more interesting, as well as being more historically significant.
---
Although Mompox was an important and prosperous port upriver from Cartagena, it was never very large. It hasn't really grown and has a very relaxed and lethargic atmosphere. It's no wonder rocking chairs are popular here. We quickly took over a few of our own at a little cafe and just watched the river flow by.
Arriving in the early morning off an overnight bus, our first impressions of Mompox were not positive. Bus offices are at least a few blocks inland while the historic core runs parallel to the river and is only a few hundred meters long and about 2 blocks wide. Outside of this clean, preserved colonial core, Mompox is mostly a rundown and dirty village as far as we could tell. But the core is beautiful. The original buildings are also run down but in an atmospheric kind of way. There are three small plazas along the waterfront and the churches and old marketplace have been nicely restored. There are also boat tours along the river in the afternoon. Staying in one of the colonial homes rounds out the experience. This was the "quietest" and least developed of the major tourist sites we visited in Colombia.
Unless you really want to get lazy a day is easily enough to take in the sites. There are both early morning and overnight buses to Cartagena and we arrived on a direct overnight bus from San Gil that originated in Bogota so while it is still a long journey, the route to and from the south has become much simpler.
---
Jorge Giraldo
Cartagena, the masterpiece of the empire. At the same time, surraunded for pirates from England, and Holand. If you are a wealty, and aristocratic spaniard, living in Cartagena during the XVII-XVIII centuries, the smarter way to live in the area was moving to Mompox. An island in midle of the Magic Magdalena river, in midle of the rute to Honda-Bogota, and a shelter far away from Spain. Just the idea of Spain. Perhaps Seville was the model to build Mompox. One of the most magical Unesco Sites.
Seven churches. San Francisco church just an idea of baroche.
Breakfast at the marketplace. Arepa de huevo with an fresh orange juice in front of the river. You will love it.
The marketplace from the river...just divine.
---
Site Info
Site Links
Unesco Website
Official Website
Visitors
23 Community Members have visited.