Mount Sanqingshan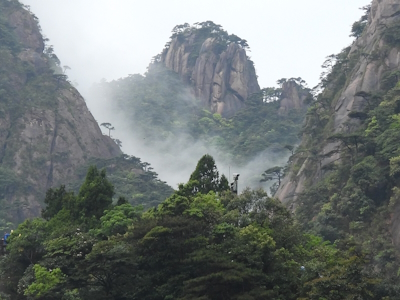 The Mount Sanqingshan National Park holds an outstanding scenery of granite peaks and pillars.
The area also has numerous waterfalls, valleys, lakes and springs. The massif is covered with temperate forest, home to rare and endangered plant species.
Its visual impact is enhanced by the ocurrence of meteorological effects like bright halos on clouds and white rainbows.
Sanqingshan (San Qing Mountain) is made up of three main summits: the Yujing Mountain, Yushui Mountain and Yuhua Mountain. The park is located in Jiangxi Province, southwest of Shanghai.
Community Reviews
---
3.50 Philippines/China - 30-Jun-20 -
[Visited, 16 Sep 2017]

Fresh from 2 day hike of Huangshan, a friend and I took the train from Huangshan North to Shangrao. We arrived past 5 PM so no more buses were available. A taxi to our guesthouse near Jinsha cableway, costed 150 RMB for over an hour drive.
Sanqingshan was one of my most memorable WHS visit. The adventure began upon arrival to our guesthouse. We inadvertently started a rift between two neighboring guesthouse owners. We mistakenly went to a wrong one but the owner did not care - it was shoulder season and he needed revenue. At 10 PM the correct guesthouse called asking where we were. We shared our Wechat location, baffled as we thought we already checked in. The correct guesthouse owner then proceeded to get us. An argument ensued between both owners, forced the wrong one to reimburse our payment and ended with us moving guesthouses in the middle of the night.
Dinner was also equally amusing. Restaurants were already closed when we arrived, and we mimed our way to asked a lady on the street where we can grab food. She abruptly left, so we assumed she did not understand. A few minutes later, she reappeared with a live chicken in tow. We tried telling her again that we needed food to eat and not a chicken to cook. The lady again suddenly walked away while we continued our search. Unsuccessful and famished, we begrudgingly walked back to our guesthouse. To our surprise, the lady was waiting for us with two cooked chicken dishes. We were satiated at the expense of one poor chicken!
The following day we climbed the mountain. Having been to many mountains in China, I always wondered why locals climbed them down backwards. In Sanqingshan I found out the reason. My legs were already sore after exploring Huangshan. Climbing up and down around Sanqingshan was excruciating. Needless to say, I realised that the only way to lessen the agony was to climbed down the stairs backwards. As they say, when in Chinese mountain and in pain, do what locals do!
During the advisory body evaluation, it was recommended that Sanqingshan be combined with Huangshan. Upon visiting both sites on successive days, I can say Sanqingshan is at par with its more famous neighbour and deserved its place on the list. Same, same OUV...but different.
Huangshan is inscribed as a mixed site under criterion ii for its literary and artistic influence to Chinese society. Sanqingshan does not fit this criterion but what it offers, although not inscribed, is an exceptional testimony of Taoist tradition as one of the main sacred mountains for Taoism. At the farthest end of the mountain loop are ancient and well preserved Taoist temples and reliefs carved on the granite - making even ICOMOS wondered why this place was not submitted as a mixed site. (This is also the area to pitch camp.)
Huangshan is inscribed under criterion x for its biodiversity. IUCN evaluated that Sanqingshan cannot match its neighbor but it can complement and strengthen the OUV representation of the biogeographic region.
Both Huangshan and Sanqingshan are inscribed under criterion vii for exceptional natural beauty. Although I did not see the infamous meteorological effects of Sanqingshan, the exceptional quality and diversity of rock formations makes Sanqingshan a worthy WHS. The walking path around Sanqingshan is over 5 km, winding up and down, snaking along the granite cliffs. The suspended walking trails offer scenic views of ravines with backdrop of forests. Whereas in other Chinese mountains you have to stretch your imagination to visualize rock formations that (might) look like something else, in Sanqingshan the formations are easily recognizable even at first glance. There is a pillar resembling a snake reaching up the sky. Another one like a goddess stretching her arms to bless the mountain. There are formations resembling a horse head, the monkey king, penguins, breasts, and many more.
Sanqingshan is worth a visit. I wouldn't recommend to successively hike both Huangshan and Sanqingshan in the span of 3 days. Like me, you might be climbing down backwards too! Shangrao is close to Longhushan component of China Danxia WHS, another pretty mountain but more leisurely sightseeing. An ideal weeklong route is to start with Sanqingshan, go to Longhushan, then visit Huangshan and cap your holiday relaxing at Hongcun and Xidi Villages.
---
tian
I went to this WHS in the summer of 2102. I have been to most of WHS in China, and Mt Sanqingshan is one of the most beautiful one. It was easy to go form a famous ancient village Wuyuan in Jiangxi province. The mountain's high light is a huge stone which look like a cobra, and the plank road on the cliff is really worth to go.
---
Site Info
Site Links
Unesco Website
Official Website
In the News
Visitors
53 Community Members have visited.