Makli, Thatta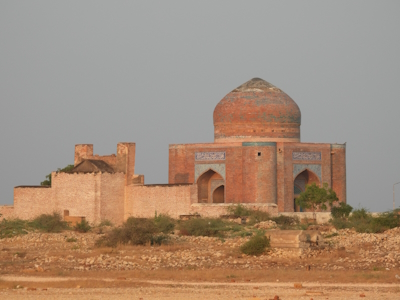 The Historical Monuments at Makli, Thatta comprise a monumental necropolis that reflects the Sindh civilization.
Thatta was the capital of the southern region of Sindh from the 14th to the 18th centuries. On its Makli Hill, one of the largest necropolises in the world with over half a million tombs and graves was built. Different architectural styles were used and some of the stone tombs are lavishly decorated with glazed tiles.
Community Perspective: another little-visited Pakistani site. Shombob describes how to visit it from nearby Karachi.
Community Reviews
---
I won't speak to the heritage side of this, but only the logistics. [For reference I am a white American woman who knows only like 200 Urdu words]
The sites are definitely worth going to if you are in Karachi for more than a few days and it's a shame that more people do not go. Makli is only about 1.5 hours away from the city. Not extremely well-kept which is a shame, so worth seeing now before any more damage occurs. The necropolis itself is very large, so you can hire a long golf cart for 100 rupees per person at the entrance. Foreigners must show passport and visa at several stages. Chaukundi tombs can be seen on the way there, and Shah Jehan mosque in Thatta afterwards. When I was there, we were the only ones at the Chaukundi tombs (which are an extension of the Makli necropolis) except for the guards/caretakers. One man told us a lot of history there and details of the tombs. He was very knowledgeable and friendly and we tipped him upon leaving. At Makli, inside and outside the entrance has some beggars so it is advised to move quickly once exiting your car and you can enter the golf cart. Was disappointed to see a lot of trash outside of all of the sites, due to the corrupt nature of the Pakistani government in appropriating UNESCO funds.
The road from Karachi to Thatta is safe for a day trip, and well-kept. As of May 2023 they were doing some construction on the Karachi-bound lane and forced both directions of traffic into the other lane without any safety cones, etc that you would see in developed countries. But just make sure you have a good driver and you'll be fine. For non-Pakistanis, I would recommend going in a larger van group with a driver or with privacy screens on the back windows of a car just to avoid any attention.
There are also other archaeological sites on the way and towns, including the Bhanbore site and town of Gharo (stop to eat at Cafe Imran and get the chicken karahi). I went with Humsafar Tourism who organized the trip quickly for me.
All in all, an excellent cultural site to visit in Pakistan that's very convenient to Karachi. Don't expect western-level amenities, but the food along the way will be astounding, and the sites and history unparalleled.
---
In December 2017, I made a day trip from Karachi to Makli necropolis, about 60 miles to its east, which might be the world's largest funerary site -- the ten square kilometer burial ground contains approximately one million tombs, mostly built between 1570 and 1640. Almost as interesting as the abundant tombs, were two elderly snake charmers who set up shop along the dirt path leading from the entrance to the tombs. The snake charmers seek visitors to fund a musical performance on the pungi, the wind instrument whose rhythmic sound and movements appear to hypnotize a de-fanged Indian cobra. Their second act is to entice visitors to purchase a serpent to battle an Indian mongoose to the death, although the mammal's acrobatic agility, coarse coat and resistance to snake venom ensure its victory. For less than a dollar, I bought a common water snake to challenge the mongoose, but in order to maintain their inventory, my bout was interrupted by a snake wrangler who separated the two combatants. While on the way to and from Makli, I visited three locations on Pakistan's list of tentative World Heritage Sites: Chaukhandi Tombs, an early Islamic cemetery; Shah Jahan Mosque, a 17th-century mosque known for its geometric tile and brickwork; and the Port of Banbhore, an ancient city dating to the 1st century BCE. I made my arrangements with Travel & Culture Services (https://travel-culture.com).
---
Site Info
Full Name

Historical Monuments at Makli, Thatta

Unesco ID

Country

Inscribed

Type

Cultural

Criteria

3

Categories

Link
Site History
2009

Name change

From "Historical Monuments of Thatta" to "Historical Monuments at Makli, Thatta"
Site Links
Unesco Website
Official Website
In the News
Visitors
26 Community Members have visited.