The Historical Port City of Izmir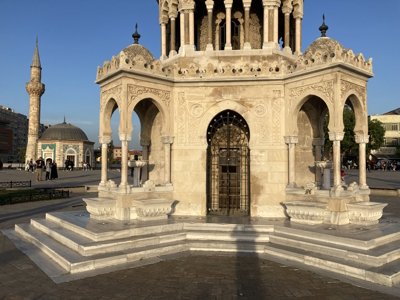 The Historical Port City of Izmir is part of the Tentative list of Turkey in order to qualify for inclusion in the World Heritage List.
Izmir has been an important port city since the 16th century. Its urban fabric holds commercial structures from Ottoman times, that developed from caravan-based trade.
Map of The Historical Port City of Izmir
Load map
The coordinates shown for all tentative sites were produced as a community effort. They are not official and may change on inscription.
Community Reviews
---
Most of us would place the end of World War 1 in 1919. For western Europe, this is mostly correct, keeping in mind that Germany saw plenty of violence on its streets. For several other parts of Europe, the war was far from over. You had the very bloody Russian Civil War, the Polish Lithuanian War, and the the Greco Turkish War as part of the Turkish War of Independence. And I am probably missing plenty. Essentially, these were wars being fought after the dissolution of large empires had created power vacuums all across Europe.
Turkish Izmir / Greek Smyrna holds a prominent place in the Greco Turkish War and the Turkish War of Independence. It's in Izmir/Smyrna that the Greek army landed in 1919. After the dissolution of the Ottoman Empire and secret deals with the Entente, Greek nationalists seized on the opportunity. They wanted to reincorporate former Byzantine territories into Greece, the vision being to make Constantinople a Greek and Christian city again, ignoring that Greeks were a minority, even in Smyrna.
It's also in Smyrna/Izmir that the Turkish army fought the decisive battle in 1922 that decided the war and expelled the Greek forces and population. In its aftermath, several of the districts of what had been a multicultural metropolis were burned. The war also saw massive ethnic cleansing all across Turkey. The multicultural and multi religious Ottoman Empire had turned into Turkey, a nation state. Reading the Unesco description of the tentative site makes you a bit cringe. The city is advertised as "well-known cultural and commercial hub" and a "cosmopolitan city". No mention is made of the fighting after World War 1 and the burned down Armenian or Greek districts. Present day Izmir is no longer a cosmopolitan metropolis. Instead, present day Izmir a modern Turkish city.
I arrived in Izmir from Germany and used it as hub to travel up and down the Western coast. Apart from the bus and train station, I did not allocate much time. Essentially, I did an early morning walk to Konak Square, to the Bazaar and visited the acropolis. The nomination also mentions some urban districts. These are a bit further out and I had no idea what the key components would be, so I skipped them. It would be interesting to read about the structures that remain from the multicultural past.
While the Konak Square including the Clock Tower gets much praise, it failed to impress me. It's pretty modern and dull. While the city holds plenty of historic buildings, it's all embedded into a modern mediterranean town. The only notable structure is the acropolis. It contains some splendid ruins, but is still in reconstruction. It's also wedged between some ugly modern buildings taking away much of the atmosphere. In comparison to nearby Pergamon and Ephesos it's the way lesser site.
OUV
As is, I would not inscribe simply based on the text of the nomination. A presentation of the site should mention the post World War 1 fighting and impact. However, even a historical accurate description wouldn't really make this a great site. Maybe if you polish the nomination, e.g. focus on specific buildings and districts, you can make this work. But I don't think this is filling a gap in any way, shape or form.
While You Are There
Any visit to Izmir should include a visit to Ephesos (Selcuk) and Pergamon (Bergama). You can also continue to Denizli and Troy.
---
Chinese-Canadian - 21-Jan-22 -
Whereas the pretty clock tower with baby mosque are very iconic for this modern bustling city, I do not believe that anything here is worth getting inscribed. The market area is nowadays merged with modern buildings and sells more than fabrics, making any authenticity for being an ancient trading point iffy. I think a lot of places around the world could have a status of ancient port town if one disregards modern infrastructure, which is impossible. I don't see anything unqiue for that. So do visit Konak Square as a tourist, rest I cannot recommend even for die-hard enthusiasts.
---
Community Likes
Site Info
Full Name

The Historical Port City of Izmir

Country

Added

Type

Cultural

Categories

Link
Site History
2020

Added to Tentative List
Visitors
15 Community Members have visited.