Auckland Volcanic Fields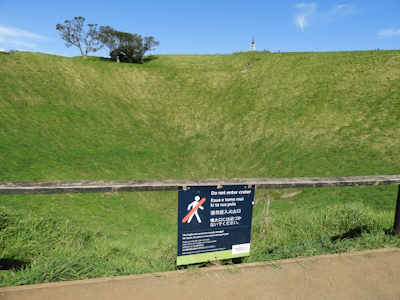 Auckland Volcanic Fields is part of the Tentative list of New Zealand in order to qualify for inclusion in the World Heritage List.
Auckland Volcano Fields is a mixed site consisting of a young volcanic landscape that supported a long period of pre-European Maori settlement. The basaltic volcanic fields found on the Auckland isthmus exhibit an unusual diversity of features, including vents, explosion craters, cones, and lava shields. The Maori developed a cultural landscape on these fields, taking advantage of the rich volcanic soils for farming, and modifying volcanic cones to form terraces and other earthworks supporting settlement, cultivation, and defense.
Map of Auckland Volcanic Fields
Load map
The coordinates shown for all tentative sites were produced as a community effort. They are not official and may change on inscription.
Community Reviews
---
Auckland is the largest city and main metropolitan area of New Zealand. Indeed, the next bigger city is Sydney in Australia. The town itself is rather modern. The principal features you will notice wandering around are the hills and the sea plus limited Victorian heritage. It's only from a viewpoint such as Mount Eden that you grasp what the town was built on: volcanoes, Mount Eden being one of them.
In total, we stayed for two days in Auckland and visited both Rangitoto Island by ferry and the three volcanoes in Auckland (One Tree Hill, Mount St. John, Mount Eden). The views of the city were nice, but if I had to choose, I would rather go to Rangitoto Island.
OUV
Supposedly, these volcanoes have significant Maori heritage. Of the sites I visited, I noticed nothing Maori about them. And certainly not when compared to Rotorua, a place brimming with Maori culture.
Rangitoto island is probably the most interesting site in Auckland, being a rather young island (600 years) with plenty of nature to explore. I am neither a geologist or biologist, though, so I can't judge the OUV. I would have also liked to see the stoneworks, but it's outside of town and we didn't manage to get there.
Getting There
Auckland is the central transport hub of New Zealand, being it's biggest city. So unless you stay exclusively on the Southern Island you will pass through. The Volcanic Fields in the city can be reached by bus and foot. For Rangitoto Island, you can take a ferry from the harbour. They will make you clean your boots etc. to protect the wildlife on the island.
Practical remark re rental cars: One way rentals starting in Auckland are more expensive than those ending in Auckland. So, it makes sense to make Auckland your last stop.
While You Are There
Personally, I would keep my time in Auckland short. You will probably have to pass through, due to flight connections, but a single night and day in Auckland should be enough. The true gems of NZ are on the southern island anyhow. And if you want some city life, I found Wellington as a city nicer.
In Auckland, I can recommend the Auckland War Memorial Museum and the trip to Rangitoto. Throw in a hike up Mount Eden and you have your program for a day covered.
---
Chinese-Canadian - 15-Nov-19 -
"One Tree Hill" got canceled in 2012. The tree on the hill in Auckland got canceled back in 1852, which was then replanted and finally cut down by activists in 2000. People always assume there is a tree at the top, one of Auckland's top sights. In fact there is just a monument to the Māori who got slaughtered here back in the ignorant days. You don't HAVE to go to the Cornwall Park to discover the volcanic fields. I have been to many mounds around the city without even knowing, but here is where they actually point it out with some nice signs, also known as volcanic cones. This is also Auckland's second-largest volcanic field.
Even the documentation says this isn't unique, and wants to represent it as a mixed cultural landscape, having Māori live in this kind of environment. For that you'd have to go see something like the Ōtuataua Stonefields. While not much to see and not the top sight in New Zealand you may be seeking out, it is one of the best examples of how the settlers adapted to the climate. The stone-walled gardens would warm the soil and extend the growing season.
I don't see this as a proper WHS, similar to the Philippines' Chocolate Hills - nice to view but not that special, and would only work with the cultural mix which I don't see represented enough, especially with many of the cones already destroyed over time.
Not something I would recommend to do but if you have an extra day in Auckland then why not.
---
Auckland is quite a unique city geologically, being situated in the midst of a volcanic field. As a geology enthusiast, I find that non-erosion geological features are quite underrated on and off the World Heritage List, and this site is no exception. This is one of the youngest of these volcanic fields in the world, and therefore the most diverse range of volcanic features preserved, despite its location in a densely inhabited area. Indeed, a lot of scoria, a type of volcanic rock, was extracted and used in local architecture. During my 2013 trip to New Zealand, I visited Mt. Eden via the hop-on hop-off bus. Unfortunately, I hadn't reached the age of making the family itineraries and researching on destinations to know all this about Auckland when I had gone. I had, however, reached the age of rock-collecting, so Mt. Eden was one of my most vivid memories of Auckland, which was a bit forgettable after touring the rest of New Zealand. The peak rises over the city, which surrounds it closely on all sides. The rim, which is the only part accessible for tourists, is lined by road, from which one can look into the crater below. The whole mountain is made up of scoria, a volcanic stone with a pumice-like appearance but with more density. On the other hand, a great clear view of the whole metropolis reveals all the other, smaller volcanoes all around the area. In relativity, it's really quite a dense field with the unique setting of a flat isthmus, not to mention the city. The slopes, meanwhile, show the effects of Maori settlement, although it appears unclear what purpose the earthworks serve on first glance at the site, without research. While I'm not completely sure if it merits World Heritage status based on my visit, further research, helped by the first-hand impression, has drawn me to the conclusion that the site does have geological significance and impressiveness in diversity, and I think the cultural values simply strengthen the claim to OUV, a bit cultural landscape-esque, but it's that uniqueness as a diverse landscape that works for me.
---
Most countries seem to try to get some aspect of their Capital onto the WHS list if they possibly can. Auckland's numerous volcanic remains are geologically significant and many of them also have historic value as the location of Maori settlements (or "Pa") and continue to have cultural value to Maoris to this day. Anyone visiting Auckland should try to take in at least a few of the locations which NZ might one day propose for inscription. It won't be difficult as some are virtually in the city centre and provide excellent views across this attractively located city as well as being interesting "outings" in their own right for both natural and cultural reasons.
This document provides a comprehensive description of the Volcano Fields nomination as included in the T List (http://www.doc.govt.nz/upload/documents/getting-involved/consultations/consultations-results/our-world-heritage/our-world-heritage-6.pdf ). But it is worth noting perhaps that the site is currently 7th in sequence for nomination amongst the 8 currently on NZ's T List – behind Kerikeri and Waitangi which we also visited during a short visit to NZ during 2012 (see my reviews) . Whether this is due to concerns about its viability as a nomination or because of the work which still needs to be done isn't clear. It is noteworthy that NZ hasn't made a single nomination since it registered its revised T List back in 2007 and, before that, had made no proposals since the successful nomination of its sub-Antarctic Islands as long ago as 1998. This web site - http://www.doc.govt.nz/getting-involved/consultations/results/nz-world-heritage-sites/ states "It is anticipated that site nominations will commence in 2008 and will continue to at least 2015." Well that target didn't get hit did it! I find NZ's inactivity in this respect somewhat surprising!
If you read the above pdf download, you will note that it identifies 16 sites of cultural and 12 sites of natural value – though some of the cultural sites also have natural value and vv. We had the advantage of NZ friends who drove us around Auckland both north and south of the harbour. We took in Mt Eden and One Tree Hill together with Otuataua Stonefield south of the harbour and North Head on the northern side. You will also see some of the other cones from Eden and One Tree. NZ, by the way, is undergoing a process of "maorification" of its place names, spellings and pronunciation and it applies to all the locations in this site!
We found "One Tree Hill" particularly worthwhile. From its 183m summit, a vast area of Maori earthworks can be made out on all sides (photo). It is claimed (with what justification I don't know) to be the "largest pre-historic earthwork fortification worldwide". As well as its own "domain" it is flanked by 2 other parks and provides a fine geen area in this sprawling city.
Mt Eden is slightly taller at 196m. It too has terraced earthworks but is generally a more compact cone and is more hemmed in by the city. It does however have much closer views of the city centre and right into Eden Park stadium! A Maori ranger was there during our visit and we had an interesting conversation as he explained the Maori significance both of this location and others in view –e.g the canoe portage between the east and west coasts at Te Tō Waka, a 200m isthmus now totally built up.
We made the long trip out to Otuataua Stonefield near the airport but this site yielded little of value to the uninformed visitor. It is said by the site brochure to be "an internationally significant heritage landscape and an important natural, archaeological and historic area." It contains the remains of where Maoris lived, fished and farmed for over 800 years and may indeed be archaeologically significant. The area looks as if it is to be developed in future years – a car park has been built and a visitor centre is planned (perhaps as part of its "fattening up" for WHS status?) but there was little on site information and one of the few signs was to ask us not to walk on the summit of the volcanic cone. Its Web information states "The reserve is waahi tapu (a sacred place) to descendants of Te Wai O Hua and Waikato Iwi of the Tainui waka (canoe). Please be respectful while visiting. Tangata whenua have especially requested that food is not consumed on the reserve (water bottles are welcome) and that visitors refrain from walking on the top of Puketaapapa volcano, a site of particular traditional significance (follow the walk marker posts around the northern side)."
Our visit to North head had nothing to do with its T List status, which I wasn't aware of at the time anyway, but as a pleasant place to spend time with our friends near their home, to take in the fine view across the harbour to downtown Auckland and to visit the gentrified period suburb of Devenport. The location has long been connected to the Navy and the volcanic rocks are riddled with defensive and storage tunnels. Signs explain the geological processes which created it and, on reflection, that was an aspect of the entire site which perhaps we didn't adequately cover but which is a significant part of its potential OUV. As we sailed out of Auckland Harbour that evening we passed the island of Rangitoto. This volcanic island, now run as a nature reserve with a still ongoing process of removing all non native flora and fauna, was created as recently as 550 to 600 years ago and is part of the T List site (the documentation describes it as "the geological jewel in the crown"). The Auckland Volcano field consists of "Monogenetic" volcanoes, which means that there is only one eruptive event at each but that these events are scattered across the entire field – so, one day perhaps a new volcano will appear under down-town Auckland! Indeed since 2002 there has been a "Contingency Plan" for just such an event!
In conclusion, if you are in Auckland you will almost certainly by default visit at least some part of this site, but it is perhaps worth seeing it as a whole in both its natural and cultural aspects rather than as just a few "hills" from which to see the city! The site's potential for inscription relies heavily on these 2 aspects - "It is this integrated combination of pre-European Maori occupation relying on the natural resources of a young and still active volcanic field that is outstanding on the world stage". Whether NZ can adequately cover the management and integrity issues after the years of quarrying and construction etc remains to be seen but the site would seem to have a good chance.
---
Site Info
Full Name

Auckland Volcanic Fields

Country

Added

Type

Mixed

Categories

Link
Site History
2007

Added to Tentative List
Visitors
47 Community Members have visited.