Ancient Buddhist Site, Sarnath, Varanasi, Uttar Pradesh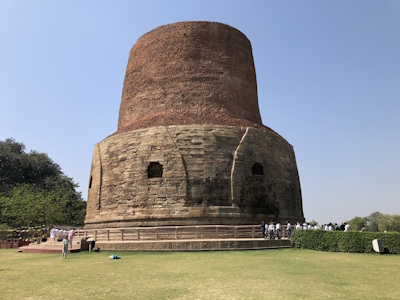 Ancient Buddhist Site of Sarnath is part of the Tentative list of India in order to qualify for inclusion in the World Heritage List.
Sarnath is one of the four places of Buddhist pilgrimage, the Deer Park in Sarnath is where Gautama Buddha first taught the Dharma. Several remains of temples, stupas and monasteries from the 3rd century B.C. to 12th century A.D. can be found here. Also a base of an Ashoka Pillar has survived.
Map of Ancient Buddhist Site, Sarnath, Varanasi, Uttar Pradesh
Load map
The coordinates shown for all tentative sites were produced as a community effort. They are not official and may change on inscription.
Community Reviews
---
Sarnath is an important Buddhist pilgrimage site just outside Varanasi, 1 of the 4 most spiritually rewarding sites pointed out by Gautama Buddha himself. Or as I have seen it described less poetically: "the location where Buddha gave his first sermons in a deer park". There are some indications that Sarnath might be India's nomination for 2021. Maybe surprising, as it has been lingering on the Tentative List since 1998 without noticeable action. The recent reports in the news state that "a 600 page nomination dossier is being prepared" – which may even take a few years beyond 2021!
I visited Sarnath on a North India trip in 1993. I did consider Varanasi the highlight of that trip, but I have no notes about nearby Sarnath left. The photo album contains 4 photos labelled 'Sarnath', which is quite a lot from pre-digital times:
The first one is of a Golden Temple. Online research shows this is the Kashi Vishwanath temple – not in Sarnath at all but a Hindu temple in Varanasi!
On to the second one: displaying an archaeological site, with a stupa in the far distance. It resembles Ayutthaya. These are the remains of ancient monasteries at Sarnath. There is a white covered structure as well, does it hold the remains of the lowest foundation of the Ashoka pillar?
The third one is the iconic view of the massive Dhamekh Stupa. This is supposedly erected at the exact place where Buddha gave his first sermon. Emperor Ashoka reconstructed this stupa after putting the Buddha's relics here.
And the final one, a close-up of that same stupa. It partly has the original carved stones with geometric and floral designs.
What I did not see or do not remember having visited:
The on-site archaeological museum (1910), which includes the Lion Capital of Ashoka's sculpture. No photos are allowed here.
The many modern monasteries developed by current Buddhist countries, from Thailand, Tibet (1955), Myanmar, Japan etc. A practice that I remember seeing in Lumbini and from what I gather is present in Bodh Gaya as well.
There is a descendant of the original Bodhi tree in the compound that came here from Bodh Gaya via Anuradhapura in Sri Lanka.
I certainly did not see the 24m tall Buddha statue: it was not built yet in 1993. The statue was made from sandstone between 1997 and 2011 as a friendship project between India and Thailand. The idea behind it was conceived after Taliban authorities in Afghanistan destroyed the Bamiyan Buddhist statues.
I am wondering on what criteria India is going to pitch this site. Is it really necessary to have all 4 main Buddhist pilgrimage sites covered as a WHS? Has the current Indian government a positive attitude to Buddhist sites at all? What besides that intangible value does it offer? Or they may take a non-religious approach: the official site description only counts 154 words, of which none is "Buddhist". However "Mughal", "Ashokan" and "brick" are there. Mughal has already 9 connected sites, Ashokan 5 and brick architecture even 80. So I guess we should be prepared for a typical Archaeological Survey of India nomination, if it ever materializes at all.
---
Visited this site for the 2012 Kalachakra. Very spiritual place and quite an interesting archaeology museum too. Easily reachable by taxi from Varanasi.
---
Community Likes
Site Info
Full Name

Ancient Buddhist Site of Sarnath

Country

Added

Type

Cultural

Categories

Link
Site History
1998

Added to Tentative List
Visitors
37 Community Members have visited.