Qinghai Hoh Xil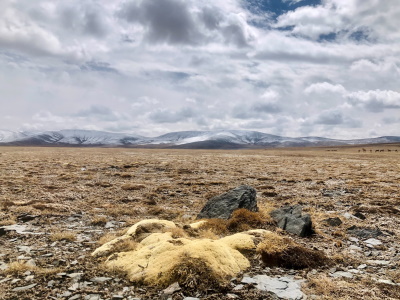 Qinghai Hoh Xil represents the landscapes and biodiversity of the high-altitude Qinghai-Tibetan Plateau.
Temperatures average sub-zero year-round, which has kept it free from modern human influence. Glacial meltwater supplies the many rivers, lakes and marshlands. The site is also important as a calving area and place of seasonal migration of large numbers of Tibetan antelope.
Community Perspective: The G109 highway as well as the Xining - Lhasa train cut right through the core zone, but you won't see much that way. Zos managed to make a very adventurous entry but still missed out on the Tibetan antelopes.
Community Reviews
---
2.50 Philippines/China - 24-Dec-21 -
[Visited Oct 2021]
Planning a trip to Hoh Xil is really a challenge for foreigners. The pandemic made it even harder. As a devout WHS traveller, I was determined more than ever to complete China this year, having been trapped inside the Covid bubble.
Planning
It would make sense to combine Hoh Xil with Lhasa/Tibet to minimize cost and maximize the experience. After all, the Qinghai-Tibet Railway already traverses the core zone.
It seemed straightforward at first. But not really. Even if I would consider a "pass by" as a WHS visit, it had to be during the day. I could not find information online about which train would do it. I had to calculate the predict the course based on the scheduled departure from the closest stop. Visiting in October, I also had to account for the shortened day length when the sun rises late and sets early.
The best chance would be the Z165 train departing from Lanzhou at 18:37 and arriving at Lhasa close to 25 hours later. This train would be in Hoh Xil core zone before sunset the next day.
Like most of us here, I would not be contented with just passing by. I want to actually be in Hoh Xil. Stand on its soil. Have an immersive experience with just me, the mountains and the sky.
It was not easy looking for an organized tour. Most of the agencies that offer tours for Tibet and Qinghai for foreigners did not offer any. The best chance would be to organize a driver from Golmud, the closest major city to Hoh Xil. The city even has direct flights from Beijing. Only one of the agencies that I asked was able to arrange a driver, for a steep 2800 RMB.
Given the pandemic situation, I put another hedge. In case my going train pass by Hoh Xil at night or if should there be a sudden change of regulations in Golmud, I would have another chance to see Hoh Xil if I take the train back to Xining. I deduced that the train leaving Lhasa at 9PM would pass by the core zone after sunrise.
Part 1: Journey from Lanzhou to Tibet
As fate would have it, this leg of the journey was a failure. My train was delayed for 16 hours due to heavy rains in Zhengzhou, way far in Henan.
We ended up passing by Hoh Xil at 9 PM. It was pitch black outside and I could not see anything. Just after Golmud Station, the train loudspeaker broadcasted information about Hoh Xil in both Mandarin and English.
Tip for would be traveller: Take a train to Tibet that starts at Xining, not the one coming from Beijing or Shanghai or Chengdu. This would minimize the risk of delay, which could be very long as what I experienced.
Part 2: Journey from Tibet to Golmud
Having not seen the core zone on the first train ride, I was so excited to board my overnight train from Lhasa to Golmud. I expected to be in the core zone around 7 in the morning
My Phone GPS would not work in and around Hoh Xil. It was difficult to ascertain if I was already inside the core zone. Studying the map, the key indicator upon entering the buffer zone is seeing Tanggula Town. The Tuotuo River (one of the headwaters of the Yangtze) would indicate entering the buffer zone panhandle and was flanked by the core zone on either side of the tracks. Luckily, the train broadcasted information about the river and its importance to China. It signaled my entry to the panhandle.
The "pass by" was certainly scenic. Hoh Xil is a high altitude plateau bounded by snow-covered mountains on both sides. I hoped to see Tibetan Antelopes but there were none. I did see some birds, wild donkeys and wild horses. My anticipation built up for finally stepping foot at Hoh Xil on the next day.
Tip for would be traveller: It would take roughly 10 hours train ride from Lhasa to Hoh Xil. Choose a train schedule with this in mind.
Part 3: Driving from Golmud to Hoh Xil
The driver arrived at the hotel at 9 am. After an hour driving the desolate landscape of Golmud, we met a highway checkpoint.
They checked everyone's credentials to control entry of people, especially foreigners without permit to Tibet. I did not anticipate this. I was worried that my Tibet permit would no longer be valid. Upon checking my permit, I was relieved to find was the last day of validity. But the happiness was short lived. My driver and our vehicle had no permit to carry foreigners on the highway to Tibet. (I read online before visiting that foreigners need to get this permit at Goldmud police station. I thought my agent already settled it.)
I was furious and frantically called my travel agent. I insisted to get a full refund should I could not visit Hoh Xil. We stayed for 30 minutes around the checkpoint area as the driver tried to find a solution. Suddenly, he drove off-road along parallel to a river at the side of a cliff. We followed the course for roughly 30 minutes. The whole time I was telling my agent I did want to get arrested, especially not trying to smuggle myself into the highway to Tibet.
In my mind, part of me was excited. It gave another thrill to my completing of China WHS. Part of me was thinking of some creative excuses should we get detained.
After finding a crossing to the river, we drove towards the dam administration area which would allow us to join the main road. The gate was locked but a man approached us. My heart was pounding. My driver went out of the car and "talked" to the man. A few minutes later, he opened the gate.
I had a sigh of relief.
Tip for would be traveller: Make sure you have a valid Tibet Permit when driving to Hoh Xil. Also ensure that your agent arranges all the necessary permits.
Part 4: Setting foot at Hoh Xil
Entering the core zone from Golmude was just after the Yuzu Mountain sightseeing platform, right after passing through the Kunlun Mountains and before the vastness of the Hoh Xil plain. This area was busy, with travellers driving to Tibet making an obligatory photo stop. A few steps away from the platform, I was able to set foot at the core zone for the first time. The view on this area is awesome, but similar to high altitude mountain scenery.
I told my driver to drive further and offroad, after noticing a trail where cars were going. He hesitantly obliged as it was not part of the deal. We drove a few kilometers, which gave me several opportunities to marvel at the vastness of the surroundings. I saw some wild donkey, birds and pika but no Tibetan Antelope.
The trail would have taken us to a "camp" area after 40 km further. This would have been a better experience. But my driver did not want to go.
We then proceed to Sonan Dhargev Station, which was also in the core zone.
Tip for would be traveller: Go offroad one you are in Hoh Xil. This is the only way to experience no man's land. Maybe visit in summer or when the antelopes breed or potentially pitch a camp.
Part 5: Driving back to Golmud
Having skipped the check point going in, I was concerned that the police check will question on the way back. And it would be a big issue, a foreigner coming back on the road from Tibet and without permit.
My driver also thought of the same thing. As we approached the checkpoint, he asked me to lie low and hide in the back seat. My heart was pounding fast again. And my mind is playing different scenarios should we get caught. It would have been a double whammy - a foreigner getting smuggled out of Tibet-Qinghai highway during the pandemic when foreigners are viewed as the one spreading the virus in the mainland.
Luckily, there was no thorough check and after 30 seconds we were free to go to Golmud.
Part 6: Overall Experience
I had higher expectations of Hoh Xil. I thought it would be unspoiled with very arresting views. The vista was indeed pretty, but the highway was so busy. And there was trash, especially at the viewpoints.
Not seeing Tibetan Antelope was also a disappointment.
Maybe, it would have been a better WHS experience if I visited during the migration season. Or if I visited and was able to camp in the wilderness - which according to what I read was illegal.
The journey was still memorable. Especially the part where I was being "smuggled".
Tip for would be traveller: Is setting foot on Hoh Xil worth the time, effort, money? Or is the train pass-by already ok? If you visit off migration season or if camping is still forbidden, train pass by is already sufficient. You will still see the same good views and see some wild animals too. And it is less hassle. But if you are a completist and would like to feel the earth under your feet, stand in the vast plain with just the sky and the mountains, you can follow my lead.
---
2.50 Chinese-Canadian - 24-Jan-19 -
I am finally writing a review because I have decided I will never REALLY visit the site, and I doubt most tourists have the chance. It is actually super easy to visit but like so many national parks in China the protected area not accessible which are the best part I suppose. The G109 highway as well as the Xining - Lhasa train cut right through the reserve and thus you will have been at Hoh Xil. You won't see much from here but maybe a glimpse of the antelopes extant to this very much uninhabited area. Apparently there is a huge problem with poaching for the underpaid police force, with volunteers helping out (source of this info may be censored news). I do mention this because it makes me wonder how it got listed and not directly onto the in-danger list but I suppose national parks in Africa can have this problem without getting the committee on their @ss right away. Perhaps the idea is that the recognition will lead to stronger support for the area, already there is a communication improvement in the works with satellite dishes at police stations. I should help next time some geologist gets lost in the reserve.
So I had visited this years ago and wanted to join a tour for a proper visit. First of it is not easy to search for it because there is a Chinese movie by the same name as the reserve so most results will be about that, then second most tour sites have a placeholder for the reserve but when you contact them about a tour they will say they don't do it or they will need a xx numbers of people minimum for them to start looking into anything, so there isn't actually tourism going on as far as I see.
---
Site Info
Full Name

Qinghai Hoh Xil

Unesco ID

Country

Inscribed

Type

Natural

Criteria

7

10

Categories

Link
Visitors
19 Community Members have visited.