Putorana Plateau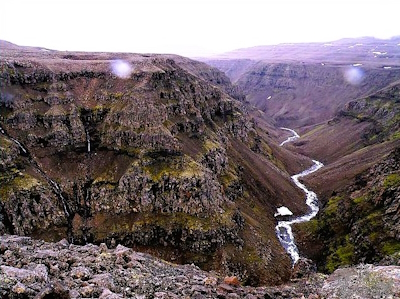 The Putorana Plateau is a remote and pristine Arctic landscape.
It is situated in northern Central Siberia about 100 km north of the Arctic Circle, on a basalt and tuff plateau created by volcanism. The area holds a complete set of subarctic and arctic ecosystems like taiga, tundra and arctic desert. It is protected as the Putoransky State Nature Reserve.
This mountainous area is a classical example of the so-called trappean, or stepped relief. It holds many canyons, waterfalls and lakes. Permafrost covers the major part of the plateau, where lichens and forest grow. Wildlife includes brown bear, wolf, Arctic Fox, reindeer and the endemic Putorana snowsheep. A major reindeer migration route crosses the property twice a year. The plateau is also an important stop-over point for migrating arctic birds.

Community Reviews
---
Two unvisited WHSs in Russia remained for us: Wrangel Island and Putorana Plateau. The former is still off as far as what we're willing to spend, the latter was doable, though also not cheap, but a plan in our pipeline for a very long time. And since this year is supposed to be our final in Russia and given the extremely short window of when it is actually possible to visit as the season lasts about ten weeks of fleeting mild temperatures in summer, we started planning early.
And by we, I mean Ivan, who had a look around all Russian travel agencies and all of their tours. Putorana has started to become very popular amongst tourists and the demand surpasses offer, which doesn't make it the cheapest tour option out there, but on the other hand, you have several options: a boat tour from Svetlogorsk (so you can avoid having to get a permission from FSB to enter Norilsk), or a trip to any of the tour bases on the Lake Lama (transfer via hovercraft from Norilsk). Most of the commercial tours take place inside the buffer zone and you will most probably fly over the actual core zone area if you take the helicopter ride. We did and managed to do so. But to actually enter the core zone on foot would require even more permissions and planning as it is the zapovednik which is the most protected natural reserve category in Russia, would have to include a drop-off via helicopter, the guests have to be accompanied by a local inspector who works for the nature reserve and overall is just too much hypothetical hassle.
After looking at the sailing option from Svetlogorsk and the actual circumstances, Ivan has scratched the idea, saying I would most probably divorce him after that. Instead, he chose an option with a travel agency called Russia Discovery, a tour called "Mountains without Tops" which includes flying to Norilsk, getting to the tour base Zhar Ptitsa (you can go directly through the provider, google Territory Putorana) on Lake Lama, then doing day-tours from there, including a helicopter ride. He got into talks with the travel agency in March, arranged everything quite soon and after we got our visas extended in early June, sent the details immediately to the agency for approval of the FSB (Federal Security Service) as Norilsk is up to this day a closed town for foreigners, who have to receive permit to visit. We got ours after two months (by the end of the July, which was fortunate, as we left off for out tour on 8th August), but apparently there were some other foreigners who applied and were declined without an explanation this year - take that into consideration as well.  
There are several daily flights from major Moscow cities to Norilsk, most of them depart in the evening and arrive in Norilsk early morning. Our tour group of twelve assembled soon enough, it was an hour to Norilsk where we had breakfast at a local café, then travelled another half hour to the port and from then rode two and half hours by hovercraft to the tour base. That was for the logistics, from then on, we were carried to the places we were starting our hikes from by the hovercraft - there are many shallow rivers connecting the lakes the boats can't manage. We had three guides taking care of us on the base, three cooks and one indigenous woman from the tribe of Dolgans who slept in their traditional teepee called tschum and who has shown us some local rituals and made a tasting of local food. Given the other option was to sleep in a tent camp, a house with own room and bed, shared kitchen and living space, even regular flushing toilets in cute wooden huts outside and a Russian banya with steam bath and hot water from the improvised tap were a pure luxury. We were fed three times a day, the cooks have outdone themselves every time. We tried local fish in many forms, the mushrooms we picked throughout our hikes, reindeer steaks, cured meat and salami. An awesome BBQ was a cherry on top - the owner of the base is quite a grillhead and has five different barbecue machines there, as well as a smoker. Good-quality wines and liquors were available for purchase. Overall, given it's in the middle of nowhere, above the arctic circle, the level of comfort and luxury provided was amazing. Price-wise it had cost us like a week on Maldives. And it was very much like Maldives, albeit I have to admit there were no mosquitoes on Maldives.
To my own surprise, I've enjoyed the hikes - they've got special flavour in the realities of Russia, with no marked trails and no footpath, so you need a guide and a dog as well as there is a possibility of encountering a bear. We had no such luck though, fortunately. Most of the hikes lead to a waterfall or another, Putorana is not unlike Iceland in that aspect, though they are in their full flow in June, when the snow is melting and by mid August there is much less water. The longest hike was about 4,5 km one way, 650 metres of the altitude increase. Very much doable, the only local speciality are large areas covered by stones, some fixed, some very much loose. The locals call it kuromnik and this would be the only technically a bit more difficult part of hike. The helicopter tour is arranged by the tour base and paid for extra. It's something over an hour of flight time with one stop and some very impressive aerial views. We had to wait for two days for the weather to clear up but it was very much worth it. On our final day we had picnic on the lakeshore with smoked pork and local fish soup and fireworks at night. Yeah, buffer zone or not, this is still very much Russia. Though I guess it doubles as bear-repelling device.
As I've mentioned, the only annoyance were the mosquitoes. I thought I knew what I was going into after rafting in the Urals the year before, but no, the mosquitoes here are vile, there's a lot of them and even the strongest repellent only lasts about twenty minutes. Long trousers, long sleeves and mosquito-net on your hat is the only option to stay relatively bite-free.
The final night of the tour is in Norilsk as all of the flights depart early in the morning and we were given an opportunity to sightsee this brutal and very gray city as well. There are some colourful buildings in the city centre, but otherwise the atmosphere is very somber and the city in continual state of disrepair, partially due to typical Russian lack of regard to anything outside their homes and partially due to brutal winters in which the temperature easily goes to -50 degrees Celsius. 
What an amazing week it was! Even visiting Norilsk is an experience on its own and I'm quite glad we managed to save it and enjoy it to the fullest. 
---
Moonyeen Albrecht
Putorana Pleateau: In June of 2001 I was a tourist with the MIR Corporation and 6 of us tourists along with a MIR guide and a guide from Novosibirsk joined an 8 member crew on a small boat, the Zarya, to deliver food and oil packages to villages along the Yenesei River with the Russian/American endeavor called "Project-Aid Siberia." In Turukhansk we met a doctor who invited us to join him and his friends for a fishing trip along the tributaries of the lower Tunguska River. Of course, transportation was by helicopter. On the way home that evening, our pilot set our helicopter down on the edge of the Putorana Plateau and we made our
way over the rocks and tundra to the edge. The view was spectacular and it was an experience I will never forget.
---
Site Info
Site History
2008

Deferred

Refocus the nomination and address management issues
Site Links
Unesco Website
Official Website
Visitors
6 Community Members have visited.