Pattadakal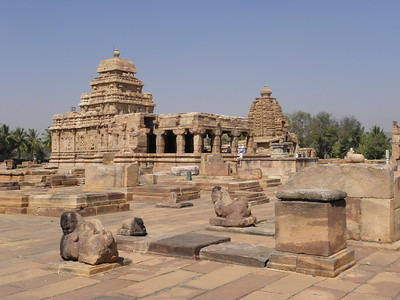 The Group of Monuments at Pattadakal are temples and architectural models that show both Dravidian (South Indian) and Indo-Aryan (North-Indian) styles of architecture, and a unique blend of these two.
They were commissioned by the Chalukya Dynasty who ruled part of South India. The constructions mainly date from the 7th and 8th centuries. They include 9 Shiva Temples and 1 Jain Temple. Part of the site is still in use as an active centre of worship, mainly at the sacred bull Nandi that is made of black granite and fully intact.
Pattadakal was the ceremonial capital of the Chalukyas, who also ruled from nearby Aihole and Badami. The epogee of their art can be seen in Pattadakal, with the Virupaksha temple as the masterpiece. Pattadakal seems to have functioned as a kind of Art School, where forms of architecture and sculpture were tried out at models before applying them at the main temples.
Visit January 2011
This is one rarely visited WHS. It currently ranks 726 out of 911 sites that have been ticked off by visitors of this website. Its story is not well-known, and its remote location doesn't help either: Pattadakal lies amidst the flat farmlands of Karnataka, about 150km north of Hampi.
To get there, I rented a car and a driver for a day from Hospet. We headed out at 6.30 a.m. At this time of day, you get to watch rural India wake up – people fetching water from pumps, and many others disappearing into the fields with a coloured plastic mug of water in hand for a "toilet" break.
After 3.5 hours on a half-bad road (the only alternative is a "horrible road"), we arrived at the town of Patta Dakal. The WHS is signposted from afar, displaying the familiar logo. My first impression of the monumental complex was a pleasant surprise: it is a fenced off area near the river, not too large but cluttered with temples and architectural models. I somehow was expecting a ruined archaeological site. They even succeed in keeping the grass green. The entrance fee, as at all other Indian WHS, is 250rs. For that you get to sign the visitor book – I noticed that there are about 20 foreigners coming here each day, not too bad. I visited on a Sunday, and the site was quite busy with locals.
I hired a guide named Raj to show me around – a good choice as he was an enthusiastic guy speaking very understandable English. He was able to pinpoint to details that I would have walked by on my own. In the main temple for example there are writings on the columns displaying the names of financial contributors: a local businessman gave 51 gold coins, another person sponsored 3 columns. The Chalukyan dynasty had run out of money before finishing the construction.
The guide also told me that there was a severe flooding here over a year ago – I had missed it in our news updates. The river overflowed, and the local people living near the riverbanks saw their houses been washed away and climbed on top of the temples and other constructions on site. They were rescued 4 days later by helicopters. Many are still living in shelters. The monuments were not harmed, though they suffer quite a bit from erosion because they're made of soft sandstone.
In all, a very worthwhile WHS to get out of your way for. I spent about 2 hours at the site. I did not visited the Jain temple which is also included in the WHS. This lies at the other end of town, and "fell down" according to my guide.
Community Reviews
---
---
---
---
---
Community Rating
Community Rating 3.50. Based on 7 votes.
Site Info
Full name: Group of Monuments at Pattadakal
Unesco ID: 239
Inscribed: 1987
Type: Cultural
Criteria: 3 4
Site Links
Unesco Website
Official Website
In the News
Locations
The site has 3 locations.
Connections
The site has 8 connections.
Visitors
41 community members have visited Pattadakal. Show all