Nyungwe National Park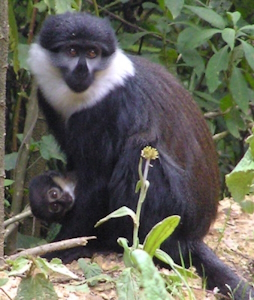 Nyungwe National Park comprises three areas that are exceptionally rich in flora and fauna, notably vascular plants and primates.
The main vegetation consists of montane rainforest, but bamboo forests, savannas and high-altitude swamps are also found here. Almost 1,500 vascular plant species have been recorded. Primates include Chimpanzee, Angolan Colobus, L'Hoest's Monkey, Blue Monkey, Owl-faced Monkey, and Golden Monkey. The three locations are separated by tea plantations and settlements.
Community Perspective: Solivagant is the only one who has reported on a visit so far. In 2006 he came to Nyungwe's forested mountains mainly to see primates (the significant bird numbers are much harder to find). The Colobus were of special interest…
Community Reviews
---
Now that Rwanda appears to have confirmed that it intends to nominate Nyungwe Forest NP (possibly at the 2024 WHC? A decision is to be made by the Rwandan government some time this year. See here. ) it seems worth having a review of the T List site. As I am (currently) the only recorded visitor among this Web site's "Community", I guess the "honour" falls to me.
Our visit was a long time ago - Sept 2006. Nyungwe had only been made a National Park in 2005. Like most other travellers we visited Rwanda primarily for gorilla trekking (My diary notes that we each paid £227 for each of 2 treks per person. They were then priced in Rwandan Francs. Current cost is $1500, i.e £1140 per trek). As do todays visitors, we then had to decide what else to see in the Country. We chose a round trip from Kigali out to Nyungwe in the far south West and then up the Albertine Rift alongside (and on) Lake Kivu to Goma in DRC and Volcanoes NP for Gorilla trekking. We also had a final add on to the East of the country in Akagera NP on the frontier with Tanzania – this provides a more "classic" East African safari experience as, unlike Nyungwe's forested mountains, it consists of open savannah and swamps.
The basic Kigali return round trip, taking in Nyungwe before continuing to Volcanoes NP, will provide a good picture of Rwanda. On the way out the road to Nyungwe passes Butare, which has the "Ethnographic" (Formerly "National") Museum and is also the home of Rwanda's National "Ballet" troupe which gives regular "shows". On the way you can visit the Kings Palace – this consists of structures reminiscent of the Tombs of the Buganda Kings in Kampala. It is entirely a reconstruction located next to the King's modern, vaguely "art deco", palace from the early 1930s. Finally the route provides an opportunity to visit the Genocide site at Murambi (see my review ). The route from Nyungwe to Volcanoes NP skirts Lake Kivu and, whilst the road does continue all the way to Gisenyi/Goma, a common approach (which we did) is only to take it as far as the Kivu port town of Kibuye and then get a boat across Kivu for the final stretch. The scenery, consisting of rolling green hills and the blue lake with multitudes of bays and inlets, is very fine….. and also provides a good insight into Rwandan rural life.
Regarding Nyungwe itself - We stayed at the Rwandan Tourist organisation's (ORTPN) Guesthouse to the west of the NP at Gisakura. It was then the only place available on that side of the forest. It still exists (though may have been "privatised") and is conveniently and pleasantly located. But our experiences from 16 years ago are not likely to be relevant so I will leave people to look at more recent sources! Newer (and pricier) alternatives are now available!!
The main wild-life reason for going to Nyungwe is to see its primates. It is also regarded as a fine bird watching destination – but, as with all forest habitats, you perhaps need to be particularly knowledgeable and committed to get the best of what it has to offer in that respect! I can't remember anything of particular note from our visit, where bird watching was really only done "en passant" to the Primate hunting. There are 13 primate species. Unless you are a "primate nut" you will probably never have heard of many of them. – nearly all are forest dwelling specialists with Chimpanzee the most "iconic" one … but the park is perhaps internationally regarded as being more "special" for its populations of Ruwenzori Colobus – a sub species of the Angola Colobus. They are highly sociable and live in large groups – one of which at Nyungwe (a group of over 400) has been described as "the largest group of arborial primates anywhere in Africa". Another species which will definitely be seen is l'Hoest's Monkey. If I mention that this used to be one of over 20 species of old world monkeys classified as being of the genus "Guenon" (or Cercopithecus) but has now been "moved" by scientists with 2 of its relatives to the genus "Allochrocebus" you will realise that, in Nyungwe, you will not be looking at well known creatures like the "big 5" - indeed you will need to develop an interest in primates to get the most out of the place!! Whilst l'Hoest's monkey can be seen by the roadside, all other mammal viewing is going to require some trekking and the presence of an (or more likely several!) NP guide
To cover the Chimpanzee viewing aspect – we failed to get anything but the most fleeting of views despite quite a long trek. This was particularly annoying as we had also failed to get good views at Kibale and in Bwindi. In fact the only "good views" we have ever had of Chimps have been in Sierra Leone – but that was in a somewhat zoo-like protected forest area so doesn't really "count"! Reading the latest information, it appears that this aspect of Nyungwe has been considerably expanded and improved since 2006 with the introduction of lessons learned from the country's experience in Gorilla trekking – scouts going out early, habituated groups etc. It sounds as if it would be a better experience now. As an indication of the investment which Rwanda has been putting in to developing the NP I note also that it now has a "forest canopy walk". (Not that our experiences with "canopy walks" around the World make me regret missing that tourist feature!!).
Moving on to the other primates which you WILL see! Both the Ruwenzori Colobus and L'Hoest's monkey are delightful creatures - inquisitive, active, and sociable with attractive coats and intelligent features. The Nyungwe Colobus remind me of the very distantly related Zanzibar Red Colobus we saw a few years later in the T List site of Jozani - Chwaka Bay Conservation Area. The Angola Colobus isn't that rare (though it has virtually disappeared from Angola where, despite its name, it was always at the edge of its range) but is very specialised in its habitat, and another subspecies is easily seen at the Kenyan resort area of Diani Beach which has remnants of coastal forest.
Which takes us to my chosen Colobus photo – and yes he (self evidently!) IS happily (I presume) masturbating (I do have a video but didn't think that should be used for a family Web site). It appears that such natural activity is more common in non-human animals than "polite" conversation normally recognises. Whilst Bonobo provide the go-to species for study of female animal masturbation, the species of choice for that of males has been the Red Colobus – so this observed behaviour in the White faced variety is not a "surprise". It seems that the "practice" is particularly noted in species with large multi-male and female breeding groups – which "fits" the White Faced/Angolan Colobus perfectly. There is much debate among naturalists about evolutionary "reason" for the behaviour (beyond the obvious one!). If this is a subject about which you would like to know more then I suggest you start here!!! Further facts about the Colobus which might be of interest include - First that it doesn't possess (or rather only has a vestigial) thumb, hence its name from the "Greek κολοβός - kolobós, "docked", "maimed" (Wiki). I hope this is discernable in the photo – but, of course it wasn't his thumb I was aiming to show! They have also developed ruminant-like stomachs with pre-gastric fermentation to enable them to digest their completely leaf based diet. Who needs lions and elephants when there are such interesting, lesser known creatures to see!!
What of the site's chances of gaining inscription? The NP has clearly been considerably developed since our visit as a significant additional tourist attraction to spread numbers and wealth beyond the Gorilla areas, so, it should be "well managed". It also looks as if UNESCO has taken particular interest in assisting the development of the Nomination and in 2020 IUCN produced this report listing 20 African "priority" natural sites for nomination – including the "Montane Forests of the Albertine Rift" (see page 51 ). This article indicates the help Rwanda received both to get the park placed on the T List as recently as Feb 2021 and expected to get to prepare a nomination. It should be a "shoo in" as the country's first WHS!!
---
Site Info
Site History
2023

Advisory Body overruled

IUCN had advised Referral because of lack of an up-to-date management plan
Visitors
6 Community Members have visited.