Mogao Caves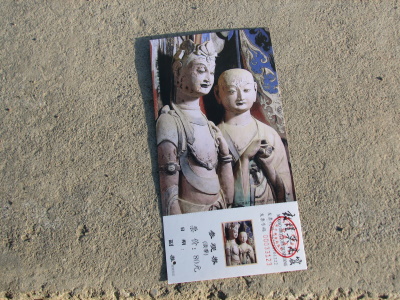 The Mogao Caves are a system of 492 rock-cut cells and sanctuaries near Dunhuang, in the desert landscape of Gansu Province.
Because of its strategic position along the Silk Route, the caves attracted many pilgrims and a variety of cultural influences from the 4th until the 14th century.
The complex once held over 1000 caves with rock art. About 40 of them date from the Northern Wei-dynasty (385-557). More were added during the Sui-dynasty (581-618). Most of the caves were made during the Tang-dynasty (until ca. 750), when Buddhism and the Silk Route were in their prime.
The caves were made a WHS because of the artistic achievement (statues and wall paintings), the cultural exchange they represent and the Buddhist monastic history.
Map of Mogao Caves
Legend
Visit November 2007
The Mogao Caves are located in a little oasis just outside Dunhuang city. I arrived at 2.30 p.m. and had to wait until a small group had gathered. I forgot to ask about an English speaking guide at the ticket booth which is about 1 kilometer away from the cave entrance. So I ended up with a Chinese tour, with 11 other visitors. Photographing is not allowed.
The tour took us to nine of the caves plus the Hidden Library exhibition. The caves we visited included the two large buddhas, the reclining buddha and examples of Wei and Tang dynasty carvings. The story of the Hidden Library, and how its contents were first given away by its discoverer Wang Yuanlu and later 'bought' by non-Chinese explorers (British, American, Russian and Japanese) plays a prominent role in the tour. I got the feeling that the extremely strict visiting rules of today are a compensation for this past abuse.
This was my final visit of the four groups of buddhist rock art in China (Dazu, Longmen and Yungang were the others). The Mogao Caves are the oldest of these four, and differ from the others because of their elaborate wallpaintings and decorated floors.
My feelings about visiting Mogao are a mixture of these described below by Paul Tanner and Renae in their reviews. Visiting out-of-season and in the late afternoon is definitely a plus. Also the tours now all take two hours and have good guides, which is good value for the 80 Yuan entry fee (100 Yuan if you want a guide in a foreign language). But, there is a but, I only got to know the immensity of this site after I bought a book about them, and got to see what is in all the other caves. The tour does give you a good sample of the styles, but the wealth behind these doors must be overwhelming. I didn't leave Mogao with the same Wow-feeling that I had in Dazu and Yungang where everything is out in the open and for all to see.
Community Reviews
---
---
---
---
---
Community Rating
Community Rating 4.58. Based on 6 votes.
Site Info
Full name: Mogao Caves
Unesco ID: 440
Inscribed: 1987
Type: Cultural
Criteria: 1 2 3 4 5 6
Site Links
Unesco Website
Official Website
Related
In the News
Connections
The site has 20 connections. Show all
Visitors
58 community members have visited Mogao Caves. Show all