Leptis Magna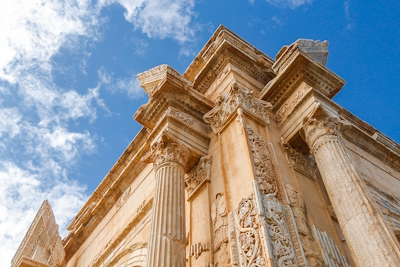 .
The Archaeological Site of Leptis Magna are the remains of the Phoenician port Lpgy, that was integrated into the Roman Empire in 46 BC.
After Septimus Severus became emperor here (in 193), it became one of the most beautiful cities of the Roman world.
Its assets as a WHS are the level of urban planning, the role it played in the movement back to antiquity (right after its rediscovery in the 17th century) and the witness it bears to a great civilization.
Map of Leptis Magna
Legend
Community Reviews
---
Tony O Connor USA - 10-Mar-11
I was at leptis many times and have lots of pictures to share, was there in the early eighties when working in Misrata,I have seen many Roman cities but this is undoubtably the best, this gem is a must see for enthusiasts. (If you get the chance to enter Libya?)
Tony
---
What did the Romans ever do for us? Well, there are some beautifully preserved Public Toilets at Leptis Magna (see photo) which show a degree of civilisation unmatched in many places around the world today!
Letpis Magna also has its fair share of triumphal arches, temples, baths, theatres, mosaics etc but it is perhaps the "ordinary" things of life which bring home most what life was like and the continuity until today.
Apart from Pompeii I do not know of any ruined roman city which is as "complete" as Leptis Magna. You are going to get your fill of "Roman ruins" in Libya – The others each have their "gems" but Leptis as a whole is unmatched and should not be missed.
---
Community Rating
Community Rating 3.75. Based on 2 votes.
Site Info
Full name: Archaeological Site of Leptis Magna
Unesco ID: 183
Inscribed: 1982 In Danger
Type: Cultural
Criteria: 1 2 3
Site History
2016 - In Danger

Simultaneously with the four other World Heritage sites of Libya "because of damage caused by the conflict affecting the country and the threat of further damage it poses".

1982 - Inscribed
Site Links
Unesco Website
Official Website
Related
In the News
Connections
The site has 16 connections. Show all
Visitors
33 community members have visited Leptis Magna. Show all