Lamu Old Town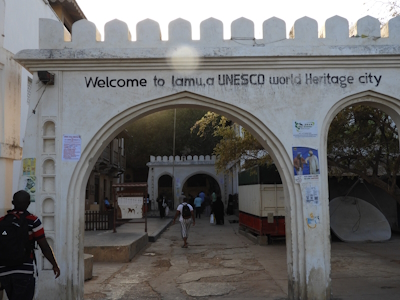 Lamu Old Town is the oldest and best-preserved example of Swahili settlement in East Africa.
The town has retained its authentic building fabric up to the present day, with cultural influences from Europe, Arabia, and India. As a conservative and closed society, Lamu has an important religious function with annual celebrations and is also a significant centre for education in Islamic and Swahili culture.
Community Perspective: aimlessly wandering around the old town seems the thing to do.
Community Reviews
---
In August 2016, I flew on Airkenya Express from Nairobi to Lamu. I ignored at my peril the admonishment on Airkenya's ticket to only travel with soft-sided luggage. Airkenya apparently runs an ancillary business selling soft-sided luggage to tourists as they immediately offered to sell me a duffel bag, in which I repacked my belongings, and they stowed my hard-sided suitcase until my return. (I ended up donating the Airkenya-branded duffel bag later in my trip to the guide who accompanied me during my visit to Kibera, the largest slum in Nairobi, so it was money well spent.) Lamu Airport is located on an island across the channel from Lamu's old town, and ferries await arriving passengers for the 10-minute crossing. I stayed at Subira House, which was built 200 years ago by the governor of the Sultan of Zanzibar (http://www.subirahouse.com). Due to Lamu's proximity to Somalia and some recent incidents, there were very few tourists in Lamu and I was the only guest at Subira House. The highlights in Lamu were wandering around the old town, visiting the Donkey Sanctuary, which works to improve the health and condition of Lamu's principal means of transport (https://www.thedonkeysanctuary.org.uk/project/lamu), and eating and drinking at Peponi Hotel in nearby Shela village (http://www.peponi-lamu.com).
---
Daniel Hofer
Lamu is an own world, little planet by itself. Time runs slower, the heat forces You to a slower path. The streets so narrow that no car can pass, but still, look out not to be overrun by a donkeytransport. Its like Africa 100 years ago, with some mix in of the 21th century. People of all tribes can be seen in town, if lucky even half bare-breasted Maasai-woman may walk down the beach front, with all her traditionel jewellery around her neck. Bearded black arabs with their "Fez", totally black muslim woman with only their eyes visible and less conservative swahili woman with their colourful dresses add a special touch to street life. Now, in may 2005, there are few tourists and the beach-boys try every trick to get a little busyness off You. Tell them very clear "sitaki" ( I dont want") and then "salama" (go in peace). Dont take a map in Your hand, otherwise You have instantely a crowd of young men arround you offering help, You ount get rid of them! But the ambiance of the town is unique - its the place to shoot those pictures one uses for this expensive high glance calendars, the place where lovers pass hoeny-moon, as we did ....
---
ogova ondego
Other than for its population of 5,000 donkeys roaming the narrow streets among kanzu-clad men and women in flowing buibui robes and 40 mosques, Lamu looks like any other ancient Islamic town. The only motor vehicles in the ancient centre are a Land Rover belonging to the District Commissioner and a tractor owned by Lamu County Council.
Yet Lamu is a Mecca of sorts. More than 20,000 Muslims visit Lamu annually to mark the holy Maulidi Festival that also attracts tourists from East and Central Africa, Europe, North America, the Indian sub-continent and the Middle East every August.
---
Site Info
Site Links
Unesco Website
In the News
Visitors
35 Community Members have visited.