Jesuit Block and Estancias of Córdoba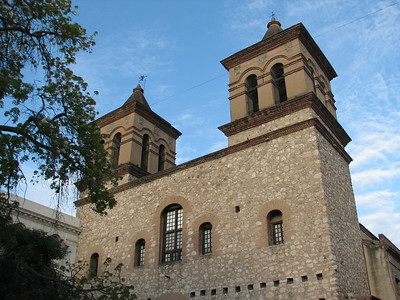 The Jesuit Block and Estancias of Córdoba are religious, educational and agricultural developments by the Society of Jesus between 1604 and 1767. Together they form the origins and the core of the missionary activities of the Jesuits in South America.
In Córdoba proper, the Jesuits were allocated one of the blocks in the checkerboard plan of the city, like the other orders (Franciscan, Dominican). This grew into the core of their mission, with a university (Colégio Maximo) based on Jesuit teachings, a college and a church that also held the Jesuit political/administrative bodies.
The rural estancias were to provide the necessary resources by farming and textile production. Irrigation systems, factories and mills were constructed to let them flourish economically (which they did).
The five included Estancias in the Province of Córdoba are:
- Alta Gracia
- Santa Catalina
- Jesus Maria
- Candelaria
- Caroya
Map of Jesuit Block and Estancias of Córdoba
Legend
Visit October 2008
Every trip has its day or location where one feels to have hit rock bottom (at least my trips do). This time the honour goes to: Cordoba! I didn't like Cordoba at all - it's a working city crumbling at all edges. I had the worst hotel of my stay, and even the worst food (which is difficult in Argentina). I was shortchanged by a taxi driver here for the first time this trip (but was alert enough to see his trick, returning 2 pesos instead of 20).
I did a quick visit to the Jesuit Block in the city center. It is located in the pedestrian area, among other more colourful churches. The WHS designated buildings all have displays telling some of their history. They are now in use as a regular University and Church. You can have a look inside, but I wasn't overwhelmed.
To escape the bad city vibes I took a local bus to Alta Gracia, one of the estancias included. The driver dropped me off at what I first thought was a nice city park with a lake, but turned out to be the tajamar, the water reservoir constructed by the Jesuits for irrigation. At the other end of the park is the pretty Baroque church. And next to that, El Obraje: a former mill that now is a school (where kids took classes half in the open). Well, that was about it. I hope others can write more imaginative stories about the Jesuit Block and Estancias than I can.
Community Reviews
---
---
---
---
---
---
---
Share your experiences!
Have you been to Jesuit Block and Estancias of Córdoba? Add your own review!
Community Rating
Community Rating 2.75. Based on 6 votes.
Site Info
Full name: Jesuit Block and Estancias of Córdoba
Unesco ID: 995
Inscribed: 2000
Type: Cultural
Criteria: 2 4
Site Links
Unesco Website
Official Website
Related
Locations
The site has 6 locations.
Connections
The site has 10 connections.
Visitors
51 community members have visited Jesuit Block and Estancias of Córdoba. Show all