Hani Rice Terraces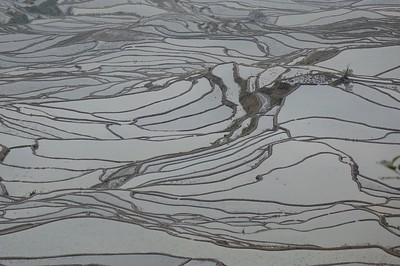 The Cultural Landscape of Honghe Hani Rice Terraces consists of irrigated rice paddies, forested mountain tops and farming villages where farming and water management are combined.
This landscape spread across three valleys has been developed over the past 1300 years by the Hani people, one of China's official ethnic minority groups. It is the most concentrated area of steep rice terraces in China. The terraces are irrigated via a complex system of channels that transport water from the surrounding mountain tops.
Community Perspective: "The subject of many coffee table books". Els made it there on a rainy day in 2019 (it takes a full day to reach from the nearest big city, Kunming), while Zoë introduces us to the world of Chinese hobby photographers.
Community Reviews
---
4.00 Chinese-Canadian - 05-Jan-23 -
One of the top sites in China. So popular with photographers, a new hobby that grew with wealth building up in the country that you will have a hard time finding a good spot at the photography spots in the morning. Also many girls in China like to call themselves "哈尼" as a nickname because Hani sounds like "Honey" and they think they are cute then - and no, I didn't do that ;)
I think the main reason this is not visited by more people in general is that the effort it takes can be quite big. You need to get a coach from Kunming to the nearby towns (very luxurious) and then onwards with small vans to where you are staying. The protected area has a ticket and with the ticket you get a one-time visit to the photography spot. If you were smart and got a good guesthouse in one of the villages you get free views anytime of the day which was actually better in my case because as you can see the sunrise photo was cloudy. The only downside is that you don't have the same panoramic heights. The aforementioned photographers would still stay at these spot for hours for the chance to get a good shot. After 90 minutes in the cold (I went in December maybe not a good idea lol) I went back to my resort for a hot shower and then just walked around the rice fields itself. The latter was actually more fun and worth although they are muddy and if you slip and fall you are on your own. It's fun to explore though. The guesthouse was also cheap and staying for two nights enabled you to learn a lot about their culture, the way of life and figure out how to get to Pu'er from there (trust me, it's far away and not the right approach).
Highly recommended.
---
4.00 The Netherlands - 07-Jan-19 -
The Hani Rice Terraces are a cultural landscape in the mountains of southern Yunnan. I had been to this region before, almost 25(!) years to date on a 4-week tour of this province. From the photo album that I have left of that trip, I know that we were near Daluo. This lies close to the core zone but none of my remaining photos show the spectacular rice terraces that this WHS is known for. So in early 2019, I went back for a proper visit. It takes a full day of travel to get there by public transport from the provincial capital of Kunming. But it was well worth the effort.
The weather had been a constant worry on this trip so far. Fortunately, on the evening that I arrived in the Yuanyang area – where the terraces are located – it was sunny. The minibus driver who picked me and some other tourists up from the bus station was kind enough to improvise a sunset photo stop at one of the terraces. Glistering water-filled terraces, that's why we came here - wow!
I was staying overnight in the core zone in the village of Duoyishu. Actually, the whole area is dotted with traditional villages: 82 of them. It was much more built-up than I expected. There's a lot of construction going on as well. It seemed to me that this was mostly geared toward getting the residents better housing though. There are a few hotels but not that many. In Duoyishu I stayed at the Flower Residence Inn, a cozy hostel. They do have a second place to stay a bit lower down the village & a restaurant at that same spot. So you'll invariably end up going up and down the narrow streets of the village. This was made more complicated as all streets were opened up in the middle to install drainage.
The next morning, together with 2 French tourists I hired a car + driver for half a day to take us to the main spots in the area. The weather forecast was such that rain was expected again later in the day. So I was happy to at least get a good overview of the area which at 35km is fairly stretched out. We first drove to the far end of the valley, where somewhat downhill the serious photographers with their tripods were already posted (probably since dawn). This is probably the most picturesque group of terraces of them all, the one with lots of 'pools' and only thin walls separating them.
Next, we went to Azheke, also known as the 'mushroom village'. They don't grow or collect mushrooms here, it is named after the shape of the houses. It is like an open-air museum because at almost every house or other interesting element there is an information panel with explanations in Chinese and English. You enter the village under a reed gate, with which the Hani want to indicate the border between where people live and where the spirits live. Above the village, there is also a sacred forest where the villagers once a year worship the god Angma for happiness and a good harvest.
In the village itself, the daily activities just went on. Women in traditional clothing were carrying cement and stones on their backs to make construction possible. Pigs, chickens, turkeys and a single buffalo walked freely through the streets.
It had been already a cloudy morning and unfortunately, it started raining towards 11 o'clock. But we still continued our tour, although there was nothing to see from some viewpoints. One of the most beautiful and largest terraces we still could see was the one at the village of Bada. This one has more green and red than the others.
These rice terraces have been the subject of many coffee table books as they are so picturesque. ICOMOS however did not want to reward the site with inscription on criterion i, "masterpiece of human creative genius", stating that its aesthetic beauty was not meant as an outcome by the people who made the terraces. During holidays I am sure they attract a lot of tourists, but I found it relatively low-key during my stay on 2 weekdays in January. Transport between the villages still is delivered by local minibus and taxi drivers only.
Read more from Els Slots here.
---
Most rice terraces look more charming when the landscape is green; Yuanyang however are more frequently visited after harvest, in winter, when the terraces are mirror pools.
Visited Yuanyang in August of 2013, just months after being inscribed in the World Heritage List. At the time, transportation from one rice terrace cluster to another was difficult. My friend and I rode the local small buses with the locals; rides were irregular and less frequent. We found out that transportation will become more "centralized," using new fancy buses, to accommodate the tourists expected to pour in, especially after the World Heritage inscription. Cases like this, the local authorities will not only dictate price, they also squeeze out local car owners who benefit from driving tourists.
---
WOW, one of must in China. I am sure that one day it will be part of World Heritage, no doubts about this.
The places are easy to see from Old Yuanyang (old Xinjie) not to mix with new Xinjie (now called Nansha). Anyway if you are dropped in Nansha (which is the most common) it will be around 30 km to get to Xinjie town. All rice terraces are clustered around Xinjie. The places are well prepared for visiting (including 100 Yuan entrance fee per person). All can be seen as a day trip organised from the town (usual fare for that is approximately 200 Yuan - November 2012 - for the motorbike ride for up to 8 persons, be prepared for some bumpy roads). The most stunning are: Quanfuzhuang, Bada, Duoyishu, Laohuzui. Usual trip inlude also traditional folk village of Qingkou, where people harvesting rice terraces live.
---
Site Info
Full Name

Cultural Landscape of Honghe Hani Rice Terraces

Unesco ID

Country

Inscribed

Type

Cultural

Criteria

3

5

Categories

Link
Visitors
54 Community Members have visited.