Hani Rice Terraces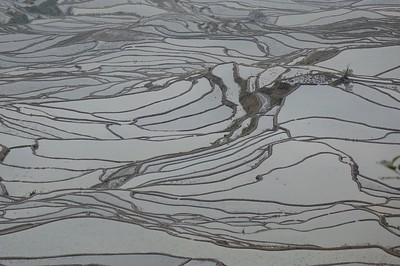 Photo provided by Boj Capati
The Cultural Landscape of Honghe Hani Rice Terraces consists of irrigated rice paddies, forested mountain tops and 82 farming villages.
This landscape has been developed over the past 1300 years by the Hani people, one of China's official ethnic minority groups.
The site comprises 3 different valleys: Bada, Duoyishu and Laohuzui. Together they form the most concentrated area of steep rice terraces in China. They produce red rice. The terraces are irrigated via a complex system of channels that transport water from the surrounding mountain tops.
Map of Hani Rice Terraces
Legend
Community Reviews
---
Boj Philippines - 12-Jun-15
Most rice terraces look more charming when the landscape is green; Yuanyang however are more frequently visited after harvest, in winter, when the terraces are mirror pools.
Visited Yuanyang in August of 2013, just months after being inscribed in the World Heritage List. At the time, transportation from one rice terrace cluster to another was difficult. My friend and I rode the local small buses with the locals; rides were irregular and less frequent. We found out that transportation will become more "centralized," using new fancy buses, to accommodate the tourists expected to pour in, especially after the World Heritage inscription. Cases like this, the local authorities will not only dictate price, they also squeeze out local car owners who benefit from driving tourists.
---
WOW, one of must in China. I am sure that one day it will be part of World Heritage, no doubts about this.
The places are easy to see from Old Yuanyang (old Xinjie) not to mix with new Xinjie (now called Nansha). Anyway if you are dropped in Nansha (which is the most common) it will be around 30 km to get to Xinjie town. All rice terraces are clustered around Xinjie. The places are well prepared for visiting (including 100 Yuan entrance fee per person). All can be seen as a day trip organised from the town (usual fare for that is approximately 200 Yuan - November 2012 - for the motorbike ride for up to 8 persons, be prepared for some bumpy roads). The most stunning are: Quanfuzhuang, Bada, Duoyishu, Laohuzui. Usual trip inlude also traditional folk village of Qingkou, where people harvesting rice terraces live.
---
Site Info
Full name: Cultural Landscape of Honghe Hani Rice Terraces
Unesco ID: 1111
Inscribed: 2013
Type: Cultural
Criteria: 3 5
Site Links
Unesco Website
Official Website
Related
Connections
The site has 11 connections. Show all
Visitors
37 community members have visited Hani Rice Terraces. Show all