Ghadames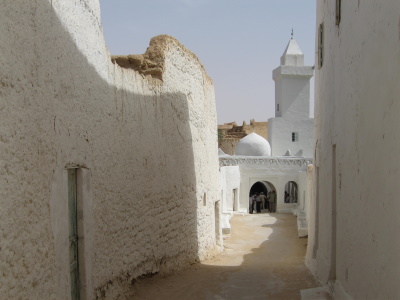 The Old Town of Ghadamès is one of the oldest oasis towns just north of the Sahara.
It has played an important role in the trans-Saharan trade network for over 2,000 years. The old part of the town has a circular shape and is surrounded by a wall. It has its own unique architecture adapted to the local arid climate.
Community Perspective: Thomas has been the only reviewer so far, and enjoyed the renovated and beautifully decorated buildings.
Community Reviews
---
3.50 Switzerland - 20-Oct-13 -
In the distant corner where Libya, Algeria and Tunesia meet,is Ghadames, an ancient Sahara outpost that was already mentionned in the time of Roman emperor Septimius Severus, 200 after Christ.The jewel of the oasis is the walled old city where 7 clans used to live seperately, but with an identical set up.Around 40 families, the heads meeting regularely to discuss matters and make decisions, a kind of early stage parliament right in the desert.Renowed for its distinctive architecture, we visit the old mosque and the Koranic school, the old butchery, a tailorshop, and a bakery right besides the living quarters.Some of them have been renovated and beautifully decorated.Nice fruit and vegetable gardens as well.It is possible to wander around on the rooftops from one house to the other on narrow house walls, which feels sometimes like a circus acrobat.Women in the old times were forbidden to wander the streets alone, and they used the rooftops as a thoroughfare.
Ghadames can be reached by private car, in a public bus or in shared taxis.Its s whole day trip.
Wortwhile stops are Qasr al-Hadj, Nalut or Cabao with its wonderful food storage fortresses and would be canditates for Unesco if Libya will ever have a tentative list!
We spent an unforgettable sunset time at the summit of the Ghost (Ras al Ghoul) and the huge sand dunes of Erg Oriental, very close to the Algerian border.
---
Site Info
Site History
2016

In Danger

Simultaneously with the four other World Heritage sites of Libya "because of damage caused by the conflict affecting the country and the threat of further damage it poses".
Site Links
Unesco Website
Official Website
In the News
Visitors
22 Community Members have visited.