ESMA Site Museum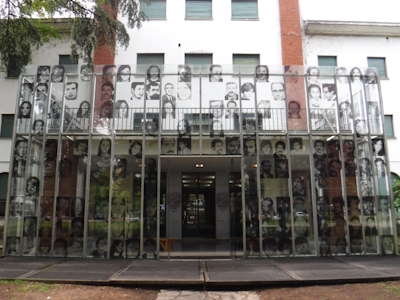 The ESMA Museum and Site of Memory - Former Clandestine Centre of Detention, Torture and Extermination represents the illegal oppression of opposition executed by the dictatorships of Latin America in the 1970s-1980s.
The 'Clandestine Centre' was located at the Officer's Quarters of the Argentine Navy in Buenos Aires. More than 5,000 people were kidnapped, tortured, and murdered here, and further atrocities were committed by its officers and subordinates against political left- and communist-oriented opposition members.
Community Perspective: Joel speaks of a "harrowing" museum with a strong focus on survivors' testimony, though overall it is very Argentina-specific. The museum is easy to reach within Buenos Aires by bus or Uber.
Community Reviews
---
ESMA, the ESpacio MemoriA y Derechos Humanos (Human Rights and Memorial Space), belongs to a difficult category of Site. Like Auschwitz, Hiroshima, and the proposed sites of genocide memorial in Rwanda and WW1 memorials in Belgium/France, ESMA is dedicated to preserving the memory of a significant 20th century crime.
Located on the campus of the Naval Warfare School in leafy northern Buenos Aires, the main part of the museum is in the former Officer's Quarters, an imposing four-storey edifice in one corner of the campus. It's here that during the military dictatorship of 1976-1983, both political prisoners and innocent civilians were taken, tortured, beaten, confined to miniscule cells, and often, ultimately "transferred" (murdered, though the act was done elsewhere). Incredibly, while this was happening, the rest of the campus continued to operate as normal, with the majority of naval cadets unaware of what was taking place just a few hundred metres away. Almost literally hidden in plain sight.
As a child of the early 80s, and not particularly well versed in Argentine history, I didn't know much about the military dictatorship era other than "it existed". So the extremely well-organised and put together museum was genuinely eye-opening, and very harrowing. I was astounded to read accounts from survivors, and to discover that despite being confined to a blacked-out building, most captives were completely aware of where they were being held.
The busy six-lane boulevard Avenida del Libertador runs directly past with its ceaseless rumble of traffic, aircraft approaching and leaving Aeroparque Jorge Newbury pass overhead - they could even hear football matches (including Argentina's win at the 1978 World Cup Final!) being played at the massive River Plate stadium nearby. Again, it was literally hidden in plain sight. Overall, the museum is a harrowing but worthwhile experience, from the attic confinement spaces, to the torture areas of the basement, the relative luxury of the officers' areas, and the well-produced videos giving context behind the military coup and a "where-are-they-now" type coda (though as usual, it was depressing how little justice most of the perpetrators faced for crimes against their own people). I also really appreciated the strong focus on survivors' testimony, rather than just dry facts - it gave the whole experience much more emotional impact, and reduced me to tears multiple times.
However, I'm not so sure about the site's OUV. Outstanding? Definitely. Valuable? 100%. Universal? I'm not so sure. Naturally, the whole site is completely Argentina-specific, and I'm honestly uncertain whether something quite so modern and country-specific should be included on a "Universal" list. Given UNESCO's renewed focus on multi-national sites, it might be interesting to include similar locations from other South American countries, covering the similar issues of 20th century dictatorships in say Brazil and Chile, among others. Though I can imagine that would quickly become a diplomatic and political minefield!
Logistics
Getting to ESMA is easy. There's a bus stop directly out the front of the Naval Warfare School, with bus routes and timetables available on Google Maps and Moovit. Paying for public transport (both buses and subways) in BA requires an Oyster-style tap-on card; for buses you tell the driver where you're going, he'll punch the appropriate fare into his machine, and you then tap your card. Obtaining a card can be a pain, though most subway stations will sell them. Otherwise, Uber is available in BA though paying by card means you can't use the blue dollar exchange rate.
Read more from Joel on the Road here.
---
Site Info
Full Name

ESMA Museum and Site of Memory – Former Clandestine Center of Detention, Torture and Extermination

Unesco ID

Country

Inscribed

Type

Cultural

Criteria

6

Categories

Link
Site Links
Unesco Website
Official Website
Visitors
12 Community Members have visited.