Dholavira: A Harappan City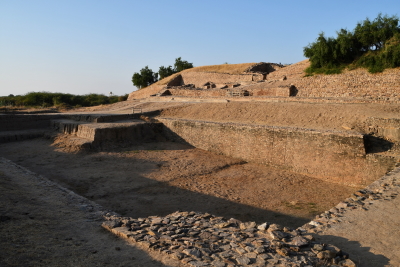 Dholavira: a Harappan city is an archaeological site that contains ruins of a large urban settlement of the Indus Valley Civilization.
The fortified city flourished between 3000 and 1800 BCE. It had an efficient water conservation system. The city was constructed to a pre-existing geometrical plan consisting of three divisions – the citadel, the middle town, and the lower town. The site also includes a cemetery to the west of the city.
Community Perspective: Randi, Svein and Philipp were the first to get there and review it. They were impressed by the very large water reservoir. The site doesn't see many visitors, the entrance is free and signposting is a bit erratic. The area overall is a "NO zone".

Map of Dholavira: A Harappan City
Load map
Community Reviews
---
3.50 Switzerland - 12-Jan-23 -
Visit December 2022 – I planned this visit together with Randi and Svein. As Randi described the site very well in her review, I will focus on the logistics.
How to get there
We arrived in Ahmadabad with an early morning flight from BOM. Svein hat prebooked a rental car with Europcar that should have been brought to us at the arrival. As nothing really works as planned in India, we finally took off with a car with driver and around 2.5h delay. The driver took us via Modhera TWHS and Rani Ki Vav WHS to Dholavira. It's a more than 6h drive from Rani Ki Vav. After spending the night in Dholavira, we visited the site in the morning (around 8am to 11am) and spent the rest of the day driving back to Ahmadabad. The drive takes over 8h, plus lunch and coffee breaks.
Where to stay
We stayed at the Hotel Rann of Kutch. Location is great. Around 10min walk from the entrance. Look for Dholavira Tourism Resort when you arrive. As a room we had our own traditional hut with 3 beds. The room was very basic, had no Wifi and only accepted cash. Booking was a hassle, as they demand a bank transfer to secure the booking. We did not do that (transaction fees would be too high) and the first booking got cancelled. The room was completely overpriced. But there are few other options so close to the site. Bring enough cash and calculate a digital detox in, while there.
At least they prepared a cheap dinner (150 Rp per person).
On the route
As mentioned, the Sun Temple in Modhera and Rani Ki Vav are not too far off route. If we had started at 8am, as planned, we might have considered adding Vadnagar TWHS to the itinerary. The Wild Ass Sanctuary TWHS is technically close by. But you would need to add an extra day, as it is too far off the road, so we skipped it. An easy stop though is the salt desert that should be Rann of Kutch Lake. On the way back we passed it during daytime and had a quick photo stop.
Be aware: the last real city is Radhanpur. The last place with any kind of infrastructure is Rapar, around 2h from Dholavira. After Rapar the NO zone starts. No ATMs, no shops, no Wifi and no data service (at least if you use Airtel). Make sure you stop before and get cash, snacks and water before you enter this zone.
---
This is a new site and has very few visitors from our community so far. Dholavira is an old Harappan city dating back to 3000 years BC, so we didn't expect to see much. But we were surprised!
We, that includes Svein and Phillip, were first on site this December morning and we even had to open the gate. The first structure was a very large reservoir in front of the castle's eastern gate, impressive! It seems like the ancient civilization living here did very well in mastering the water.
The settlement was at the beginning a small, fortified village, and was at its heights around 2600 BC. The city has a long history of rise and fall over 1500 years. Then it was abandoned and never occupied thereafter. They built monumental structures and amazing water management and storage systems.
The site consisted of four distinct areas, the Castle complex, Bailey, the Stadium area, and the Middle and Lower town. There are some fine examples of gates (the north and east) to the castle area. The most interesting places was signposted, but they still have some work to do! We nearly missed the Middle town and had to go back to find it, after having studied the map at the museum. This small museum was at the gate, and it had some artifacts, pictures and information leaflets. It was closed when we arrived, apparently opened at 9:00.
We spend almost three hours at the site, the first hours to ourselves. Then a few people arrived. When we left, more people were coming, all Indian though. Entrance was free, even for foreigners!
We were very happy with the site and the "little detour" to this remote corner of India.
For practical info, check Phillips review😉
---
Site Info
Full Name

Dholavira: A Harappan City

Unesco ID

Country

Inscribed

Type

Cultural

Criteria

3

4

Categories

Link
Site History
2014

Revision

Revised nomination of Dholavira: a Harappan City, Gujarat, Disstt, Kachchh (1998)
Site Links
Unesco Website
Official Website
Visitors
7 Community Members have visited.