Desembarco del Granma National Park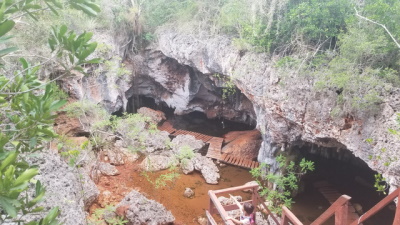 Desembarco del Granma National Park has been recognized for its marine terraces and pristine sea cliffs.
Its terrestrial area has several karst features and rich endemic flora, while coral reefs can be found in the sea. The submarine terraces of Cabo Cruz and Maisí are like gigantic stepping stones.
This national park lies in south-eastern Cuba. It was named after the yacht in which Fidel Castro, Che Guevara, Raúl Castro, and 79 of their supporters sailed from Mexico to Cuba in 1956 and incited the Cuban Revolution.
Map of Desembarco del Granma National Park
Legend
Community Reviews
---
I reached Bayamo, capital of the province of Granma, in February 2001,on an overnight bus from Sancti Spiritus and quickly concluded that I was not likely to find public transport to continue my journey to the park. Ricardo, a 30-something local with access to an ancient Moskvich, sensed a commercial opportunity and, proclaiming himself to be a taxi driver, offered to take me to the park. I was happy to accept his offer.
It soon became clear that his girl friend and 3 other members of his extended family were also to be part of the expedition and would need to be picked up in various towns en route.
Perhaps the first thing for me to say about this site is how surprised I was that it is inscribed only for Natural Reasons. As its name suggests this is the place where Fidel Castro, Che Guevara and their fellow revolutionaries disembarked from the Granma to begin the campaign that would lead to the overthrow of the Batista regime and all that followed. This sounds like a cultural justification to me.
Close to the entrance of the park is a small and rather empty museum commemmorating the landing in 1956 and a replica of the boat itself (on wheels!).
Within the park I was able to enjoy a 2 hour guided walk, mostly thro' a kind of dry forest. I saw lots of birds, some archaeological bits and pieces and an example of the biggest cactus in Latin America.
This is limestone karst country so there are also caverns to explore. We continued to Cabo Cruz at the furthest tip of the peninsula and from there were able to see the offshore reef which keeps the incredibly blue inshore water very calm. There are cliffs up to 100m high, white sand beaches, palm trees, gorgeous.
I'd love to read another review from someone who has visited more recently to learn if things in the park have changed much since I was there.
If anyone is thinking of going there the Hotel Niquero in the town of the same name near the northern entrance to the park was perfectly acceptable when I was there.
---
Community Rating
Community Rating 3.50. Based on 2 votes.
Your Rating
Site Info
Full name: Desembarco del Granma National Park
Unesco ID: 889
Inscribed: 1999
Type: Natural
Criteria: 7 8
Site Links
Unesco Website
Official Website
Related
Connections
The site has 19 connections. Show all
Visitors
20 community members have visited Desembarco del Granma National Park. Show all