Bolgar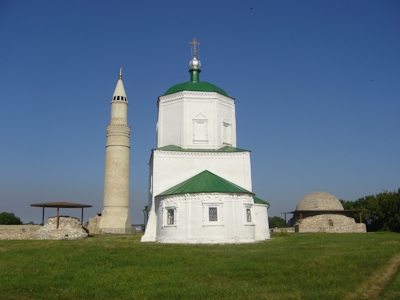 The Bolgar Historical and Archaeological Complex is an important historical and religious site for the Islamic Volga Tatars.
Within the confinement of an earthen wall and a moat are various monuments, including mosques, mausoleums, bathhouses, a palace and an orthodox church. Under the buildings lie the remains of medieval Bolgar, which was an important trading city on the route between Eastern Europe and Central Asia. It was the settlement of the Volga Bolgars, which existed between the 7th and the 15th centuries.
Community Reviews
---
3.50 The Netherlands - 02-Sep-19 -
A trip to Bolgar is just what ICOMOS did not want it to be: an introduction to the Volga Bolgar civilization. It was an uphill struggle to get this site inscribed as a WHS: only on the 4th try did it succeed and with a significantly limited OUV statement. However, for the Tatar Republic and especially the Islamic Volga Tatars this is so much more – nothing less than the heartland of their civilization. Volga Bulgaria (c. 700–1238), the earliest known organized state within the boundaries of Tatarstan, was an advanced mercantile state with trade contacts throughout Inner Eurasia, the Middle East, and the Baltic.
Getting there is a bit tricky because it is in a remote location not close to any sizeable town; see this Forum post for transport options. I visited Bolgar on a Russian group tour by bus, organized by Hotel Tatarstan. This only cost 1899 rubles (26 EUR), including lunch and entrance fees. The normal admission price is 400 rubles (EUR 5.50). It was a full day trip from 9 a.m. to 8 p.m, of which we spent 5 hours at the site itself. The site is very extensive, we were transported by bus between the various museums and monuments. There are bikes and golf carts for hire at the entrance if you make it here under your own steam.
The drive up to Bolgar is already worth it: good, quiet roads lead through a rolling green landscape. There were many sunflower fields along the road. We also crossed the impressive Kama River, a tributary of the Volga River that is more than 1,800 kilometers long (I first thought it was a lake – that's how wide it is). At Bolgar itself, the wooden houses of the current inhabitants stand among the monuments. There will probably be many tourists here in the summer season, as can be seen from the number of souvenir stalls. Many of them were now (mid-September) closed. In addition to our bus, there was only one other bus with Russian tourists present.
We started our tour at the museum. It looks new and we had to put plastic covers over our shoes. The history and excavations from Bolgar and the surrounding area are exhibited here on 3 floors. Explanations are written in Russian, Tatar and English. The archaeological findings on the site have been numerous, which should do away with any doubts about the importance of the site. They especially found a lot of handicrafts, made from clay, glass and bones. Most are utensils, there are no real top ornamental pieces.
Next to the museum, there is something at the waterfront that looks like a large mosque. However, it is a museum dedicated to the Koran. The largest printed Koran in the world is stored in the central part. It was made by a group of Italians and Slovenes and was donated to the Republic of Tatarstan in 2011. So nothing historic and very kitsch. The Volga Tatars (of nomadic origin) converted to Islam in 922 and this is commemorated here. The old nomads by the way had chosen a beautiful place to put up their tents permanently: Bolgar lies at the banks of the Volga, at a strategic point where you can look up the river for a long way. It all seemed peaceful now, only a single fisherman was rowing on the river.
After lunch in the "Bread Museum" (at the far end of the historic complex) we made a quick dash into the "White Mosque", a new addition to the Bolgar landscape (from 2012). The huge mosque in Moghul style is in religious use - we heard the call to prayer and saw the imam walking by with a number of guests – but I doubt many believers will make it out here.
The most historic part of Bolgar was left for last on the tour. This is a small cluster of monuments near the Volga, enclosed within the remains of a wall – the part you see in most photos of Bolgar. Under these, mostly reconstructed buildings lie the remains of medieval Bolgar. We started with what is left of the 13th-century mosque. Only the contours on the ground can be seen. Next to it is a beautiful minaret - a 21st-century copy of the original that collapsed in 1841. Behind the mosque lies an 18th-century Russian Orthodox church. Tombstones with Arabic inscriptions from the historic Bolgar were used for the foundations of the church and are still visible.
The most interesting I found was the former burial monuments of Bolgarian noble families, of which the interiors can be visited. One of them was used as a Christian church in later times. Now pigeons have nestled there.
Bolgar is still a wonderfully secluded site that gives insights into an ancient civilization that I didn't know about. Yes, some parts of the complex are very kitsch and fake, but its history and beautiful location on the Volga river bank make up for that.
---
In July 2019, I made the nearly 200 km and three hour day trip from Kazan to Bolgar, on the shores of the Volga River. The day before my trip, I took a Yandex to Kazan's port to see if I could get tickets for the supposed boat trip to Bolgar, but (and I'm not sure what I was told by the ticket agent) either the boat doesn't run on weekdays or at all or was sold out, but, in any event, I left empty handed. I also learned that the bus schedule from Kazan to Bolgar wouldn't allow a day trip. So, a friendly and helpful receptionist at my hotel used her BlaBlaCar app to book me a day trip from Kazan to Bolgar. Apparently, an enterprising local, whose sister lives in Bolgar, has decided to make nearly daily trips from Kazan to Bolgar, departing from the MegaMall (a short drive from Kazan's city center) at 11:00am and returning from Bolgar at 5:00pm (so allowing three hours at Bolgar, which was sufficient) for ₽400 each way (about $6.30). Since I was concerned that I wouldn't be able to find him at the MegaMall, I paid an extra ₽200 ($3.15) each way for him to pick me up and return me to my hotel. So, a total of less than $20 for the nearly 9-hour day trip.
I shared the BlaBlaCar driver's WhatsApp contact details with Els, so if she's able to repeat the trip and thinks it worth recommending, she might be able to add his contact details to her blog report after her upcoming trip. I asked him if I could share his details, but didn't ask if I could post them on a website. The driver doesn't speak any English, so all of my conversations were via a friendly bilingual passenger.
---
Visited this site in August 2017 with day-trip on a rented car from Kazan.
The site includes a number of ruins and restored monuments mainly dating back to 13th-14th centuries (however, the site was inhabited since 7th till 15th century).
Interesting that in 922 Bolgar was visited by a mission from Baghdad (well documented) after which Bolgar accepted Islam as official religion. Bolgar was capital of Volga Bolgar civilization at the crossroads of evolving Russian state and Asia.
It is noted in the Unesco assessment that the number of restoration works and interventions is high and it's visible. However, several surviving buildings are quite unusual and interesting architecturally. The site is well maintained, the monuments are labelled with information in Russian, Tatar and English. There is also ongoing archeologoical research and through the fence one could glimpse at 3-4 meter deep excavation works.
There is also mosque called Memorable sign built in 2012 to honour anniversary of Islam acceptance, where the largest Koran in the world is kept (weighing 800 kg).
Brand new museum of Bolgar civilization has a number of artefacts and information, as well as model of the city.
It would take around 2-3 hours to see all the monuments. The overall area was quite touristy and visited by the large groups of locals. Also there is another recreation area with some ruins and museum of bread located around 3 km to the south of main site, which could be of interest as well.
In overall, not an overwhelming site, but still a pleasant historic place, probably the only remaining evidence of a past Volga Bolgar civilization.
---
It is strange that according to this site Bolgar is one of the least visited WHS in Europe, as the place is very popular during summertime. Probably the reason is that most users are from Western Europe and few of them explore Russia, especially places distant from Moscow or Saint Petersburg.
Bolgar is the most significant remnant of Volga-Bulgarian Kingdom, ruling this part of Europe from X to XIII century. Bolgar was the capital of that kingdom and the place where they took Islam as their religion. It seems that current policy of Tatarstan is to praise local and Islamic elements, so the site was recently largely renovated, however excavation works are not finished yet.
There are many well-preserved buildings in Bolgar, such as several mosques and mausoleums and remainings of Khan's Palace. The site is quite large and to visit all inscribed sites it is necessary to have at least 2-3 hours. You may cut this time significantly by renting a bike (100 rubles per hour) which I did. The whole site is very nice and the view on Volga river banks is really stunning.
Bolgar is located about 180km from Kazan, but getting there during summertime is not an easy task. I tried the speedboat (once per day) but the tickets were sold out for the next five days. Bus tickets from the central station (near the river boat station) were sold up to three days. Fortunately, there was one remaining ticket for that day from south bus station (Yuzhnyi Avtovokzal) located in the southern suburbs of Kazan. I strongly suggest booking the tickets in advance, at least during summer. Rented car is also an option (be not afraid of Tatarstani roads, they are good, but beware of police frequently controlling speed) and even without GPS getting there should be easy - road signs to Bolgar are numerous. There is also possibility to get there from Ulyanovsk, located about 130 km south of Bolgar.
---
170km south of Kazar lie the ruins of the ancient Tatar city of Bolgar.Its a sacred place for the Tatar community, but also a place of pilgrimage for different religions.This is the exact location where way back in 922 the Bulgars have embraced Islam, its the place where lies the foundation of Tatar statehood.The remains of a 13th century mosque, the Grand Minaret,
a few different Mausoleums, a courtroom building that became a smokehouse (Black chamber), the White Chambers with its bath installations.There is also a good museum at the new Shipyard.
Exhibits are mostly from the excavations in Bolgar itself.
Work is still going on.
From Kazan riverside pier there is a 8am fast ferry, near the bus station,
every day.However, they could not provide me with a return ticket.At the end, I was unable to return to Kazan with the speedboat, but had to arrange a shared taxi.
---
Site Info
Full Name

The Bolgar Historical and Archaeological Complex

Unesco ID

Country

Inscribed

Type

Cultural

Criteria

2

6

Categories

Link
Site History
2013

Referred

After a very long discussion
2013

Advisory Body overruled

ICOMOS recommended rejection
2012

Incomplete - not examined
2011

Incomplete - not examined
2000

Deferred

To provide more detailed information about the reconstruction of the Great Minaret, confirmation that the industrial project has been definitively abandoned, and a more detailed comparative analysis
Site Links
Unesco Website
Official Website
Visitors
40 Community Members have visited.