1055 of 1092 WHS have been reviewed by our community.
---
The Zandiyeh Ensemble of Fars Province (T)
Zoë Sheng Chinese-Canadian in NZ - 16-Jan-19
Shiraz was the former capital of the Zand dynasty which ruled Iran for merely 43 years. The remains of their 18th century dynasty can mainly be seen here. The town is relatively big and has a fancy metro to get around, basically running along the main road cutting through the city. The ensemble of buildings is at the appropriately named Zandiye station. The navigation app told me it would be another 19 minutes to reach it by car and expecting no parking over there I parked it at the edge of the traffic-laden area where I could later easily turn north onto the ring road to exit the city. The metro is quite new, 2004, and super clean. It also only costs 10k rial (not toman) per ride which is ridiculously cheap
Read On
---
The city of Bergamo (T)
Ilya Burlak USA - 15-Jan-19
Bergamo is a kind of town that invariably leaves a positive impression on any visitor without tipping the scales on the exceptional side. I visited it in November of 2018. Città Alta, the historic core of Bergamo, is a classic, if larger than many, hilltop town. There are several eye-catching sights in its confines, largely clustering at or around the focal point of the town, Piazza Vecchia. The 17th-century Palazzo Nuovo, nowadays a public library, and the 12th-century Palazzo della Ragione, a former town hall, bookend the attractive square. Also here is Palazzo del Podestà housing a very interesting museum of the Venetian era (whose main shortcoming is that most of its interactive exhibits are in Italian only)
Read On
---
Vredefort Dome
3.0 Philipp Peterer Switzerland - 16-Jan-19
I avoid guided tours whenever possible, but in case of Vredefort Dome it was simply too hard to find out where to go and what to look for. It doesn't help either that some of the sites are on private land. Being in South Africa for business, I had a day off and wanted to squeeze in Vredefort and Sterkfontein. Off-season, not many tourists visit the region, so I went on a 3 hour private tour with Dome Tour, paying for 4 people. My guide was Prof. Graeme Addison, a very friendly and knowledgeable guy, offering different tours and activities from his ranch (easy to find with google maps from JNB airport). Your own car is supposed to be used for the tour, but as I didn't have a 4WD I had to spend some extra bucks and we went with Graeme's car.
Read On
---
Residences of the Royal House of Savoy
2.5 Ilya Burlak USA - 14-Jan-19
While in Turin for a single day in November of 2018, I managed to see Palazzo Madama, walked around Zona di Commando, and stopped by Palazzo Reale and Palazzo Carignano without stepping inside. My initial plan was actually to visit all three of these palaces that are located very close to each other, but other priorities and a desire to remain outside on a reasonably sunny day took precedence.
Palazzo Madama is so called because its 17-18th-century decorations and enhancements were ordered by two queens of the house of Savoy
Read On
---
Zozan (T)
Zoë Sheng Chinese-Canadian in NZ - 14-Jan-19
Apparently closely pronounced to "Susan" was a town with a huge project: build two opposing arcs that would be a unique mosque (Malek Zozan Mosque). Yes, I can picture it. Yes, I would love to see it. It would probably be one of the top sites to visit. Alas, they never completed it and the city is now in ruins. Who is at fault? The Mongolian Empire! Harsh. So the only brick building in the area is still visible but in a devastated fashion. Some mosaics are on the walls and scaffolding for renovations or study, either way there is not much left to see. I still enjoyed coming, if not for the fancy street lights that dot a gravel path, or the signs that explain enough to make me want to Google half the stuff and learn more.
Read On
---
WHS #695: Kulangsu
Els - 19 January 2019
Kulangsu: a historic international settlement comprises an island off the coast of Xiamen which was inhabited by foreign traders, missionaries and diplomats in the 19th and early 20th centuries. Later in the 20th century it also became home to Chinese who returned from abroad. Together they gave a modern impulse to China through the input of Western culture and technology. The circa 1000 preserved historic buildings show a mix of European, Chinese and South Asian architectural styles.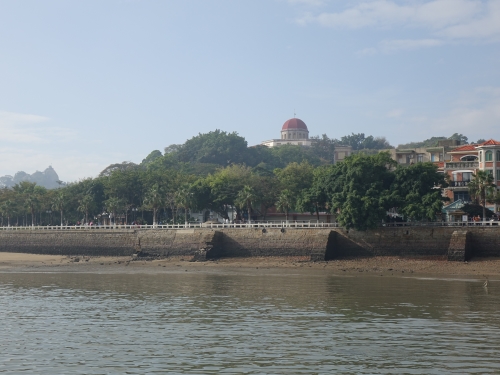 Approach to the island
The island lies really just right off the coast, you can almost swim towards it. The ferry for the local residents also takes only 5 minutes. Tourists have to leave from a location further away though, with a boat that takes longer (20 minutes). There were at least 200 people on 'my' boat, all Chinese. Kulangsu (Gulangyu in modern Chinese) is a very popular destination for Chinese tour groups: there are no less than 13 million(!!) visitors per year. And that while there even is a daily limit on the number of visitors. In the weekends and around Chinese holidays you have to book the boat in advance, otherwise you run the chance that the tickets for the day in question (with a maximum of 50,000!) have ran out.
After arriving at the dock at 8.30 am on a weekday, I could leave with the 9.10 am ferry. The first boat of the day is at 7.10 am, so there were not many others on the island yet. It is also pretty big and there are no cars allowed, so you can leisurely walk around. I was blessed with a sunny day with temperatures above 20 degrees, so just walking around was a pleasure.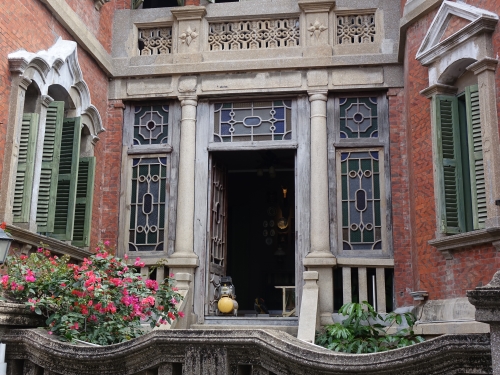 This must be Amoy Deco
You do not have to look hard for historic buildings: there are a lot of them. What I found striking is that they are hidden behind high fences and walls. Many entrance doors I found also closed - people still live in most buildings. If you already manage to enter one, you will soon find yourself on the grounds of a café. There are a lot of signposts on the island but still I did not manage to find all buildings described as especially interesting in the nomination, such as the Hongning Hospital, the Yanping Complex, the former water supply facility, the building of the former Kulangsu Telephone Company, and the former building of China & South Sea Bank Limited.
The unique architectural style that has developed here on the island is called 'Amoy Deco': Amoy for the local name for Xiamen, and Deco to the art movement Art Deco. It produces houses in brick with Chinese-style ornaments. The island also has 3 Christian churches. These served today as a background for the wedding photos of newly married (or to be married) Chinese couples.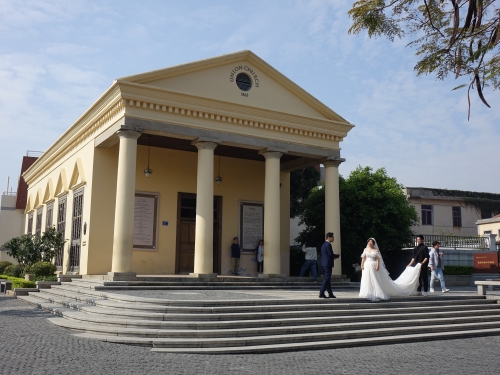 Union Church
The island is a nice and relaxing place to walk around in good weather. The buildings however are not that interesting to a European person and I found it disappointing that you can not enter anywhere. To me a visit of three hours was enough. A special mention has to be made about the street food: like in Xiamen on the mainland, the food stalls are a real asset of Gulangyu. You can serve me an oyster omelette any day!
Leave a comment
Quick Access
Getting started