1054 of 1092 WHS have been reviewed by our community.
---
Petra
5.0 Zoë Sheng Chinese-Canadian in NZ - 09-Jan-19
*Hums Indiana Jones theme* I was so looking forward to seeing the entrance to the cave to the holy grail! Imagine when I found out that it was all fake - Hollywood you got me again!! Honestly I didn't but I also didn't know that the treasury was off limits and didn't even go far or had anything special inside. The wall is still highly impressive after what was an amazing walk through the canyon, excited to reach it at any moment. The water flow system in the canyon is ingenious. The souvenir stands didn't even offer any Indiana Jones dress up anymore - I guess that time has gone - you can still buy a camel magnet though! Great!
Read On
---
Le site de Koh Ker (T)
Nan Germany - 08-Jan-19
Normally I try to stipulate the full itinerary of a day trip with a driver before I go. This time I didn't and my driver notified me in Preah Vihear that Koh Ker wasn't part of the trip. I was left somewhat annoyed, but couldn't really complain as all I asked for was Preah Vihear. Koh Ker was just mentioned as an alternative when my driver was pitching me potential day trips back in Siem Reap.
Coming down the mountain after my visit of Preah Vihear I had already prepared myself for major haggling. But this being Cambodia my driver asked for less than 20 USD as a starting bid. It was kind of cute and I just had to smile and said yes. Going to Koh Ker is at least a 1h detour and adds some kilometers to the tab.
Read On
---
Syracuse
3.0 Matejicek Czechia - 05-Jan-19
Visited in May 2014. I spent half a day in the historic center of Syracuse located on Isola di Ortigia, so, I have not seen other parts of this WHS that might be more interesting and more important in respect to OUV than Ortigia.
It was pleasent day strolling in the narrow streets and enjoying views to Ionian sea... However, I must say I prefer other towns in Sicily, especially those located on the top of hills or in the deep valleys such as nearby Ragusa Ibla, Modica and Scicli (also WHS) and many many others.
Read On
---
The Prosecco Hills of Conegliano and Valdobbiadene (T)
Nan Germany - 08-Jan-19
One of the charms (or challenges) of visiting tentative sites is that the usual tourist infrastructure is missing. No visitor center, no heritage trails, little to no sign posting, no official website ... And worse, as it's still a nomination neither the boundaries nor locations are finalized. So I was left wondering what the proposed site "Prosecco Hills of Conegliano and Valdobbiadene" entailed and what to visit. I found the nomination to be rather unhelpful in that respect.
One site that is mentioned and that can be visited easily is the Convitto Scuola Enologica in Conegliano. It is based in a 19th century manor on the outskirts of town and supports to this day the local vineyards in growing the Glera grape.
Read On
---
Venetian Works of Defence
2.5 Ilya Burlak USA - 07-Jan-19
I visited Bergamo in November of 2018, focusing on the city as a whole, which afforded me the opportunity to take a look at the fortifications that are part of this serial site. I frequently profess my admiration for the feats of human ingenuity, but walls around a sizable city are hard to get really excited about. In the back of my head I can acknowledge their scale and impact in the context of the times that they were built in. Visually, it's just really thick and old walls, with an occasional portal livening up the scene.
Read On
---
WHS #694: Hani Rice Terraces
Els - 16 January 2019
The Hani Rice Terraces are a cultural landscape in the mountains of southern Yunnan. I had been to this region before, almost 25(!) years to date on a 4 week tour of this province. From the photo album that I have left of that trip I know that we were near Daluo. This lies close to the core zone but none of my remaining photos show the spectacular rice terraces that this WHS is known for. So in early 2019 I went back for a proper visit. It takes a full day of travel to get there by public transport from the provincial capital of Kunming. But it was well worth the effort.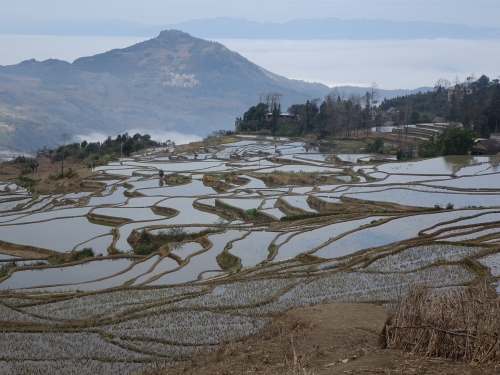 Blue Terrace
The weather had been a constant worry on this trip so far. Fortunately on the evening that I arrived in the Yuanyang area – where the terraces are located – it was sunny. The minibus driver who picked me and some other tourists up from the bus station was kind enough to improvise a sunset photo stop at one of the terraces. Glistering water-filled terraces, that's why we came here - wow!
I was staying overnight in the core zone in the village of Duoyishu. Actually the whole area is dotted with traditional villages: 82 of them. It was much more built-up than I expected. There's a lot of construction going on as well. It seemed to me that this was mostly geared to getting the residents better housing though. There are a few hotels but not that many. In Duoyishu I stayed at the Flower Residence Inn, a cosy hostel. They do have a second place to stay a bit lower down the village & a restaurant at that same spot. So you'll invariably end up going up and down the narrow streets of the village. This was made more complicated as all streets were opened up in the middle to install drainage.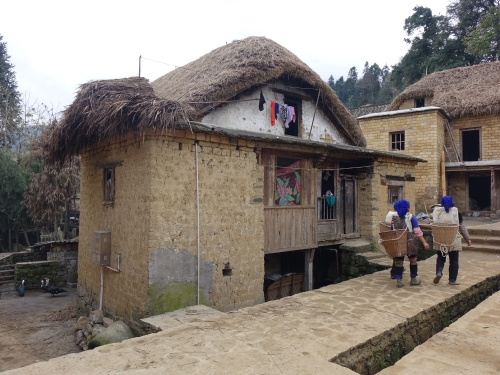 In Azheke village
The next morning, together with 2 French tourists I hired a car + driver for half a day to take us to the main spots in the area. The weather forecast was such that rain was expected again later in the day. So I was happy to at least get a good overview of the area which at 35km is fairly stretched out. We first drove to the far end of the valley, where somewhat downhill the serious photographers with their tripods were already posted (probably since dawn). This is probably the most picturesque group of terraces of them all, the one with lots of 'pools' and only thin walls separating them.
Next we went to Azheke, also known as the 'mushroom village'. They don't grow or collect mushrooms here, it is named after the shape of the houses. It is like an open-air museum, because at almost every house or other interesting element there is an information panel with explanations in Chinese and English. You enter the village under a reed gate, with which the Hani want to indicate the border between where people live and where the spirits live. Above the village there is also a sacred forest where the villagers once a year worship the god Angma for happiness and a good harvest.
In the village itself, the daily activities just went on. Women in traditional clothing were carrying cement and stones on their backs to make construction possible. Pigs, chickens, turkeys and a single buffalo walked freely through the streets.
It had been already a cloudy morning and unfortunately it started raining towards 11 o'clock. But we still continued our tour, although there was nothing to see at some viewpoints. One of the most beautiful and largest terraces we still could see was the one at the village of Bada. This one has more green and red than the others.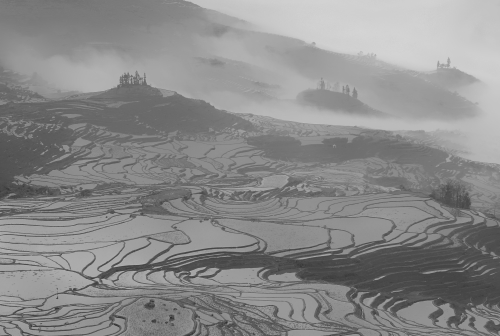 Amidst the clouds
These rice terraces have been the subject of many coffee table books as they are so picturesque. ICOMOS however did not want to reward the site with inscription on criterion i, "masterpiece of human creative genius", stating that its aesthetic beauty was not meant as an outcome by the people who made the terraces. During holidays I am sure they attract a lot of tourists, but I found it relatively low-key during my stay on 2 weekdays in January. Transport between the villages still is delivered by local minibus and taxi drivers only.
Leave a comment
Quick Access
Getting started