Torres del Paine and Bernardo O'Higgins National Parks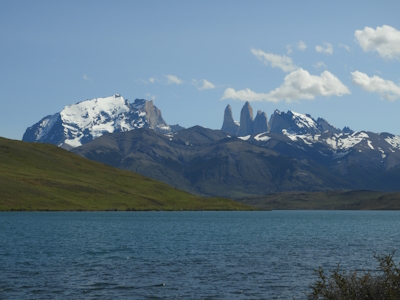 Torres del Paine and Bernardo O'Higgins National Parks, Region of Magallanes is part of the Tentative list of Chile in order to qualify for inclusion in the World Heritage List.
The Torres del Paine and Bernardo O'Higgins National Parks cover over 90% of the Southern Patagonian Icefield. The parks contain volcanoes, mountains, glaciers, lakes, fjords, islands, and rivers. The Torres del Paine are the distinctive three granite peaks of the Paine Massif. One of the main attractions of the Bernardo O'Higgins NP is the Glacier Pío XI, from which enormous ice blocks periodically spall.
Map of Torres del Paine and Bernardo O'Higgins National Parks
Load map
The coordinates shown for all tentative sites were produced as a community effort. They are not official and may change on inscription.
Community Reviews
---
All we needed was for the icy Patagonian rain to stop pelting down. The morning's climb would be tough enough without leaning into the face of a squall. And even if we did brave the storm, would we be able to see anything from the summit? The moment it looked as though the sky was starting to clear we moved, yanking on waterproofs, lacing up boots and hoisting packs onto our backs. Leaning into the last remnants of the squall we set out. But it was hard to keep our heads down for long. The shapes of the encircling mountains started to solidify behind the clouds. The rush of the Rio Ascensio was visible far below to our right. And the woodland through which we passed seemed fresh and alive. Our path switchbacked as we climbed a slope of stones and boulders. And then we summited. A wooden sign leaned askew: 'Fin del sendero / End of trail'. As if we needed telling. Beyond the sign scree dropped away into a col, a jade green tarn at its heart. The back wall of the col rose sheer. And above were the three thrusting towers we had come to see, grasping granite fingers pointing skywards, their peaks playing peek-a-boo with the misty clouds. The weariness of three solid days of hiking and the last pitiful night shivering in a storm-battered tent were forgotten in an instant. We had reached the Torres del Paine.
So, to get this out of the way quickly: does Torres del Paine National Park deserve to be on the Unesco World Heritage List? Yes. Clearly. Let's move on. The entire national park could be a demonstration of Criterion vii ('superlative natural phenomena or areas of exceptional natural beauty and aesthetic importance') from the towering prominences of the Torres and the Cuernos down to the milky cyan lakes sheltering beneath them. The walk up the Valle Francés is perhaps the most stunning day-hike I have done in my life. The view from the lower mirador is definitely the most spectacular 360˚ I've come across, with the turquoise Lake Nordenskjold at our back, the hulking Paine Grande to our left, from which the Glacier Francés hung and avalanches thundered, the Indian's Head before us, and then the panorama across to our right of the rear of the Torres and then the mighty thrusting Cuernos (Horns). I'll admit these landforms are not unique in the Patagonian Andes – from what I have seen Mount FitzRoy, which sits mostly in Argentina's Los Glaciares National Park, has a very similar look and feel to it, and Los Glaciares also covers an identical ecosystem. Well, it would do. The southern end of Argentina's Los Glaciares and the northern end of Chile's Torres del Paine meet. So there is absolute scope for a cross-border site. Even if that could not be agreed inscription of the Torres del Paine National Park should still be pursued in my view.
And Chile's proposed site would encompass the larger and remoter Bernardo O'Higgins National Park too, a chunk of landmass covered under the Southern Ice Field and accessible only by boat trip. Now that Chile has opened its Ruta de los Parques, a contiguous strip of national parks and protected land running down through Patagonia for some 1,600 miles (the equivalent of travelling from Paris to Moscow) there is maybe even more scope for Chile to 'do a New Zealand' and seek to inscribe a large area of complimentary landscape akin to Te Wāhipounamu. That would,I think, help to leaven out the existing tentative TWHS, made up as it is of Torres del Paine (well on the tourist trail and in danger of being over-visited if anything) and Bernardo O'Higgins (virtually inaccessible to tourists which is the way it likes it).
Even though it is 8 years since I visited Torres del Paine I feel like I can offer a different perspective to the more recent reviews below. Day trips to the park are indeed available from Puerto Natales, but a multi-day trek is I feel much more rewarding. Despite my comments above about the park being possibly over-visited, even on the famous 'W' trek my partner and I found ourselves for much of the time alone. Well, if you ignore the occasional fly-over by a condor, anyway. For those interested in getting a more in-depth experience (and a few blisters), read on.
Getting in
First, get to Puerto Natales. There is no airport so access is by sea or land. By sea the popular Navimag ferry takes four days from Puerto Montt (the jumping off point for Chiloé) and will also give you a 'sail-by' viewing of Bernardo O'Higgins National Park. By land, buses from Punta Arenas take three hours (though put aside an entire day for the journey through Tierra del Fuego and across the Straits of Magellan if, like us, you are coming from Ushuaia on the Beagle Channel). Buses link Natales to El Calafate in Argentina in five hours for Los Glaciares. As stated, the two parks abut, but the road journey has to circumnavigate both parks.
Even eight years ago Puerto Natales was a buzzy little town catering to tourists – and the average age of those tourists seemed to be about 25 years younger than those in Ushuaia or El Calafate. I'd recommend spending a day here in advance of any hike in TdP. The low-rise Patagonian buildings have a charm, the salty breeze off the Ultima Esperanza Sound is refreshing, there is a supermarket for stocking up with snacks and there are outfitters who can sell or hire you tents, sleeping bags, camping stoves, walking poles etc. These outfitters also hold daily orientation sessions explaining the practicalities of hiking in the National Park. If we had an extra spare day I think I would have been quite happy to visit the frigorifico at nearby Puerto Bories or the Cave of the Milodon made famous in Bruce Chatwin's In Patagonia.
Buses run from Natales to the Park. You can buy tickets in numerous places; it's best to check whether you can purchase at your hotel however because then the bus will come and pick you up at your doorstep. Travel time to TdP is two hours. Fees are paid upon signing in at the Administración building. Current fees can be found here. I wasn't aware at the time that park fees were higher for foreign nationals than they were for Chileans. In 2012 the fee was the same whether you entered on a day trip or stayed for a week; from 2020 a higher price is payable if you intend to stay for longer than three days. The bus then runs onward to Pudeto on Lake Pehoé for those intending to hike west to east. You can also hike east to west but then you have the highlight of the Torres straight away and then spend the rest of your time hiking away from them.
Hiking
There are several routes to take through the park. The most popular is a route called the 'W' after the three valleys you walk up and down. From the west these are:
· Mountain Lodge Paine Grande (reached by a boat across Lake Pehoé from Pudeto) up along Lake Grey to view Glacier Grey and then back again. Due to lack of time we skipped this hike, safe in the knowledge that we would have a good glacier view in Los Glaciares. Instead we headed east straight away.
· Linked by a walk alongside Lake Skottsberg to
· The aforementioned Valle Francés. It's the middle of a multi-day trek so it is just not possible to see this on a day trip. That fact, in itself, is as good a reason as any to commit to a trek. It is stunning.
· Linked by what is a very long and arduous walk above the shoreline of Lake Nordenskjold to
· The route up the Rio Ascensio to the Torres themselves and then back down to Hosteria Las Torres, where minibuses will ferry you back to the main bus stop for Puerto Natales.
There are specified location en route to stay. Conaf operates free (basic) campsites in a number of locations but you'll need to bring your tent and camping equipment with you. Private concessions operate other locations where you can reserve tents, bunkhouse rooms and in some cases even private cabins in advance. Conaf's Camping Italiano – which is only for campers – is by far the best location for Valle Francés. We stayed further east at Fantastico Sur's Refugio Los Cuernos. That gave us far greater comfort and a stunning location below the Cuernos. The downside was that we added on an extra four and a half hours of hiking just to get to the start of the Valle and back. It did cut the following day's hike to Refugio Chileno (also operated by Fantastico Sur) somewhat though. Food can also be booked at the refugios – hot evening meals, porridge-y breakfasts and packed lunches to take on your travels. This is by far the easiest option if you don't want to carry the entire world on your shoulders. But you need to reserve well in advance, particularly in high season (October to April).
There are other, less frequented, routes in the National Park. The Circuit is the second most famous. This route links the end of the W at Hosteria Las Torres to the Glacier Grey by continuing up and around the rear of the Paine Massif. This is a wilder journey with only campsites so all necessary camping equipment and food must be brought with you. We spoke to someone who had just completed the Circuit and he told us he had seen a puma. Our wildlife encounters were restricted to guanaco, upland geese and birds of prey (southern crested caracaras and Andean condors).
Make no mistake, even the W hike is pretty tough. The full route is around 50 miles (80km) long, covered over four to five days. It's beautiful in the sun but can be pretty miserable in bad weather; days can often fluctuate between those two states unpredictably! But the thrill of trekking through this incredible landscape means that spirits won't be dampened for long.
World Heritage-iness: 4
My Experience: 5
(visited March 2012)
---
If you want to understand why Chile has so few sites, a trip to Torres del Paine is quite illuminating. This is the one iconic national park of Chile, printed on their 1000$ bills and known to hikers throughout the world. And they still haven't gotten around to submitting it.
Torres essentially sits at the very end of the Andes, just opposite of WHS Los Glaciares. It has several steep mountains rising from large lakes giving a great scenery. Unfortunately, repeated fires in Torres caused by visitors have destroyed plenty of the local forests. The trunks of the trees bear witness to the destruction that took place.
In addition the Bernardo O'Higgings National Park is also included. Getting to O'Higgings seems fairly difficult and requires planning and probably some money.
I visited Torres on a day trip from Puerto Natales. Clouds were hanging on the mountain peaks, so I did not get to see the full vista. We hiked to Lago Grey, though, and I got a great view of the glacier and the lake. And I was blown away, literally, as the winds were so strong.
OUV
I feel confident that this would be inscribed. The nature is amazing. Personally, I found Los Glaciares more accessible and less overrun than Torres. An argument could be made that this shoud be one WHS (Southern Patagonian Andes).
Getting There
Most trips to Torres del Paine will start from Puerto Natales. So Step 1 will probably be to get to Puerto Natales. While there seems to be an airport in Puerto Natales, most visitors by air arrive in Punta Arenas. Punta Arenas has flights to Santiago and Puerto Montt (Chiloe).
The bus ride from the Punta Arenas airport to Puerto Natales is quite nice. You pass along the Magellan Straits through barren lands till finally the first hills and then the mountains of the Andes appear. Be sure to book your bus ticket online before you arrive (recorrido.cl, requires a PayPal account) as you may not get a seat otherwise.
Two other options exist:
There are daily busses between El Calafate in Argentina and Puerto Natales.
If you have money and time to spare you can take the Navimag ferry from Puerto Montt (4 days). The scenery must be amazing, but you don't get off the boat to explore some of the landscapes; it's not a cruise, but a means of transport.
Getting In and Around
Multi day hikes are probably the best way to experience the park. The W as it's called is a world reknown three day trail. If you are interested, there are plenty of online resources.
In any case, plan well in advance (months for camping, nearly a year if you want to stay in a refugio). The park has become crowded and is operating at max capacity, so you will need to show a reservation for the camp sites to get in.
To get to the trail you can take a daily bus from Puerto Natales to Torres del Paine. Again, seats fill up quickly, so reserve for your trip in and out. In one direction you will probably have to take a ferry and the schedule, especially in off and shoulder season, is a major constraint.
If you want to do Torres on a day trip, you are probably better off taking an orgainized tour. I booked mine (28.000$) via my hostel. Looking back I would have preferred different priorities with the itinary. We had a long lunch break and went to the Milodon cave. I would have rather done more hiking in Torres instead, but I am not sure a tour like that exists. Day tours can also drop you off and pick you up in the park, if the regular bus is too crowded.
I have also seen day tours offered from El Calafate, but seeing how long it takes to get across the border with a bus full of tourists at a tiny border post in the middle of nowhere I would counsel against it. Finally, some do it via transitting between El Calafate to Puerto Natales, but again, this seems more stress than it's worth.
Notes
Payne is not pronounced like pain. Instead: The ay in Payne is pronounced like the i mine. The e is pronounced: Torres del Pay-ne.
---
I visited Chile in November 1995. From Puerto Montt, I flew to Punta Arenas, the most prominent settlement on the Strait of Magellan (due to its location and size it is sometimes considered the southernmost city in the world), and visited the nearby penguin colony at Seno Otway. From Punta Arenas, I visited Torres del Paine National Park, where I stayed at Hostería Pehoé, spectacularly located on a small island in a lake with views of the Cordillera del Paine, the park's most recognizable natural feature.
---
Community Likes
Site Info
Full Name

Torres del Paine and Bernardo O'Higgins National Parks, Region of Magallanes

Country

Added

Type

Natural

Categories

Link
Site History
1994

Added to Tentative List
Site Links
Visitors
29 Community Members have visited.