Domaine de Fontainebleau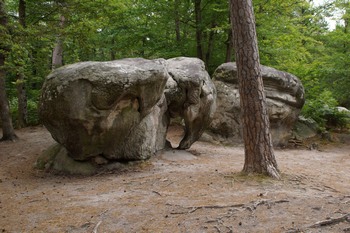 Domaine de Fontainebleau : château, jardins, parc et forêt is part of the Tentative list of France in order to qualify for inclusion in the World Heritage List. It is a proposed extension of Fontainebleau WHS.
The Domaine de Fontainebleau is an evolving cultural landscape and proposed as an extension of the WHS Palace and Park of Fontainebleau. The property includes extensive parks and forests surrounding the castle and the town of Fontainebleau. The Forest of Fontainebleau was the hunting ground of the French monarchs and is known for its sandstone rocks with peculiar shapes resembling elephants or tortoises. Parts of the forest are included in the TWHS Ancient and Primeval Beech Forests of the Carpathians and Other Regions of Europe (France).
Map of Domaine de Fontainebleau
Load map
The coordinates shown for all tentative sites were produced as a community effort. They are not official and may change on inscription.
Community Reviews
---
August 2018 - we decided to do the tour along the WHS sites south of Paris. Coming from Chartres we drove through the Foret de Fontainebleau to finally reach the castle.
We only did one single stope to take a short hike to some rocks. From the street, it appears like a nice deep forest. If its an old beech forest, it should be included in the beech forestst of Europe.
the area is pretty oslated, not many town, or tourist spots. But The castle is worth a trip.
---
I visited the Forest of Fontainebleau in large part because I was in the midst of a long trip to Paris and wanted a few days away from the crowds (I also wanted to see the Chateaux of Fontainebleau and Vaux le Vicomte, neither of which disappointed). I was vaguely familiar with the Barbizon School of painters, which is why the village of Barbizon caught my eye as a place to stay. I'm happy to report a visit to the forest is absolutely worth it. Even on the very hot, fairly busy weekend I visited (over the Bastille Day holiday), you could see why a school of French painters, inspired by the great Dutch and English landscape artists, were drawn here. The landscape is covered in gorges, craggy rock formations, and forests that are delightfully cool (let me reiterate just how absurdly hot it was when I visited) that would be interesting in and of themselves. Knowing that the landscape here is what inspired a generation of artists to reject the strictures of the French Academy and to (unknowingly) lay the foundations of Impressionism and the many Modernist movements that followed makes it unique and, to my mind, absolutely deserving of World Heritage status.
You could certainly see the Forest of Fontainebleau on a day trip from Paris, but if you can stay a night or two I'd recommend it (I stayed two and wish I'd stayed at least one more night). I really enjoyed Barbizon, which remains an artists' community to this day, and if you're able to rent a car it makes a fantastic base (the city of Fontainebleau also seemed very nice, plus it also has the benefits of being accessible by rail and having a lot more to offer in terms of food and entertainment). If you can make it to the art museum and the studio of Jean-Francois Millet in Barbizon, it's worth doing so, because it will enhance your experience in the forest itself. And you should give yourself plenty of time to wander through the woods; I visited the Gorges of Apremont, which was beautiful. I was actually trying to get to the Gorges de Franchard, which I understand is also lovely, but entered the wrong name into my GPS and spoke little enough French to realize I'd screwed up until I had arrived (ah, serendipity...). If you're into ticking World Heritage Sites off your list (like me!), the Chateau of Fontainebleau is bordered by the forest on two sides and Vaux le Vicomte (a tentative site, but another extremely deserving one) is also close by (if you go in the summer, the chateau has evening candlelight openings that end in fireworks displays, which I cannot recommend highly enough). Above all, though, do what I wish I'd done more of: take your time. Wander the woodland paths wherever they take you, seek out the herds of wild boar and deer, appreciate the play of light through the leaves and on the sandstone bedrock, and in general experience the sylvan allure that brought the Barbizon painters here in the first place.
---
Site Info
Full Name

Domaine de Fontainebleau : château, jardins, parc et forêt

Country

Added

Extension of

Fontainebleau WHS

Type

Cultural

Link
Site History
2020

Revision

Successor to Le massif forestier de Fontainebleau (1996)
2020

Added to Tentative List
Visitors
26 Community Members have visited.