Etosha Pan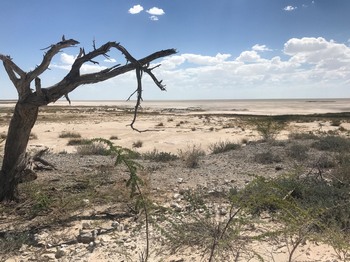 Etosha Pan is part of the Tentative list of Namibia in order to qualify for inclusion in the World Heritage List.
The Etosha Pan is an outstanding example of a superlatively sized salt pan that developed as a result of tectonic uplift that diverted river flow from maintaining a wetland in an endorrheic basin. Subsequent deflation by wind removed the unconsolidated sediments and exposed the saline basal clays of the basin, which is an ongoing process to this day. The 4730 km2 lake bed is mostly an uninhabited, salt-encrusted extreme desert that is only rarely flooded during exceptional wet periods.
Map of Etosha Pan
Load map
The coordinates shown for all tentative sites were produced as a community effort. They are not official and may change on inscription.
Community Reviews
---
Chinese-Canadian - 26-Dec-21 -
RHINO! Well, at the time I was so excited but since then I have seen many of them all over the world. My noobish question to the staff at the visitor center if they could give me hints of where there is a higher chance to run into them was just got me shaking heads. There is even a huge "DO NOT POST RHINO SIGHTINGS" in the logbook. Shortly after leaving the visitor center and veering off the main road I saw a huge boulder blocking the path - turned it out was a rhino after all. It didn't like the car coming but didn't run into the distance either. I also need to say that if you stick to the main road of the park you will not see too much and the smaller roads are rough. You can take most with an SVU but a 4x4 is recommended so you don't get stuck out there - pretty much Safari 101. As Etosha is a dry and hot park that makes it extra unbearable having to find help on foot.
Unlike most visitors I only spent a long day in the park so I didn't go far out in the distance. After having been to many national parks in southern Africa it can get a bit jading but if you come for the rhinos then you should stay longer to ensure sightings. Everything else, giraffes, elephants are pretty common all over the place and the lack of shades (the area looks pretty much all like the pics) can get a little... boring. Nevertheless the park is a gem for southern Africa and Namibia should inscribe this place asap.
---
The Etosha Pan in northern Namibia is one of the world's largest salt pans. It is a former lake bed of 4,730 square km. Nowadays the area is mostly a dry, saline and uninhabited desert. This combined with the high temperatures results in the fact that no flora or fauna to speak of can survive there. Only ostriches sometimes seek shelter here from predators. Vehicular traffic on the pan itself is forbidden.
On the fringes of the pan there are natural (and artificial) waterholes, grasses and shrublands that support high numbers of mammal and bird species. They are protected within the Etosha National Park, which with a founding date of 1907 is one of the oldest conservation sites in Africa.
The park has the largest single population of black rhino in the world. Numbers are nowadays undisclosed to prevent unwanted attention of poachers (drones are forbidden in the park for the same reason). But earlier numbers indicate about 600-750 black rhino living in Etosha. We saw about 10 of them. White rhino has been reintroduced here as well, but they are more rare. We were lucky to encounter one formidable individual at the edge of the pan, and follow him around for some 20 minutes. He took a long mud bath, so he was one big clay-ey, shiny mess. Afterwards he crossed the road close to our truck, and disappeared into the bushes – not before giving his nose/horn a long rub against a tree.
We spent 3 days in Etosha National Park, crossing it from east to west. We slept two nights in lodges inside the park, in Namutomi and Okakuejo. These and the other park lodges/restaurants/camps get fairly busy. They are not as luxurious as the private lodges where we had stayed at outside the park, but do a fair job especially at dinner time. The main attractions of the park lodges are their private waterholes, at which animals come to drink during day and night. Most famous is the one at Okaukuejo. There are benches and a small stand to sit and watch the comings and goings from a safe distance. It's like watching a nature documentary on TV together with a lot of other people. After sunset rhino will surely show up – within the course of an hour I saw 4 individuals, including a mother with a very young calf.
Other good sightings during the game drives included: a hyena den with 3 or 4 cute baby hyena, 3 cheetahs guarding a kill and a family of 5 lions avoiding the heat under the biggest tree in the area. Also we visited two great waterholes in the west of the park, that hasn't been opened to tourists for long. At the Ozonjuitji M'bari and Sonderkop waterholes we saw the congregation of animals that Etosha is so famous for. At the first we saw an elephant share his bath with hundreds of zebra's, springbok and wildebeest. At the second, giraffes were drinking (always a spectacular sight) with numerous red hartebeest and rows of zebra joining. Three lions were watching them lazily from under a bush, they probably already had their stomachs full.
Etosha is undoubtedly one of the best national parks in southern Africa, both for its conservation track record and visitor experience. I do agree with Namibia's reasoning in its description of the tentative site that "although large African savannah fauna has already been inscribed elsewhere, some of Etosha's fauna species are under threat or have died out elsewhere". It's especially a good rhino habitat. For a possible future WH nomination, a transboundary serial nomination with the Makgadikgadi Pans in Botswana is considered.
Read more from Els Slots here.
---
The Etosha pan is a huge salt pan (approx. 5.000 km2) and is part of Etosha National Park. Given the saline conditions, there are no (larger) animals to be spotted on the pan but they gather around a number of waterholes at the edge of the pan.
The pan itself cannot be visited, but there are a number of viewpoints where you can get a good overview of the pan. Having visited most of them, we found that the Salvadora waterhole (cf. picture) and Pan's Edge & Wolfsnes viewpoints offered the best views.
In general, a normal car will get you anywhere in the National Park, but for the more remote waterholes & viewpoints a 4x4 is recommended from a comfort point of view.
---
Site Info
Full Name

Etosha Pan

Country

Added

2016

Type

Natural

Categories

Link
Site History
2016

Added to Tentative List
Visitors
49 Community Members have visited.