La Maddalena and Islands of Bocche di Bonifacio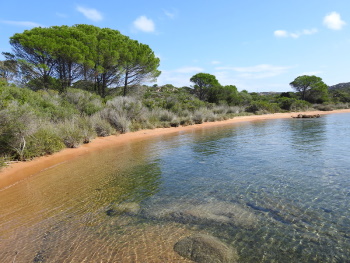 Archipelago of la Maddalena and Islands of Bocche di Bonifacio is part of the Tentative list of Italy in order to qualify for inclusion in the World Heritage List.
The Archipelago of la Maddalena and Islands of Bocche di Bonifacio is a trans-boundary marine site in the Mediterranean. Located in the Strait of Bonifacio, which separates Corsica and Sardinia, it consists of the continuous Parco Nazionale dell'Archipelago della Maddalena (Italy) and Réserve Naturelle de Bonifacio (France). Largely uninhabited, the islands contain a relatively untouched benthic marine community. They are home to many species of cetaceans, including dolphin breeding grounds, as well as an important reptile population, mainly endangered species endemic to Sardinia and Corsica.
Map of La Maddalena and Islands of Bocche di Bonifacio
Load map
The coordinates shown for all tentative sites were produced as a community effort. They are not official and may change on inscription.
Community Reviews
---
The La Maddalena archipelago comprises the Italian part of the future Strait of Bonifacio transboundary nomination. After having visited the Corsican side earlier on this Mediterranean trip, I also checked out this Sardinian location. It has a very different feel about it, nothing like the steep cliffs at Bonifacio. However it must be said that I did not visit the Corsican Lavezzi Islands ("miniature paradise of sandy creeks and crystal-clear water") which may be more similar to La Maddalena.
Between Palau (where I was staying overnight) and La Maddalena ferries sail back and forth in 20 minutes all day long. La Maddalena is the 'capital' of the La Maddalena Archipelago, a national park consisting of seven larger and many smaller islands. La Maddalena itself is a fairly large town, so for the real nature experience you have to go to one of the other islands. For example the neighboring island of Caprera, which is connected to La Maddalena by a dam. The island measures only 15 square kilometers, so I was going to explore it on foot.
The bus dropped me – the only passenger - at the Garibaldi museum. I had planned to do a hiking trail along the north coast from here, but I couldn't find the starting point! So I first walked to the other side of the island via the main road. The scenery here on Caprera is captivating: large boulders that seem to have fallen from the sky, surrounded by typical Mediterranean low plants and shrubs. The road goes through a lovely pine forest: the trees are all bend to the same side, crooked by the wind.
On the south side of the island I followed hiking trail #1, a narrow path through the bushes and along the coast. It ended after about 20 minutes in the village of Stagnali. I had read beforehand that they want to develop tourism here. There is a geological museum, but I found it closed. The rest of the village also seemed completely deserted and there are many dilapidated buildings. A dog angrily barked at me from afar. I left quickly.
I walked a little further southwards and then arrived at a large parking lot where I continued on trail #4, to Cala Portese. This one was also poorly indicated, but using maps.me on my phone and some sense of direction I manage to reach the end point. Cala Portese is a textbook example of what Caprera and the La Maddalena archipelago are known for: an idyllic beach. Due to the shallow sea, the sea water is very clear. I sat here on a rock for a while, enjoying the view. Later a guy arrived for a swim; in the distance an old man was fishing. We were the only 3 humans around.
Some practical notes on visiting Caprera to conclude. You can get there on the local Turmo Travel bus #1 (schedule), it departs from the Garibaldi column near the port in La Maddalena. Tickets have to be bought at the tobacco shop some 200m down the Via Oberdan. At Caprera, the bus does not go to the eastern side of the island (it does stop at the crossing towards it though). So if you want to explore that side, you'd have to walk over there right away or rent a bike / scooter in La Maddalena town. The connecting dam is walkable too, so as a last resort you always could walk to Caprera but it will add another 5km each way to your hike. There are a few small road side eateries on Caprera where they sell drinks and snacks.
Read more from Els Slots here.
---
Chinese-Canadian - 18-May-19 -
I'm always up for a marine reserve. A lot more waters need protection. Most people don't realize that if the seas are screwed up the rest will go with it. A lot of oxygen comes from the ocean plants, marine life is the core of the planet and it's not just a piece of blue water. With my eco speech out of the way, I only went to the underwaters of Italy and not in France. The cliffs or Bonifacio are great but I assume the marine life is similar seeing that they are in close proximity. I took a day trip to Maddalena which I don't think should be included as half the island is a town. Immediately I moved on to Caprera via a small road plus bridge. The entire island is a national park - great! I stopped at the first long beach and snorkeled around. It's pretty but I cannot speak for unique. I then drove to the east side to hike to Cala Coticcio. It's only 1.2km but it will take a good 25min with the boulders and steep "steps" between the oddly marked parking lot on the map and the tiny beach. It is a nice and popular hike and if a bit warmer would have more people at the beach. I find the ghoulish rock formations the best part of the island but I am sure this isn't the part they want to inscribe.
There is also a sign that all hikers need to have a guide. I am very sure nobody hikes with a guide or want a guide to hang around with you while you relax at the beach. Just maybe worth mentioning if in peak season they take this more serious. There is one section that is not kids or elderly friendly.
---
One of the most beautiful beaches of Europe can be found in Sardinia - I guess I am not only person agreenig with this statement. I spent there my September holidays 2017 with suspicion I traveled to another planet... We explored almost all East Costline of Sardegna from Capo Testa to Capo Carbonara.
I travelled to la Maddalena archipelago from Palau by ferry. Town of la Maddalena is quite ordinary, but it is not deffinitely true for uninhabited parts of the islands. Then we went to Caprera island, it is connected with la Maddalena with bridge - Ponte Moneta. From the bridge, we could see a couple of dolphins. Even though they appeared in rather fair distance from me, it was emotional experience. There are several marked track on Caprera island, so we would explore the vegetation (quite typical fro Meditterain) and walked to several beaches (photo) - ask locals which Spiaggia is the best in the area... For person prefering history to nature, there is also Tomba di Garibaldi on Caprera island.
As the most interesting and significant features are hidden under see level, it is hard for me to fully recognize the qualities of the Archipelago. Definitly, the granite costline is unique. Unbelievable granite rock can be found in Capo Testa, some 15-20km from Palau (not included to TWHS). Therefore, I support the inscription.
---
This would make an interesting transnational WHS. Rich flora and fauna and superb landscapes and history.
---
Community Likes
Site Info
Full Name

Archipelago of la Maddalena and Islands of Bocche di Bonifacio

Country

Added

Type

Natural

Categories

Link
Site History
2006

Added to Tentative List
2002

Requested by State Party to not be examined

From Bureau Session
Visitors
21 Community Members have visited.