Seljuk Caravanserais on the route from Denizli to Dogubeyazit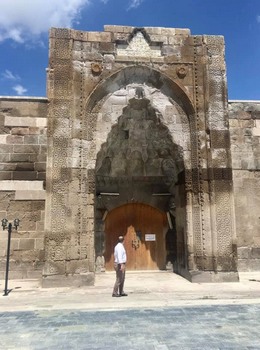 Seljuk Caravanserais on the route from Denizli to Dogubeyazit is part of the Tentative list of Turkiye in order to qualify for inclusion in the World Heritage List.
The Seljuk Caravanserais comprise about 40 caravanserais between Denizli and Dogubeyazit. These shelters for travellers developed into huge accommodations for people, animals and cargo. Especially notable were the eight "sultanhan" from the 13th century.
Map of Seljuk Caravanserais on the route from Denizli to Dogubeyazit
Load map
The coordinates shown for all tentative sites were produced as a community effort. They are not official and may change on inscription.
Community Reviews
---
I visited all 10 locations of this tWHS in Spring 2021. Apart from the Mamahatun Caravanserai, just outside Erzurum in East Turkey, the rest are mainly in a rather convenient straight line between Nevsehir (Goreme NP WHS) and Konya (double tWHS + Catalhoyuk WHS), plus another two on the way to Pamukkale WHS. If you're travelling by car this serial nomination is really great for enjoyable stopovers on the way, if not a pleasant overnight stay in one of the caravanserais, since most have been or are being converted into heritage hotels.
The latter point might mean that this tentative WHS will either never make it on the WH list or else those that have been converted to hotels might be removed from the nomination. I have nothing against some of them being used as hotels if this means better preservation on the whole. I even stayed in one of them for 1 night just outside Denizli/Pamukkale WHS, namely the Akhan Caravanserai. Another negative point regarding some of the caravanserais is the sometimes clumsy reconstruction or modernisation with use of concrete, wiring, lighting, drainage systems without much care or attention that these are heritage sites, a recurring problem I noticed in Turkey even for already inscribed WHS. From the 10 caravanserais I visited, the ones with such evident problems, at least when I visited, were the main caravanserai building of Mamahatun near Erzurum, Agzikarahan and Oresin Han (almost complete reconstruction) near Aksaray, and Obruk Han (with a 30 metre deep sinkhole on the back) on the way to Konya.
On the other hand, the remaining examples are by far much better examples on the whole. If you had to pick just one, even though it would be pity, the most representative is definitely Sultan Han Caravanserai (between Konya and Aksaray). It is the largest and best preserved caravanserai in Turkey and was a former tWHS on its own and definitely worth the entrance ticket. I really liked the central cube shaped ornate kiosk-mosque in the inner courtyard where I also spotted a large preying mantis! Just opposite the Mamahatun Caravanserai is a lovely 13th century circular tomb. The tomb consists of a cylindrical tower enveloped by a circular fortification.
At the Zazadin Caravanserai and at the Akhan Caravanserai, there were Turkish weddings going on so we really enjoyed visiting them fully furnished as they once were in the distant past with some of the camel stables fully operational as well. Obviously had we only visited these ones, the wedding ceremonies would have obstructed some of the interior architectural elements we were able to enjoy in other locations.
Paired with the Seljuk Madrasahs tWHS, or ideally one tentative serial nomination including the best examples of both elements, I must say that they would be deserving of inscription on the WH list. As separate tWHS nominations my vote is still a thumbs up for inscription for both, but I think it would be rather difficult and they both risk never getting inscribed which would be a pity.
---
Chinese-Canadian - 31-Jan-19 -
I wonder if one day all Middle Eastern countries, or even going further East, will have a caravanserai listed. The ones Turkey is trying to list are not one of their many generic ones but special ones call sultanhan and follow a standard building plan, including a standard service the caravan pit stops should have. Nowadays you can't see that, but the building of the Akhan (<10min away from Hierapolis and very close to Laodikeia) still reminds you of what could have been a "deluxe" service area in ancient times. That's where the pleasure stops. Akhan ia now a hotel/restaurant so visiting requires to be a guest (although walking in regardless is possible I thought it would be rude). You can see inside from the gate. There is a small sign with info in Turkish and I think most of it was about restoration rather than historical info. The building looks too good to be original, just like the caravanserai in Iran I didn't like so much. I did not travel further East to see any other examples but probably still have the chance one day so my opinion could surely change that they are more than regular caravanserai.
---
Community Likes
Site Info
Full Name

Seljuk Caravanserais on the route from Denizli to Dogubeyazit

Country

Added

2000

Type

Cultural

Categories

Link
Site History
2000

Revision

Subsumed two former TWHS Caravan routes and and Sultan Han Caravanserai in Aksaray AND The complex of Ishakpasa in Dogu Beyazit (1984)
2000

Added to Tentative List
Locations
The site has 10 locations
Seljuk Caravanserais on the route from Denizli to Dogubeyazit: Sikre Han (T)
Seljuk Caravanserais on the route from Denizli to Dogubeyazit: Hacibekir Han (T)
Visitors
41 Community Members have visited.