Harran and Sanliurfa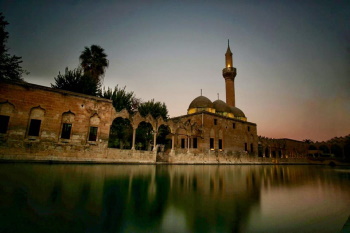 Harran and Sanliurfa is part of the Tentative list of Turkey in order to qualify for inclusion in the World Heritage List.
Harran and Sanliurfa are two ancient places mentioned in the Bible. Sanliurfa has origins that date back to the Neolithic, and it is named in both Uruk and biblical historical records. Harran is known for its beehive houses and early Islamic scholarly center.
Map of Harran and Sanliurfa
Load map
The coordinates shown for all tentative sites were produced as a community effort. They are not official and may change on inscription.
Community Reviews
---
I visited Sanliurfa as a stopover between Gobeklitepe and Diyarbakir WHS. It is a very enjoyable and laid back city nicknamed the "City of Prophets". Its highlight, the Sacred Fish Lake or Abraham's Pool, is squeezed between the city proper (now also known as Urfa or Edessa in ancient times) and its imposing castle.
Sanliurfa was at the cross-roads of civilisations and was conquered repeatedly throughout history, and has been dominated by many civilizations, including the Ebla, Akkadians, Sumerians, Babylonians, Hittites, Hurri-Mitannis, Assyrians, Medes, Persians, Ancient Greeks (under Alexander the Great), Seleucids, Armenians, Arameans, the Neo-Assyrian Osrhoenes, Romans, Sassanids, Byzantines, Arabs, Seljuqs and Ottomans. According to Jewish and Muslim sources, Sanliurfa is believed to be Ur Kasdim, the hometown of Abraham, the grandfather of Jacob whom God named Israel. Sanliurfa is also one of several cities around the world that have traditions associated with Job (green tomb in photo, beneath the castle fortifications).
According to tradition, Nimrod had Abraham immolated on a funeral pyre, but God turned the fire into water and the burning coals into fish. The pool of sacred fish remains to this day and is believed to have healing properties. Any visitor can enter the glass floored praying area over the fish pond for free. The Islamic architecture and gardens around this pond are in a remarkable state of conservation and its decorations and architectural elements give a better idea of how places which are now in ruins, such as Medina al-Zahra in Spain, once were. 
Surrounding the fish lake/pools are the Halil'ur Rahman Madrasa and Mosque, the tombs of great intellectuals such as Buluntu Hodja, Haci Mustafa, etc. It is also a pleasant place in the shade to enjoy a cup of tea or eat. Parking is readily available for a small fee just opposite the site, in front of the luxurious El Ruha Hotel, a great place to stay too. Unfortunately, the small road to Harran was completely being paved from scratch when we visited, so I decided against covering Harran as well but wouldn't mind visiting as well if the Archaeological Site of Zeugma ever makes it to the list. With around 85 tWHS, I was always bound to make such decisions as it is impossible to cover all the sites in one go, especially since most deserve the extra time and effort to cover them well. Even if not one of Turkey's top WHS, I still think that Sanliurfa would deserve to make it on the list. Perhaps also Mardin could be added to Harran and Sanliurfa as a serial WHS.
---
The investment in my 'All Turkey Tour' of 1991 keeps on giving gifts. With a friend I had joined a 3 week group tour by bus all across Turkey. During that trip I visited 8 sites that are nowadays WHS. Also we touched upon numerous interesting TWHS. One lingering on Turkey's Tentative List is Harran and Sanliurfa. These two ancient cities (located 40km apart) were among the highlights of the 1991 tour. This was mostly because of their very remote and oriental setting: I had not been outside of Europe at the time and Harran lies only some 25km north of the Syrian border.
Sanliurfa
Sanliurfa is a city of 2 million inhabitants. It is marketed as a Holy City and pilgrimage town. Old Testament prophets such as Jethro, Job, Elijah and Abraham are believed to have lived in this city. In ancient times it was known as Edessa.
Central to the city is The Pool of Sacred Fish, believed in Islamic tradition to have been the place where Abraham was thrown into the fire by Nimrod. This is also the only place that I remember of my visit – it obviously is tourist attraction #1.
Harran
Harran actually ticks so many boxes, there cannot be another outcome than that it will be a WHS somewhere in the future:
It's very very old: first inhabited in the Early Bronze Age III (3rd millennium BCE).
It had a sanctuary to the Mesopotamian moon god Sin.
It was located on an ancient trade route along between the Mediterranean and the plains of the middle Tigris & further into Persia.
It was the site of the Siege of Harran in 609 BC by the Babylonian Empire upon the Assyrian Empire.
Pliny the Elder wrote about it.
It is mentioned in the Bible, as Haran, "where Terah, his son Abram (Abraham), his nephew Lot, and Abram's wife Sarai settled en route to Canaan, coming from Ur of the Chaldees (Genesis 11:26–32)."
It held the first Islamic University and its remains are still visible.
It once was the capital of the Umayyad Dynasty.
T. E. Lawrence (Lawrence of Arabia) surveyed the ancient Harran archaeological site.
Its modern inhabitants used to live in adobe beehive houses with conic roofs until the 1980s
There were precisely 3 photos of Sanliurfa and Harran present in my 1991 photobook. They coincidentally show the main aspects that give the sites their value: Sanliurfa's Pool of Sacred Fish, Harran's adobe beehive houses and (attached here) a view on some of the archaeological remains at Harran.
---
Community Likes
Site Info
Full Name

Harran and Sanliurfa

Country

Added

Type

Cultural

Categories

Link
Site History
2000

Added to Tentative List
Visitors
24 Community Members have visited.