Surtsey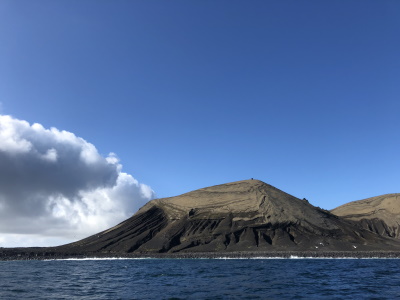 Surtsey is a recently born volcanic island, that provides a unique scientific record of the process of colonisation of land by plants, animals and marine organisms.
It was formed in a volcanic eruption in the sea which reached the surface on 14 November 1963. The eruption may have started a few days earlier and lasted until 5 June 1967. Since then it has been a protected natural area (free from any human interference) and a pristine natural laboratory.
Community Perspective: A visit – always limited to the surrounding waters as the island is a no-go zone - will be expensive due to the isolated location and lack of demand from the general public. It can be done as part of a longer cruise (as described by Solivagant) or with a privately chartered boat from Heimaey in the Westman Islands (as first discovered by Michael, an approach that has been proven successful several times after). A sightseeing flight sometimes also is a possible alternative. You will see a relatively low island with cinder cones, loosely-arranged lava rocks and some vegetation. In the surrounding waters, you may see seals or even a pod of orcas.

Community Reviews
---
I visited this WHS in 2022 and special thanks go to Nan who not only took care of booking our zodiac-style trip around Surtsey but also managed to include 2 walk-ins to further decrease the overall costs of our truly unforgettable boat trip. This was certainly the highlight of my trip in Iceland and was the main drawing factor that convinced me to finally book my trip to Iceland's "summer", and it certainly didn't disappoint.
The boat trips organised by SACA require a leeway of at least a week if you want to absolutely be sure not to miss out due to bad weather or sea conditions. For that reason I had planned to drive along the ringroad from Reykjavik in an anticlockwise direction if things were to work out as planned (and luckily this was this case) or in a clockwise direction and leaving Surtsey for last. This meant that I only kept online bookings for accomodation with free cancellation at least 24-48 hrs before which is very hard in Iceland's peak season, even if you book well in advance and eventually I could not find any hotel room available for the night after the boat trip. The night before our boat trip I slept in a B&B close to the gravel road leading the turf church of Keldur. Very early in the morning I drove to the ferry departure point of Landeyjahofn were I parked my car for free and bought my return passenger tickets to Heimaey in the Vestmannaeyjar archipelago made up of 15 islands built up in submarine eruptions. Make sure to go early, especially if you intend to go by car, as it can get very busy, although mostly in the afternoon.
The ferry ride to Heimaey doesn't take long and upon arrival, SACA's boat are usually berthed just a few metres away. Heimeay is home to eight million puffins every summer and many more millions of birds migrate there for breeding and feeding. At first the SACA boat trip was more of a pleasure ride around the several sea stacks, sea arches, coves and grottoes of the Vestmannaeyjar archipelago, sometimes at full speed. For those who are not very used to boat trips, it is advisable to take a sea sickness pill and stay at the back of the boat for a less bumpy ride. From my previous experiences with boat trips, I stayed in front as it is the best place just in case you want to avoid seeing others throw up. Make sure to bring warm clothes, even though SACA provides comfortable overalls, and waterproof protection for your camera as you'll get wet with sea spray and wave splashes even on a sunny day. We managed to spot harbour seals and grey seals in the sea or resting on the seaweed covered rocks as well as countless sea birds, mostly puffins, gannets, razorbills, guillemots, kittiwakes, etc.
When we approached Surtsey, we were able to see some vegetation and birds on the island but the rest is totally black and brown volcanic remains, apart from a reddish-rusty vein of volcanic rock in the higher cliffside of the island. Surtsey formed by a submarine eruption which started on 14 November 1963 and lasted around four years, one of the longest in Icelandic history. Our skipper was one of the first to set foot on the island and it was exciting to listen to him recall his experience. Nowadays only a few scientists are allowed to set foot on the island and there is a small building at the highest point of the island (155 metres above sea level) for their perusal and research. Surtsey was intensively studied by volcanologists during its eruption, and afterwards mostlu by botanists and other biologists as life forms gradually colonised the originally barren island. The undersea vents that produced Surtsey are part of the Vestmannaeyjar submarine volcanic system, which is also part of the fissure of the sea floor called the Mid-Atlantic Ridge. The marine reserve area just around the volcanic island is also part of the core area of this WHS and both Nan and I can both claim (perhaps a bit ashamedly) that we actually made contact with the WH core area to pick up Nan's cap which flew away as we were going round the island by boat.
Perhaps it was meant to be or we were extremely lucky or a bit of bit, as just after Nan got his cap back on board, our amazement towards Surtsey which was just in front of us, immediately shifted towards what looked like 6-8 long piles bobbing on the ocean's surface. Surely, it wasn't a comic mirage of Icelandic pile dwelling remains at such depths. Instead they were the massive dorsal fins of a pod of orca killer whales with their young feeding and resting at the surface. It was a really unexpected and special moment during an already unforgettable adventure - the cherry on the cake. On the way back we cruised by some other islands and sea stacks, also viewing a huge rock face with basaltic columns which really looks like a huge elephant (frequently seen on Instagram) and also a cheesy tourist moment inside a huge grotto with the most popular Titanic soundtrack. During this cheesy moment, I received a weather update notification that at the Jokulsarlon Glacier Lagoon it was going to be a clear and sunny afternoon, so upon arrival back at the harbour and a quick group photo, I rushed to make it on the ferry back to Landeyjahofn and drove straight on, only to backtrack a bit the following days (not having found a hotel for the night, I actually slept in my rental car under the Jokulsarlon Glacier Lagoon bridge gazing at the different shapes and sizes of ice heading towards Diamond Beach). This was definitely a long day but one of my favourites out of all my travels.
---
Boat trips are always ... a huge annoyance for a world heritage traveller. They are the most fickle of sites you can visit as they require preplanning up front, plenty of money and good weather on the day in question which you really can't control for.
Surtsey is no exception. Only the amount of money you need to bring (>1kEUR) feels prohibitively expensive for the individual traveller. So we partnered up. Philipp and I had been eyeing the trip for a while. Clyde decided to join, too, and so we ended up doing a mini meetup in summer 2022 on Iceland.
We boarded the boat to Surtsey in Heimaey. The boat then took us out to the Atlantic along the Vestmannaeyjar islands chain with plenty of stunning rock formations, caves and birds to see. None of the islands are inhabited, but most have a hunter's lodge on them plus a rope to climb up the really steep cliffs.
The furthest island in the chain is Surtsey. When the island comes into view you clearly see the difference to the other islands: it's made from volcanic ash, not from rocks. We went around once. In the process, we lucked out as a whole family of Orcas showed up in the core zone (which encompasses the surrounding waters).
I am not sure what the proper rating for the site is. The experience was stunning. And I understand the importance of the site. On the other hand, I also understand if people feel this is but a volcano in the sea and that e.g. the Eolian Islands are nicer examples.
In any case, a stopover in Heimaey should feature in any visit to Iceland. From the top of Eldfell, another volcano, you can see Surtsey on the horizon.
Getting There
The boat tours leave from Vestmannaeyjabær on Heimaey, the largest of the Vestmannaeyjar islands. They need to be prearranged. On the same day, you can only book tours of Heimaey island. Like Els, Svein and Randy, we used SACA.
The total rent for the boat was 1.200 EUR. I have to admit, that's a lot of money, but by aligning we split the cost with multiple parties. In addition, we managed to sell two of our remaining seats to an American couple at the harbour. They thought I was working for SACA as I was all dressed up in protective gear. I assume if you arrive one day prior, you may be able to find more takers in your hotel, but no guarantees.
To get to Heimaey, you have to take a ferry from Landeyjahöfn on the main island. There is little point in taking your car across; on the island everything can be done by walking. In Landeyjahöfn, there is a free parking lot. The crowds on the boat vary greatly. We took the 20:45 ferry to the island and were all alone. The 17:00h return ferry the next day was really crowded. Essentially, the day trippers from Reykjavik make the difference (going at 10:00h returning at 17:00h).
I would recommend staying overnight at Heimaey island. It's way nicer than Reykjavik. But if you must, you can easily arrive for the first ferry at 08:00 and take a 09:00 tour.
While You Are There
Heimaey and the Vestmannaeyjar islands are nice. The tour to Surtsey includes a tour around all islands of the scenic island chain.
In Heimaey, there is a nice Brothers beer bar if you don't mind paying Icelandic beer prices. After our boat trip, we hiked up to Eldfell. From the mountain top, you can see Surtsey. As last order of business, we spent the rest of the time at the local swimming pool.
There is also a volcanic museum (Eldheimar), the Sæheimar Aquarium, and a stave church gifted by Norway to explore.
---
Surtsey is sometimes called the newest place on earth since it only rose up out of the sea in 1963.
As mentioned below, the island is off limits to tourists and only a handful of scientists are allowed to stay there, which makes it very hard to visit Surtsey. Nevertheless, we gave it a try starting with the tips provided in other reviews, i.e. we contacted SACA to sail to Surtsey in a small Rib boat.
The people at SACA were very helpful, answered all of our questions and even provided us with an overview of the route. However, the price was above our budget/what we wanted to spend so we asked SACA if there were other interested parties willing to share a boat and the cost. There was indeed a fellow WHS enthousiast wanting to go to Surtsey but unfortunately our travel dates did not match.
So we had another look online to see if other options were available and this lead us to air company Atlantsflug (www.flightseeing.is). The price offer we received was more or less the same as the one we received from SACA, so also over our budget.
With only three days left in Iceland and back on the south coast we contacted Atlantsflug again to check if we could share a flight in the coming days, but this was not the case. However, they provided us with the phone number of a private pilot (Gunnar, +354 8986124, gudnastadir@gmail.com) flying from Bakki airport (close to the ferry port to the Westman islands) who might take on private flights.
We contacted Gunnar who immediately confirmed that a flight to Surtsey would be possible under the condition that the weather would be ok. He contacted us again the next day confirming that this would be the case one day later. We agreed on the price and met at Bakki airport around noon to set off to Surtsey.
Gunnar's plane is a small Cessna which can take two or maybe three people (next to the pilot). On one side of the plane there is a hatch in the window which can be opened which is helpful to take pictures. The flight to Surtsey and over the other Westman island took about 45 minutes (including the way back). Gunnar made sure we had a good look at Surtsey by circling the island five or six times at different heights including fly-overs, … Consequently, we had an excellent look at the craters, the cave, the small scientists building, … On the way back we also circled Heimaey. Since the weather was good, it was a calm flight with a pilot knowing his way around the Westman islands (Gunnar told us that the ferry to the Westman islands only exists for about a decade and before this time he used to operate a scheduled flight to the Westman islands). The price will of course to be agreed upon with Gunnar, but in our case it came down to half of the SACA/Atlantsflug price (only payable in cash) which seems logical since the small Cessna can transport less people than the SACA boat or larger Atlantsflug plains.
So it seems there are three options to visit Surtsey depending on group size and preferences: (i) SACA boat which we understand from Els' review can take up to 6 people and/or for people who don't like/dare to fly (small) airplanes/prefer a boat ride, (ii) Atlantsflug plane for more than 2 people, or (iii) Gunnar's plane. A potential benefit of the plane is also that it departs from the mainland (for those who don't have the Westman islands on their Iceland itinerary).
---
4.00 The Netherlands - 22-Aug-20 -
When you look at my 'Missing' map, you can see that I have visited nearly all European WHS except for those tiny islands scattered here and there at the fringes. Last year was a true debacle in that regard, missing out on both St. Kilda and Skellig Michael in the same summer due to unfavourable weather conditions. The same risk applies to Surtsey, though it lies not so far out as St. Kilda. Also, unlike the other two, Surtsey is not served by scheduled boat tours and the once-available flightseeing tours have been discontinued. So I did not dare to hope to reach it during my trip around Iceland.
Fortunately, those intrepid Norwegians Randi and Svein visited 2 weeks before me and proved that it would be possible. Just cross your fingers for calm weather and bring a stash of money (in Iceland this means: having a credit card with a high enough limit). The go-to guys for a private charter are SACA. When I saw that the weather forecast for the weekend was sunny and calm, I contacted them by email on Wednesday. On Friday evening, when the detailed weather maps for the next day were available, the final decision was made to leave the next morning at 9 a.m.
So we went, captain Simmi, his adult son and myself on a so-called RIB, something that looks like an inflatable dinghy - but with a sturdy hull and the qualification "unsinkable". It is completely uncovered and has room for 6 passengers (which is really, really small). I was given a warm coverall to wear against wind and weather. They directed me to sit on the front bench and then we sailed out of the bay of Heimaey.
We first navigated between the other Westman Islands. These are grouped together in a cluster. Like Surtsey, they are of volcanic origin, often not much more than rocky points. The largest puffin colony in the world lives on one of those islands with a million pairs breeding. There were still plenty around this late in the year. The grass on the slope was covered with white dots, all of them puffins. Later we also saw young bobbing on the water. Another island's cliff face is popular with nesting gannets. To see these large birds together in such large groups is really special. They had pooped all over the cliff.
After we left the other islands behind, the trip to Surtsey continued on the open ocean. The waves were a lot higher here and the boat was constantly hitting the water. If you sit in the front, you always get hit - this expedition is not recommended for people with back problems! But of course, you have the best view. At one point we sailed through a large group of birds that congregated at sea. They flew all around us.
Surtsey soon came into view. The island is easily recognizable because it is bare, brownish and has the shape of a table mountain. Due to erosion by wind and water, the island is getting smaller every year; since its birth, almost 50% of the surface has vanished. It has two volcanic cones and a lava field. On top of one of the cones are the remains of a lighthouse - it was supposed to be removed in 2007 (a promise upon inscription!) but still stands. There is also a cabin on the island for researchers.
We sailed all around it; it is less than 2 square kilometers in size, so it didn't take that long. The coast consists mainly of a cliff and there is one cave. We saw the head of a gray seal emerge from the coastal waters. Seals were the first mammals that started breeding here, in 1983. The first birds were already there in 1963, 2 weeks after the volcanic eruption started and the island was formed. Now 89 bird species have been counted that occasionally reside on Surtsey. You can also see small patches of green appear on the slope of the volcano.
On the way back the wind strengthened and halfway through I exchanged my spot in the front for the much more comfortable seats behind the skippers' backs. We sailed into some more caves in search of rare birds and then ended up in the beautiful bay of Heimaey again. The excitement beforehand and the journey towards it made this visit to Surtsey special, also because you know that this is a rare 'tick'. The number of seabirds you see along the way is incredible. The island of Surtsey itself is not beautiful, but it is fascinating and combined with the much greener other Westman Islands makes for an unforgettable experience in Iceland.
Read more from Els Slots here.
---
Visit in July 2019.
Surtsey is a place that I have been fascinated with for essentially my entire life. In fact, the island and I are almost exactly the same age. Technically, Surtsey was "born" about eight weeks before I was, but I also existed at the time Surtsey rose from the sea, I just hadn't "erupted" quite yet. I also remember watching movies about the creation of the island, and also of the eruption ten years later on the nearby island of Heimaey, in the Vestmannaeyjar, when I was in the fifth grade in primary school. Consequently, I was very motivated to make an actual visit to this difficult-to-reach WHS.
Nothing has really changed in recent years regarding the status of Surtsey. It is still prohibited to land on the island, and it is unlikely that this will ever change. That leaves a trip to its offshore areas by sea, or a flyover in a small aircraft, as the only realistic options for a visit. In my opinion, this is not really a bad thing, since I don't believe that actually walking on the island would provide any real value compared to what you could see by the other methods. Additionally, there is not a safe landing site for small boats anywhere on the island at this time.
As I neared the area, there was still one tour operator in the Vestemannaeyjar that advertises a Private Tour to Surtsey on their Web site. However, when I went to their office and asked about it, I was told that they would use a rib boat that seats 12 passengers. If there was a group of that size willing to go, they would run the tour, and the cost would be reasonable at about $250 per person. But for only 1 person, as I was, the total cost for that tour would have been quite unrealistic. They also told me that nobody had asked about a tour to Surtsey in a long time, so it seems that there is not much demand from the general public, or even from WH travelers. I also asked around the town about a sightseeing flight, since there is a small airport on the mainland of Iceland that shuttles people over to the Vestmannaeyjar in small aircraft. No one that I spoke with had any idea whether that would be possible, or not, and when I stopped by the small airport on the way to the islands, no one was in the office.
However, Heimaey has an active port, and wherever there is a port, there is usually someone with a boat willing to take you somewhere, for the right price. I continued to ask, and found someone, who knew someone, who knew someone with a boat that could possibly do what I wanted. This led me to a small tour company (www.saca.is), which doesn't list Surtsey on its Web site, but when I made contact, the owner, a native of Heimaey named Halli, told me that he would be willing to give it a try the next day, as long as the weather looked reasonable. His boat is smaller, taking a maximum of 4-6 people, so while I had to pay for an entire tour myself, the total was just over one third of the price I was given by the other boat tour operator. It was still a little more than I probably should have spent, but I had come a long way, and was distinctly determined to get to Surtsey, so I reserved the trip for the next day. For a group of 4 people, which would be much easier to organize, a Tour from Halli would be a very good value.
The following day we were very lucky, and the wind and waves were a little less than they had been for a few days, or would become in the following days, so we set out early in the morning. It took about an hour to get to Surtsey and along the way I enjoyed observing the many pelagic bird species that were present in great numbers as we moved south from Heimaey. As we approached the island, I was impressed that it was somewhat larger than I was expecting, and with the variety of geological forms that it presented. On the north and east sides of the island there is a low-lying area of large, but loosely-arranged lava rocks which gradually rise up towards the two main peaks on the island. On this side one can see the two tiny huts that researchers use when they visit Surtsey, as well as the slowly expanding zone where plants have begun to colonize the island (shown in the image). Moving around, in a clockwise direction, the remaining cinder cone comes into view. On the south and west side of the island, the formerly loose lava rocks have consolidated into palagonite, and the shoreline consists of sheer cliffs that, in places, are 100 meters high. On this side, it is clear that Surtsey will still be around for a long, long time to come.
I really enjoyed my visit to this site, and Halli was an excellent guide, who had a lot of personal knowledge about Surtsey and the Vestmannaeyjar to pass along. On the way back to the port, we also visited the cliffs and caves of Heimaey, which was a nice bonus. For someone who has an interest in geology, doesn't mind being out on the open ocean in a small boat, or simply likes to see places that few other people have seen, a visit to Surtsey is a good choice, assuming the weather is as good as it was for me. I fit all three of those criteria, so for me it was a great visit.
There is a relatively new Surtsey exhibit at the Volcano Museum on Heimaey, which provides a good deal of information on the island and its creation. Some may wonder if a visit to the museum could count as a visit to Surtsey, but I would be a little uneasy about claiming that. However, I was told that, on a clear day, it is possible to get a distant view of Surtsey during the standard boat tours around Heimaey, and that, in combination with the museum, might be more reasonable to count as a visit to Surtsey. Personally, I wouldn't have been very satisfied with that myself, so I am glad the weather cooperated and I was able to make it out to the island proper.
Read more from Michael Ayers here.
---
Michael Johnson
I was actually there when the eruption started. It was about 5am when a very large underwater noise was heard. I was on HMS Duncan at the time and we immediately went to 'Emergency Stations' as no one knew what was happening. We were all on the upper deck and as dawn broke we saw smoke coming from the surface of the sea. We closed the scene and realised that this was a volcanic eruption under the sea taking place. We and the ship were covered in ash. Amazing experience!!!
---
As indicated in the previous review, a "tourist" visit to Surtsey involving a landing is not possible - and even such visits by scientists are strictly limited. We did however achieve a very close viewing from the sea (around half a mile) during a recent voyage from UK to Greenland. Indeed I even feel entirely "vindicated" in claiming a visit to the inscribed area since this includes a significant marine element as well as the island itself. A comparison of my photo of the display screen of our vessel's navigation system with the map of the inscribed area from the UNESCO site shows clearly our passage within the inscribed boundaries and indeed later included a passage "over" the corner of the now submerged island of Jolnir to the SW of Surtsey. This island, named after another Norse God, emerged with Surtsey in 1963 but rapidly eroded after volcanic activity ceased in 1966.
So what did we see/learn from our "sail by"? Well such a rapid visit to Surtsey made solely for that purpose would certainly be hard to justify in cost terms! But we had been visiting the Westmann Islands and Surtsey was on a natural course from them across the Denmark Strait to Greenland. This visit mainly involved the island/town of Heimaey and encompassed such interests as bird life, Norse history, the Westmann "way of life" and of course the famous eruption of 1973 which led to the evacuation of the entire island, the partial destruction of the town and the near closure of the harbour by lava. A boat trip out to Surtsey as part of such a wider visit would certainly be justifiable – if you are "doing" Iceland you can get to Heimaey by ferry and there are occasional boat trips out to Surtsey from there. If this trip is important to you it might be worth checking with http://www.vikingtours.is/ since, apparently such tours are not common.
The island was a lot smaller and lower than I had expected. There were a few visible human artifacts – a hut for the scientists and a radio mast! The flatter side of the island is, apparently, eroding quite rapidly and the island can be expected to continue to shrink. Grass was clearly visible – it had colonized particularly the well-fertilised sea gull nesting area. Ravens had also moved in quite quickly to take advantage of the available food (Gulls!). We were told that, generally, the colonization by both animal and plant life had progressed more quickly and with greater variety than had originally been expected. But this is no Galapagos or Aldabra 100s of miles from other land. The new land areas of Heimaey created in 1973 may not have been as rigidly free of human influence as Surtsey (parts of the lava near the town received "assisted" plant consolidation) but they too were "sprouting" with life from what were clearly natural causes – and Surtsey is visible from them only a few windy miles across the sea!
---
The island of Surtsey was created by a huge volcanic eruption that lasted from 1963-67. Ever since it broke through the sea its entire life has been rigorously documented and studied, probably the only place on earth that this can be said of. The study has not only revealed how the geology of the island has formed but also how different forms of life have started to inhabit it. It certainly deserves it's place on the World Heritage List.
It is one to add to the list of almost impossible places to visit. Due to the nature of the sight only a very select number of Scientists are allowed onto the island in order to study how life colonises this latest addition to Iceland.
It is possible in summer to have a 'cruise' around the island, or there are planes that fly from Reykjavik to give an overview but these are pretty expensive (Iceland isn't a cheap destination) and perhaps only really rewarding for the specialist/ completionist.
The best bet is to head for Reykjavik's excellent Culture House, the top floor of this small museum is dedicated to Surtsey (the ground floor has an astounding display of early Icelandic manuscripts, including many of the oldest known versions of the Saga's) specifically to tie in with the nomination as a world heritage site. It is a great exhibition there is an interactive display that illustrates how the island has changed throughout its life, from size and shape to how it has been colonised by flora and fauna. There are also specimens from the island, photo's, 3-D maps and perhaps most enjoyably a large projection of the footage screened of the islands violent birth. This is a great museum not to be missed, and about as close as most will come to 'visiting' Surtsey.
---
Site Info
Full Name

Surtsey

Unesco ID

Country

Inscribed

Type

Natural

Criteria

9

Categories

Link
Site Links
Unesco Website
Official Website
Related
In the News
Visitors
57 Community Members have visited.