San Agustín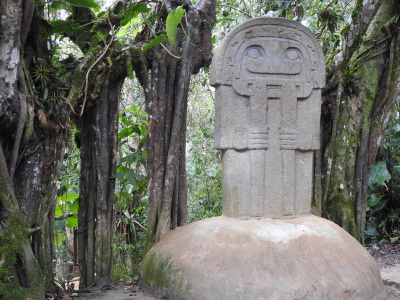 San Agustín Archaeological Park is a pre-Columbian archaeological site containing the largest collection of megalithic sculptures on the continent.
They were constructed during the Agustinian Culture, which flowered from the 1st century AD.
The site consists of 3 separate locations:
San Agustín
Alto de los Idolos
Alto de las Piedras
Community Reviews
---
We were happy to reach San Agustin at the end of our bumpy 5 hr ride from Popayan. The town of San Agustin itself is nothing to get too excited about but the surrounding area is beautiful so I'd recommend staying just outside of town at one of the nicer and quieter resorts or above town to enjoy the views during your down time.
The WHS consists of 3 sites which we saw over 2 days. Our first visit was to the main archaeological park 3km out of town. The entry fee is a bit much at 50,000 pesos but is valid for 2 days and all 3 sites. There is a nice museum on site and overall the sites are well maintained and presented though English signage is limited so read up ahead of time or hire a guide at the entrance.
Not a lot is known about the San Agustin culture but they were clearly very skilled artisans. The main attractions are the numerous statues on display, each one unique and displaying various human and animalistic features and symbols, the meaning of which archaeologists are still debating. I enjoyed them more than I'd expected but found the sites a little hard to grasp and connect with since they consist of scattered burial chambers all carefully fenced off and covered for protection with manicured lawn between them. There is little sign of any connecting life, villages, buildings or "ruins" suggesting a community or culture other than a few clay pots in the museum. There is lots of walking involved and it took us about 3 hours to visit the area.
The other 2 sites are closer to the town of Isnos and are most easily visited as part of a full day jeep/van tour that stops at multiple other places (waterfalls, etc) as well. Quicker options include private driver or hiring a motorbike but the roads can be rough. Both sites are much smaller and we enjoyed them but don't really add much if you are pressed for time.
Overall a nice experience and worthy of its WHS status.
---
In 1996 I got to San Agustin by bus from Popoyan, a distance of about 140kms. The journey took 8 hours through splendid mountain scenery including at the highest altitudes, a long stretch of wild cloud forest protected by a National Park. There were military road blocks along the way and we were subject to a long delay while the soldiers looked for, and found, a large stash of drugs, hidden in the bottom of a large blue plastic bucket covered by round white cheeses. The carrier of this cargo was, understandably, not keen to identify himself to the soldiers so all adult males on the bus were required to stand in a line in the pouring rain until the corporal in charge satisfied himself, one by one, that the bucket was not ours. The owner, when eventually found, was detained by the army
I often say "getting there is half the fun".
The inscribed site is in 3 parts. I visited the two most important, the Archaeological Park and the Alto de los Idolos.
I found the whole visit extremely enjoyable. San Agustin is an attractive laid-back little town with friendly helpful people. The lush green mountain scenery is gorgeous. I stayed at Residencias Menezu and would recommend it highly.
I learned something of the way of life (and death) of a civilisation of which I had previously known nothing. Some of the works which were undertaken, like slicing the top off 2 small hills and filling in the intervening valley, to create a level area, were quite remarkable. In addition to the tombs and statuary, at Fuente de Lavapatas, a huge flat stone carved with all kinds of images intersected by channels through which water trickled, I saw something unlike anything I have seen elsewhere.
---
Site Info
Full Name

San Agustín Archaeological Park

Unesco ID

Country

Inscribed

Type

Cultural

Criteria

3

Categories

Link
Site Links
Unesco Website
Official Website
Related
In the News
Visitors
39 Community Members have visited.