San Agustín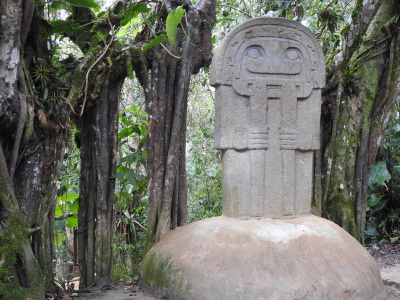 San Agustín Archaeological Park is a pre-Columbian archaeological site containing the largest collection of megalithic sculptures on the continent.
The sculptures, carved from volcanic rock, vary from abstract forms to realistic images of gods and animals. Most monuments adorn funerary sites, except for the Fuente de Lavapatas, a religious monument carved in the stone bed of a stream. They were constructed during the Agustinian Culture, which flowered from the 1st century CE.
Community Perspective: the site consists of 3 separate locations, and you can easily spend 2 days here as there are some non-inscribed but worthwhile sites in the area as well. Iain visited in 1996, during a period when military roadblocks were common so "getting there was half the fun".
Community Reviews
---
[visited in April 2022]
Based in the town of San Agustín, it is quite easy to reach the three sites indicated as WHS. A two-day ticket for the entire archaeological area is on sale and can be purchased at the Museum located at the entrance to the San Agustin Archaeological Park, which can be reached on foot from the town along an asphalted road.
This is undoubtedly the largest and most interesting site of the three and worth a day's visit.
The next morning I visited the other two sites: Alto De Las Piedras and Alto de los Ídolos, they are in Isnos and a ride by car is required to reach them. Less extensive than the main park of the previous day, especially the first, but in my opinion they are both worth a visit and you can do it in half a day.
In the afternoon I visited other sites around the town of San Agustín which, although excluded from UNESCO heritage sites, absolutely deserve attention: in particular La Chaquira, La Pelota and the nearby El Purutal (the last two for a fee because not included in the official ticket ). Very pleasant visit, I recommend to do it on horseback, it is an itinerary of 4/5 hours in total.
The level of care and maintenance of the entire archaeological area is truly commendable: really excellent!
---
3.50 The Netherlands - 02-Jan-20 -
San Agustín isn't as hard to reach as Tierradentro, but the 135km between Popayan and San Agustin still took the public bus that I was on 5 hours. About 3.5 of them were spent on an unpaved road right across Puracé National Park, which at least offered great views in return. The bus will drop you at the turn-off to San Agustín, from where it is 8km or so into town and another 3 to the Archaeological Park. This add-on was nicely taken care of by the bus company (Cootranshuila), as they paid for my 'taxi' into San Agustín (on the back of a motorbike).
As the site closes at 4 p.m. and it was already 1, I continued straight on to the park. At the ticket office, they were kind enough to store my backpack behind the counter, so I did not have to haul it around the extensive grounds. A minor complaint though is that they have succumbed to the practice of 'foreigner pricing'. I can understand it in certain circumstances, but there are a lot of middle-class Colombians and the price difference between 35,000 what they have to pay and 50,000 pesos for foreigners isn't that much (charge all 40,000 and you will get the same revenue, as the domestic tourists by far outnumber those from abroad). But in the end, I was happy to pay the equivalent of 12,50 EUR for a truly unique site on a global scale and two days' worth of entrance which I found a bonus.
During that first afternoon in the park, I did the loop along the 5 original excavations (Mesita A, B, C and the Fuente and Alto de Lavapatas). Due to the way it is set up, it looks a bit like an artificial sculpture garden - partly because each sculpture has been given a protective shelter against erosion. But all sculptures were really dug up on the spot. They seem to be many variations on a limited number of themes. I liked the trio's the best – a fierce-looking deity, accompanied on either side by what appear to be two guardians. It reminded me of Korea's Joseon tombs. The waterworks of the Fuente de Lavapatas is also special.
The next morning I took the first bus into the park again to check out the 2 remaining parts, the museum and the Forest of the Statues. The site opens at 8, however, the museum was not open yet so I started with the forest. Here they exhibit statues that were found in other places in the region. It has a very different atmosphere than the open fields of the Mesitas: this is a dense rainforest. There weren't other people around yet, so I enjoyed the natural surroundings as much as the sculptures. You hear a lot of birds, but they are skittish. I stood still for a long time under a few popular trees and managed to photograph four Latin American bird species. I also saw a beautiful large butterfly.
There are a number of scattered locations around San Agustín which still have sculptures in situ. Technically they are not part of the WHS, but I was tempted to at least get to El Purutal – this has the only 2 statues that still have their original colouring. There is a signposted path to El Purutal from the road between the Archaeological Park and the town of San Agustín. According to maps.me it is only a 5-kilometer walk, but it would take you almost 2 hours. That must be a lot of climbing! I, therefore, choose to take a taxi. It had to make a detour all the way to the back of the hills, on a road that is almost impassable with a normal car. The site takes a 5,000 pesos entrance fee and there are even 2 eateries near the entrance, so they'll see their fair share of visitors. The 2 sets of tombs + sculptures here are also in an open field, just like the Mesitas at the main park. The first set (known as La Pelota) is a fine set of three sculptures: a bird, a crocodile and a human-like being.
However, everyone comes here for the second group: it is a large tomb with two statues that have retained their original colors. It gives the sculptures an even more deterrent appearance than they do normally. This group is not only protected by a roof from sun and rain, but it is also surrounded by barbed wire: a grim reminder that in 2011 the statues were painted over by vandals. Although it was done in the original colors, it did damage the porous volcanic rock.
Read more from Els Slots here.
---
Some points which might be of use to someone planning a visit to San Agustin and deciding how to visit its 3 locations (Based on a visit in Nov 2019)
a. Alto de los Idolos is closed for renovations until (at least?) Aug 2020. Worth double checking I guess if you arrive before this!
b. San Agustin is the main park and, with its museum, could take a full morning or longer.
c. It consists of 5 authentic "in situ" elements (3 "Mesitas", 1 "Fuente" and 1 "Alto") all situated within a fenced and "ticketed" area. There are paths (mainly paved) between them. Only the final "Alto" requires a short climb
d. There are 3 "Mesitas" ("A", "B" and "C"). These are areas levelled by the builders of the San Agustin tombs to provide flat areas for the location of several groups of tombs. The tombs consist of "dolmen" which would have been covered by earth and have had guarding statues at their entrances.
e. We visited in the sequence B, C, A. I felt that there was a benefit on reaching B as soon as possible in the morning. All the tombs and stones are covered by modern protective structures and, as the sun climbs, these cast dark shadows across the stones making photography difficult (the worst is when the shadows cross half way up a statue!) The Triangle and the Eagle were fully clear when we reached them (on the other hand we had to postpone the Museum until the end!!) – see photo. This web page in Spanish has a map and pictures of the main statues to be seen at each Mesita as well as information on other aspects and the 2 other inscribed sites
f. The "Fuente de Lavapatas" is an interesting example of San Agustin culture's water management and its role in their beliefs and ceremonies. It consists of a waterfall over carved natural rock with the carvings representing creatures and mythological beings together with hollowed baths – presumably for rituals. A bridge has been built which makes it easier to see the falls from the bottom and there is a good plan/explanation of the carvings
g. The "Alto de Lavapatas" provides a view over the San Agustin area and has a few Statues brought together under a cover.
h. The "Bosque de las Estatuas" consists of a path through a wooded valley (still within the fenced area) in which have been placed some 39 San Agustin statues removed from other locations in the region. The above link provides photos of them. Some of them have "represented" Colombia at International fairs such as Osaka and Brussels. This is in effect an "open air museum" of course rather than strictly a part of the authentic site! But still worth seeing. The statues have signs showing a "given" name and period - but nothing else.
i. The Museum is a nice facility which provides a good introduction to the styles and iconography of the statues both via information boards and by containing many more "San Agustin" statues. The "problem" with San Agustin is how to appreciate and understand all the different statues being seen (akin to the Tierradentro problem of how to appreciate all the different but rather similar, Hypogea!!). It will become very easy to move on without properly appreciating them. We had an English speaking guide and he was able to point out features to look for on items which we would have missed/dismissed as "just another statue". I didn't see a guide book which could do the same. The explanatory signage at the site is not wonderful - each Meseta has a notice board with a plan and a short bilingual explanation of the total scene (period etc) but not at a more detailed statue level. Individual statues sometimes have a "given" name and period.
j. Alto de las Piedras is another group of tombs ("3 to 4 mounds") set on a hill beyond the town of Isnos. If you are trying to fit San Agustin into a single day you will have to decide whether to invest it all at the main park (probably a bit too long?) or whether to get out to Las Piedras in the afternoon (possibly a surfeit of statues??) They have their specialisms including some remaining colouring but how much they really add….? One, we were told, was the source of the wonderful "Winged Fish ("Pez Alado") which you will see at Bogota's Museo de Oro. Surprising, as the notice boards (at the mound level here) indicate that the tombs had all been robbed before excavation.
k. We had 1.5 days at San Agustin and also visited some other nearby archaeological sites on the extra half day (together with the Magdalena gorge and a rather nice visit to a Campesino home) but you might consider taking them in if you have time. In my view only La Chaquira might be worth the effort both for its San Agustin statue carved into the rock and for the views over the Magdalena.


---
We were happy to reach San Agustin at the end of our bumpy 5 hr ride from Popayan. The town of San Agustin itself is nothing to get too excited about but the surrounding area is beautiful so I'd recommend staying just outside of town at one of the nicer and quieter resorts or above town to enjoy the views during your down time.
The WHS consists of 3 sites which we saw over 2 days. Our first visit was to the main archaeological park 3km out of town. The entry fee is a bit much at 50,000 pesos but is valid for 2 days and all 3 sites. There is a nice museum on site and overall the sites are well maintained and presented though English signage is limited so read up ahead of time or hire a guide at the entrance.
Not a lot is known about the San Agustin culture but they were clearly very skilled artisans. The main attractions are the numerous statues on display, each one unique and displaying various human and animalistic features and symbols, the meaning of which archaeologists are still debating. I enjoyed them more than I'd expected but found the sites a little hard to grasp and connect with since they consist of scattered burial chambers all carefully fenced off and covered for protection with manicured lawn between them. There is little sign of any connecting life, villages, buildings or "ruins" suggesting a community or culture other than a few clay pots in the museum. There is lots of walking involved and it took us about 3 hours to visit the area.
The other 2 sites are closer to the town of Isnos and are most easily visited as part of a full day jeep/van tour that stops at multiple other places (waterfalls, etc) as well. Quicker options include private driver or hiring a motorbike but the roads can be rough. Both sites are much smaller and we enjoyed them but don't really add much if you are pressed for time.
Overall a nice experience and worthy of its WHS status.
---
In 1996 I got to San Agustin by bus from Popoyan, a distance of about 140kms. The journey took 8 hours through splendid mountain scenery including at the highest altitudes, a long stretch of wild cloud forest protected by a National Park. There were military road blocks along the way and we were subject to a long delay while the soldiers looked for, and found, a large stash of drugs, hidden in the bottom of a large blue plastic bucket covered by round white cheeses. The carrier of this cargo was, understandably, not keen to identify himself to the soldiers so all adult males on the bus were required to stand in a line in the pouring rain until the corporal in charge satisfied himself, one by one, that the bucket was not ours. The owner, when eventually found, was detained by the army
I often say "getting there is half the fun".
The inscribed site is in 3 parts. I visited the two most important, the Archaeological Park and the Alto de los Idolos.
I found the whole visit extremely enjoyable. San Agustin is an attractive laid-back little town with friendly helpful people. The lush green mountain scenery is gorgeous. I stayed at Residencias Menezu and would recommend it highly.
I learned something of the way of life (and death) of a civilisation of which I had previously known nothing. Some of the works which were undertaken, like slicing the top off 2 small hills and filling in the intervening valley, to create a level area, were quite remarkable. In addition to the tombs and statuary, at Fuente de Lavapatas, a huge flat stone carved with all kinds of images intersected by channels through which water trickled, I saw something unlike anything I have seen elsewhere.
---
Site Info
Full Name

San Agustín Archaeological Park

Unesco ID

Country

Inscribed

Type

Cultural

Criteria

3

Categories

Link
Site Links
Unesco Website
Official Website
Related
In the News
Visitors
62 Community Members have visited.