Malpelo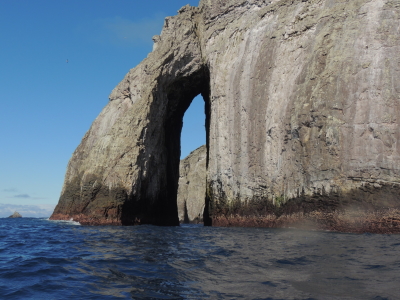 Malpelo Fauna and Flora Sanctuary is a strictly protected marine landscape holding impressive populations of marine species, including large top predators.
This sanctuary in the Pacific Ocean consists of the small, barren Malpelo Island and the wider marine environment. It is a no-fishing zone which has allowed the underwater environment to stay in excellent condition. The rugged underwater topography includes steep walls, caves and tunnels.
Community Perspective: the only way to experience this site is via a live-aboard diving cruise. Zoë describes how it compares with the Galapagos and Cocos Island.



Community Reviews
---
3.00 Chinese-Canadian - 14-Oct-22 -
After Cocos Island and a week liveaboard on the "nearby" Galapagos islands (actually Darwin and Wolf are as close to Cocos as the mainland but unfortunately commercial lines don't combine these two areas) I thought it would be nice to complete the diving in the area with Malpelo, even though I was somehow never interested in diving here. At first that didn't work out because the only operator going to the island, Ferox, didn't have trips around May and June because it's the end of Dry Season and start of Wet Season so I think rough weather prevent a pleasant journey. The trip from Buenaventura (itself a 3h trip from the nearby town of Cali) is 30+ hours depending on how the weather is. They don't even give you a concrete arrival time because the vessel is a little older and just seems to rough it out best it can. The trip isn't nauseating as much as I thought and a good chunk is overnight but I could still do without seeing that I wasn't really so excited to go in the first place. When I finally took the trip I had already done a lot of diving in special places, and even though I don't dive all the time when I have free time (it's expensive and I'm not into just seeing random marine life and rocks) the crew and other guests made it seem that Malpelo would be special.
So for one, the hammerhead season was done, and for me it was ok because they were everywhere on my previous trips but you might want to keep that in mind. The wet season is mainly silky sharks and that's not very special even though they are curious and nice, it's not really something you probably take a 30+ trip to see. You can see whalesharks but it's rare.
Oh of course, you finally get to see Malpelo, the only big island in the middle of this large ocean area. It's....not pretty. It's grey rock all over, no vegetation worth mentioning and even if you were allowed to step on it it would be a rough hike. It's mainly packed with masked boobies, crabs and some lizards (small). If you want to get good photos of these you better bring a very good lens.
Dives will be around the entire island. Undersea isn't exactly prettier than the rock itself but you get huge schools of fish here and there, crabs, if you are lucky a whaleshark might pass by (not in my case). As expected the diving wasn't as epic as Cocos or Galapagos can ever be, but don't let that give you the wrong impression, I was sort of "spoiled" by those places because you still see A LOT and it is never boring but it just doesn't seem the place I would seek out for moray eels.
Overall I still wouldn't recommend such an expensive trip if you have other options. Again, don't want to seem negative, it's a good dive site but considering the hefty time spent getting here I don't believe it was worth it. The 10 days on sea plus the days getting to and from the harbor is a lot of time for a rather mediocre dive location. The main draw must be the specialty of it being in the middle of nowhere which you can also get at some better places.
Finally, the UNESCO status, I don't really see it worthy. It's subpar compared to other locations, it's had huge problems of shark fishing because unlike Cocos and Galapagos there is no navy or guard station capable to protect the island properly. If it should be a WHS then maybe combined with other islands or the entire protected area between Colombia, Costa Rica and Ecuador, and while Cocos and GPS definitely are worthy of an inscription I find Malpelo is nowhere near that special.
---
Site Info
Full Name

Malpelo Fauna and Flora Sanctuary

Unesco ID

Country

Inscribed

Type

Natural

Criteria

7

9

Categories

Link
Site History
2006

Revision

Reduced from former TWHS Gorgona and Malpelo Islands, Coastal and Oceanic National Marine Parks of Colombia's Eastern Tropical Pacific (2005)
2006

Deferred

Gorgona Natural National Park
Site Links
Unesco Website
Official Website
Related
In the News
Visitors
3 Community Members have visited.