Lumbini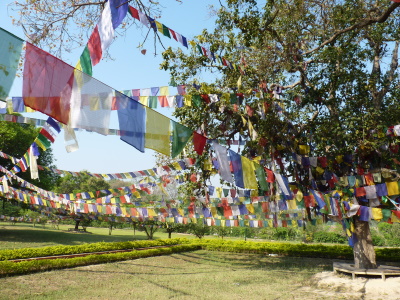 Lumbini is the place where the Gautama Buddha was born.
The exact year of his birth is strongly disputed, with possible dates ranging from the 11th to the 6th century BC. The town of Lumbini is one of the four holy places in Buddhism: the sites of his birth, enlightenment, first discourse, and death. All of these occurred outside, in nature.
The site remained neglected for centuries. Only in 1895 it was rediscovered by a German archaelogist. A temple and a bathing pool are believed to be originals from the era of Buddhas birth.
Visit March 2001
2.0
On my tour of the south of Nepal I travelled from Chitwan (Sauraha) to Lumbini by public buses. A Japanese guy and I were dumped at the roadside, amidst flat agricultural lands and some forest. 'This is Lumbini', they told us. It's a quiet area, natural in outlook and with its temples hidden from first sight.
The actual site is quite small: a few excavations and a large tree, that is all to see. Still it is a very serene place. Since a few years several Buddhist Asian countries are building their own temples and monasteries around the original site (according to the "Lumbini Masterplan" by a Japanese architect). They try to surpass each other in beauty. The very different building styles make for an ecclectic view.
Community Reviews
---
The Ashoka pillar and Mayadevi Temple are the core of this WHS but all around it on the masterplan of a Japanese architect, Buddhist monasteries and temples are being built from all over the world and most are well worth a visit. Some are still under construction but already judging from what has been built this is going to become THE most important place for Buddhism in the near future. I also visited Tilaurakot (28kms away) which lacks the attention and gardening that Lumbini enjoys. It surely deserves to be added as a WHS with Lumbini even though a few ruins are what is left of ancient Kapilavastu
---
Sanjaya Singh KC
LUMBINI is heaven on earth. The birthplace of the LIGht of Asia, lord Buddha in Lumbini Nepal is a must visit place in your lifetime. I went there in 2009, November which is the best time to visit lumbini,because June- october is very warm over there. The peaceful atmosphere, the serene environment, the helpful people, the artistic pagodas,temples, archaeological sites, beautiful birds, cranes,forest, beautiful park just makes you feel, Buddha is still here..somewhere around meditating...wonderful place
---
Rachana
lumbini a nice place to be .
i went there 10 years with my brother, sister-in-law and their kid. At that time a new temple were being made. We did sightseeing through Rikshaw . We conducted puja and gave a little bit of remarkable thing which we have still in home.
It is simple but it's simplicity is very unique as it adds the historic panoroma to the world. Lumbini is the place for meditation it's quite surroundings will let u be there forever.
We took several pictures it was truely a sparkling place to be. If u are looking for a nice and beautiful place to do meditation or to see historic place be there. Can't express in words how nice it is """LUMBINI - in NEPAL"""
---
rakesh
Being a nepali citizen i am proudful to introduce myself as a person from the country of Lord buddha. Many foreigners know us and our country by the name of Lord Buddha. From the present context of view many tourists come to Nepal to visit particularly this place only. Through this visit they provide an employment opportunities to many poor peoples. I visited this place on the year 2008 recently and asked a rikshaw wala about his earning and he replied me that he hardly get a costumer in 2 days and can earn about rs 300 to Rs 700 on the same day. So we should thank to lord buddha and the visitors due to whome many people are sustaining their life. It is a nice place to visit. Thanku.
---
Arriving in a rather exhausted tour group, who jokingling kept calling it 'Budhist Bethlehem,' wasn't the most promising start to my visit.
However once off the bus the atmosphere and emotional power of this site took over. A serenity descended on everyone as we walked into the park, which evolved into a hushed revernce when we came to the Lord Buddhas birthplce.
By the time we left everyone seemed inspired and rejuvenated.
I would highly recomend this site, it's quiet, beautiful and a moving experience, which will remain a treasured memory for the rest of your life.
---
Rankoth Gedera, P
Canada (Born and raised in Sri Lanka) -
I've been to the birthplace of the Lord Buddha in Lumbini, Nepal, 1998. What I noticeably experienced was, calmed, quiet and natural feelings, and tranquillity of mind. I was so lucky to visit all the four sacred places: the Birth(Lumbini, Napal), the Enlightenment(Boddhagaya, India), the First discourse/sermon(Varanasi, India), and the Maha parinibbana/death of physical body(Kushinagar, India) of the Buddha. The feeling when visiting these four sacred places, cannot be expressed in words. You need to be there and feel how it is.
---
Bobbi Siegmann
Visited Lumbini in October 2001(very warm in October!) with group of Buddhist pilgrims led by the Ven. Robina Courtin. A little shrine with some statues, excavations. One of Ashok's pillars is there. We conducted a puja under one of the large trees there. Went on to Nalanda,Kushinigar, Ragir, Bodhgaya, Varanasai & Sarnath. a month after 9/11 we were praying for peace at all these holy & historical sites.
---
Site Info
Site History
1993

Deferred

Bureau - better info required on conservation measures etc
Site Links
Unesco Website
Official Website
Related
In the News
Visitors
51 Community Members have visited.