Kuldiga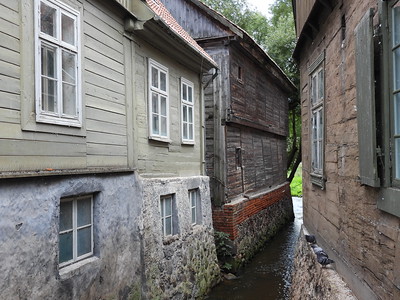 The Old town of Kuldiga is a well-preserved and harmonious townscape with traditional Baltic architecture.
The town, previously known as Goldingen, developed between the 13th and 20th centuries under the influence of the Hanse Towns, the Duchy of Courland and Russia. It has a scenic location at the intersection of two rivers.
Community Perspective: a romantic town with the remarkably wide Ventas Rumba waterfall as its natural landmark. It lies deep into the Latvian countryside and is best accessed by car.
Community Reviews
---
2.50 The Netherlands - 02-Aug-23 -
I visited Kuldiga in early August 2023, just after it became known that it got a positive recommendation from ICOMOS and will almost surely be inscribed in September 2023.
Although I'd wanted to go there from Riga by public transport, there are no direct buses and connections seem infrequent. So I rented a car from the airport and drove there easily in 1.5 hours. Kuldiga lies deep in the countryside, and it certainly looks like you're arriving at something important. One enters town via the large new stone bridge (a one-way street), and there is even a parking lot for tour buses. The streets were also filled with parked cars – this is really a popular destination for Latvian daytrippers.
Kuldiga (named Goldingen at the time) is strongly linked to the peculiar history of the ministate of the Duchy of Courland. Although their home base in Europe was tiny, they managed to establish colonies in Gambia and Tobago. That all happened in the 17th century, but unfortunately, there are few tangible links with today's town. Its older buildings mostly date from the 19th century. The setting of the town, along a river and next to a 'waterfall' (more like rapids), is its main strength. The shape of the town has been unchanged for centuries.
I saw no banners or other adverts to announce the WH nomination. The only things geared at international tourists seem to be the new direction signs, which are both in Latvian and English. There's little interpretation of the sights: some buildings have an enigmatic name shield like "Dwelling House" and the former Synagogue isn't signposted at all. Most buildings aren't in great shape and it is unclear what their use is nowadays.
The signs post to places all over town, but only a part of it lies in the core zone: the area on a hill near the waterfall plus the streets with historic houses leading towards the Old Town Hall. As I am writing this only half a day after my visit, I find it hard to name any sight that stayed with me. There are a few timber-framed buildings, there's the much-photographed view from Pasta Street #5 towards the oldest wooden building in town next to a canal and there is a large Lutheran cathedral. My favourite building was the former District Court (see photo).
Kuldiga's Nomination Dossier does its utmost to link the unique Courland history with what can be seen on the ground. They've put in so much effort that after reading it I felt it would get the sympathy vote. But to me, it still feels like a small town jumping on the tourism bandwagon - and maybe rightly so as there probably isn't anything comparable in the west of Latvia. ICOMOS in its evaluation dismisses most of Kuldiga's claims, didn't find the Courland history too relevant and Kuldiga even wasn't the economically and politically most prominent town in Courland anyway. But there's a plot twist of a magnitude I can't remember ever having seen from ICOMOS before – hey, why won't we inscribe it on different grounds? It is a historic town with multiple layers from the 13th to the early 20th centuries. And then we swap the proposed criterion 3 for 5. During the process, the Latvians even changed the boundaries of the nominated property on the advice of ICOMOS and also altered this in the Latvian legislation. Oh, and of course we will rename the site as well to "Old Town of Kuldiga"….
Read more from Els Slots here.
---
August 2017 After the first night in Liepaja we continued to our first big aim Riga. That day we drove to Jurmala and made a longer lunchbreak in Kuldîga. It is a very romantic town with lots of timber houses, the waterfall adds to the charismatic appearance of the village. From our perspective definitly worth inscription. We walked around a bit, had lunch and continued to Jurmala.
---
Linda Zubrilena
It is amazing historic town with it's own character, and the waterfall Ventas Rumba just emphasizes it more. Ventas Rumba is the widest waterfall in Europe, as well the old brick bridge adds its value to city. I grew up there and that would be great if the place would be recognized for its universal value.
---
Site Info
Full Name

Old town of Kuldīga

Unesco ID

Country

Inscribed

Type

Cultural

Criteria

5

Categories

Link
Site History
2023

Name change

Upon inscription, at request from ICOMOS: from "Kuldīga / Goldingen in Courland" to "Old town of Kuldiga"
2020

Revision

Successor to "Kuldîga Old Town in the Primeval Valley of the River Venta" (2011)
2011

Revision

Successor of former TWHS Kuldiga Old City in the Primeval Hollow of the River (2005)
Visitors
19 Community Members have visited.