Golden Mountains of Altai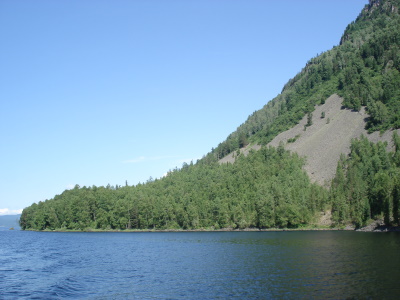 The Golden Mountains of Altai is a region with high plant diversity in Southern Siberia.
The mountains have several undisturbed glaciers and provide the source of main rivers like the Ob. It also holds Teletskoye Lake, the second largest of Siberia after Lake Baikal.
The area consists of:
Altai Natural Reserve
Katun Natural Reserve
Lake Teletskoye
Belukha Mountain
Ukok Plateau
The mountains are the habitat of several globally endangered mammals, such as the snow leopard and the Altai argali.
Map of Golden Mountains of Altai
Load map
Community Reviews
---
Visited this site in September 2020. Our first priority was a trip to Plateau Putorana with the group tour, but unfortunately the minimum required number of tourists was not met and the tour was cancelled. We therefore arranged in short notice for an individual tour around so called Golden circle of Altay. Altay is one of the most popular tourist regions of Russia and offers significant variety of natural landscapes (mountains, waterfalls, passes, rivers, lakes, geysers, stone formations) and cultural sights (petroglyphs, monasteries, mounds). The main logistic hint about classic route is that it is not looped, and at some point, you need to change car to boat in order to cross Lake Teletskoye (otherwise driving back the same road). Usual starting points for Altay are Barnaul and Gorno-Altaysk, the latter has fewer flights but saves 250 km of driving to the key sights.
The site includes three separate areas: Altaisky Zapovednik and a buffer zone around Lake Teletskoye; Katunsky Zapovednik and a buffer zone around Mount Belukha; and the Ukok Quiet Zone on the Ukok plateau.
The closest and easiest area to visit is Altaisky Zapovednik, where you could formally step into protected area by visiting Korbu waterfall (pictured). There are strict rules in order to visit protected area except Korbu and several inspectors' cordons, however almost whole Eastern coast of Lake Teletskoye is protected and could be admired from the boat or, if you lucky, from of the few very expensive hotels on the opposite side.
The uniqueness of the site is based on the high variety and density of different ecosystems located from 434 to over 4,100 m above sea level. Flora of the richest among three, Altaisky Zapovednik, includes over 3,000 species of plants (including 250 endemics), fauna is represented by over 400 species of birds and animals, including illusive snow leopards (with estimated number of approximately 50 snow leopards).
However, apart from protected are, Altai is a concentration of other sites worth visiting. I can list the following ones: Chuya tract (the key road through Altai and one of the world's top-10 most picturesque road as per National Geographic); Chemal hydro power station dating back to 1935 (not operational now); small Pathmos monastery with turbulent history on the river island; beautiful Oroktoy bridge (the depth of the Katun river reaches 70 m here!); Chike-Taman pass; Talbak-Tash petroglyphs; Geyser lake (there are now geyser outbursts but it has beautiful turquoise colour and some continuous visible chemical processes at the bottom); Mars mountains (reddish mountains with many photogenic sites); Pazyryk burial mounds (dating back to the 4th-3rd centuries with some unique archeologic finds currently exhibited in the Hermitage Museum); Katu-Yaryk spectacular pass; Kurkure waterfall; Uchar waterfall; mountain mushrooms (rock formations). Uchar cascade waterfall (the highest in Siberia) is also located on the WHS listed territory and requires very challenging trekking of 8 km and then back (return hike would take 6-10 hours).
Altai is also world famous for its variety of rafting routs (ranking up to 6th category of complexity) and horse riding (many places are only accessible with horses carrying heavy equipment). It is also worth trying local delicacies such as Siberian stag meat; blood sausage; taimen fish; barley soup; fern salad; spoiled milk drinks, etc.
We enjoyed the variety of natural and cultural sites of Altai. Unfortunately, it becomes overcrowded during summer months and the best time for visiting is probably May or September.
---
Carol Hiltner
A key reason for the pristine condition of Altai has been the careful stewardship by the aboriginal Altai people. A million tourists per summer, escalating ethnic Russian immigration, bungled federal land privatization, aggressive commercial development projects, helicopter poaching by high officials, and the legacy of Soviet repression have significantly subverted the local ability to even maintain their own culture, and the environment has suffered significantly. As far as I have been able to ascertain, the UNESCO World Heritage Site status is unfunded, and has not been sufficient to protect these incredible lands.
An indigenous Altai cultural resurgence is underway, and global concern is building as numerous international organizations are formed, dedicated to the protection of both the natural and the extraordinary cultural legacy of Altai. I invite correspondence from anyone who is interested.
---
Jarek Pokrzywnicki
Viewed just Teleckoje Lake and a small part of Altaiski Reserve (zapoviednik) but I must admit it is area of outstanding beauty. High mountains, nature not touched by human population, deep lakes and landscapes similar to fiords in Norway. Clear water, no pollution whatsoever, you can use accommodation in Artybash village or some cottages located on Lake shores or even a big camping site on the southern part of Lake. But be sure you reserve that in advance - its quite popular region in the summer so in peak season it may be occupied. One of Russia's must to see.
---
Site Info
Site Links
Unesco Website
Official Website
In the News
Locations
The site has 3 locations
Golden Mountains of Altai:
Altaisky Zapovednik and Buffer zone of Teletskoye Lake Altai Republic, Russian Federation
Golden Mountains of Altai:
Katunsky Zapovednik and Buffer zone around Belukha Mountain Altai Republic, Russian Federation
Visitors
24 Community Members have visited.