El Fuerte de Samaipata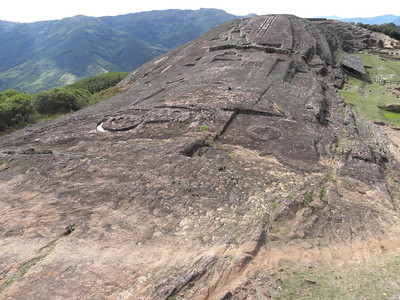 El Fuerte de Samaipata comprises a gigantic sculptured rock, made by a prehispanic Andean culture for ceremonial use.
The natural sandstone hill measures 200x600m, and is completely sculpted with felines, snakes, birds and geometrical motifs with a magical and religious character for the pre-Inca Chané people. Below it lies a former provincial capital of the Inca of a later date. It includes a central plaza, public buildings, houses and agricultural terraces.
Community Perspective: The site lies some 10km outside of the town of Samaipata, and can be reached via taxi or (hitch)hiking. Reviewers praise its setting, in the Amboro National Park, with great mountain vistas and abundant birdlife. The well-crafted trail around the site is self-guided and there are snacks and drinks available on site.
Community Reviews
---
To get to Samaipata from Sucre was a bit of a pain. All flotas (big buses) leave in the evening and we arrived at 01:30 a.m. in the middle of hjeavy rain in the darkness. Very unpleasant. From Samaipata we took a taxi the next day for 50 BOB to the Fuerte de Samaipata. Mototaxis are cheaper but another traveller that used it was a bit frightened by the ride in combination with the street quality. On site we decided to take a guided tour through the fortress, which is not what the Spanish have named it for. It was never used for military purposes. The entrance fee is 50 BOB and the guided tour 100 BOB for up to 5 people. Even though the tour was in Spanish we could communicate well with our guide as she patiently described anything we didn´t understand with other words. It was only the two of us and the guide. The rock on top of the hill that the site is all about can be walked around in a almost two hour guided tour. We learned interesting information about the different time periods and populations that lived here throughout the centuries and how they utilized the rock. For example it was interesting that the earlier populqtions have built three runs for art purposes which were later utilized by the Quechua (Inca) to sacrifice animals and let their blood run through it (in paralell to chicha in another run). Also from the Quechua (Inca) period the habitational remains are still left in ruins around the main rock. I found most beautiful the surrounding landscape with green hills and "low" clouds hanging around the hills. In Samaipata we took a tour another day to the "helechos gigantes" (giant fern trees) in nearby PN Amboró. The car ride is quite spectacular on a gravel road with huge descents aside in the clouds. It's a nice walk in a cloud forest afterwards. Apparently you need a guide for it so we took one. The city itself is small but pleasant. If you come from Sucre/ the altitude you will finally encounter some mosquitos again.

All in all the fuerte of Samaipata is interesting but not astonishing. It's worth a visit.
Read more from Timonator here.
---
On my last day in Bolivia I ventured to El Fuerte de Samaipata. El Fuerte is a pre Incan / Incan ruin on a hilltop near the town of Samaipata. The inhabitants carved several stone sculptures into the stone. Thanks to good sign posting and trails you can even spot some of them.
There is probably less to see here than in the other pre Colombian ruin of Bolivia, Tiwanaku. But the setting in the lush mountains as well as the presentation with a well crafted trail and viewing points, made it so that I enjoyed this more.
Getting There
My hotel in Santa Cruz was a bit to the South West of the city center. As such it was located within walking distance of the minibus station for Samaipata. It's near the stadium. The road takes you to the outer edges of the Andes mountains along a river canyon, quite a site to behold. At the time the road was in repairs and huge swaths in pretty terrible state as a consequence, so the ride took longer than anticipated (3h or so).
The simplest option is to get off at Samaipata and get a return cab to the site from there. In my case, I let the driver drop me off at the crossroad to the site in order to walk. It's 6km, 2h steep walk uphill and I do not recommend that. I also had to walk all the way back as I couldn't get a cab at the site itself. At least you can get food and drinks at the site and along the way you get a few nice views.
In order to return to Santa Cruz I had to go back to Samaipata. All minibusses passing at the crossroads will be full and unable to pick you up. Lucky me, a local gave me a ride to town.
---
Visited November 2014. Easy if you are in Samaipata town (recommended to stay a bit longer). The easiest way to get to El Fuerte is by foot (some 9 km from Samaipata town). If bad weather or lack of time the most economic way is to take a moto-taxi from just outside the mercado (cost for one way should be 20 B per person - moto-taxi takes only one person at a time), car-taxi for a full trip will want more, there is no other public transport there (well of course there is a possibility to arrange a trip from local agency - costs more ....).
Joint ticket for foreigners (50 B per person, a little bit too much as for Bolivian standards) entitles to visit a site of El Fuerte and a local museum in Samaipata town (two halls, some plans, ceramics).
As mentioned El Fuerte is located 9 km from the centre of Samaipata (direction of Santa Cruz), the road is just being paved (2/3 of the job is now done) so next year they will surely have excellent road there. For the whole site 3-4 hours should be enough to see - take some water with you.
---
Gilbert de Jong
I now belief the marker on El Fuerte de Samaipata (El Cascabel) is marking the parallel heliacal rise of our brightest planets Venus and Jupiter on August 20 in the year 1066 AD instead of the parallel heliacal rise of Regulus and a planet.
These two planets, as two bright celestial eyes, could be seen almost always in a year of Halley's Comet return.
---
3.50 The Netherlands - 05-May-11 -
How often have you had a WHS all to yourself? I can think of only a few times when it has happened to me (the last time was in Fontainebleau, of all places). Well, on the Tuesday morning that I arrived on foot at the entrance of El Fuerte, I was the first to sign the visitor book for the day. It was 10.15 by then already. The days before hadn't brought many visitors either: about 5-10 a day on average. The friendly lady in charge, who had seen me walking up from afar, sold me a ticket for 50 bolivianos (5 EUR), gave me a map, and sent me off on the prescribed circuit of the site.
The track is 2km long and involves quite some climbing until you get to the very top of the hill. There they've made two viewing platforms where you can admire the sculptures from above. It's really a weird slab of rock. I can see why imaginative researchers have come up with the hypothesis that the rock was used as a kind of airfield. It looks just like that little takeoff- and landing strip at Lukla in Nepal! Just a short stretch of flat road before taking off into an unsure flight amidst the mountains.
The map that is included with the entrance ticket shows the position of the most prominent sculptures, a bit like the map they give you in Nazca. The motifs here are even more difficult to distinguish than those at the Nazca Lines - a lot of the rock sculptures have eroded. The two felines I really could not see. The channels and the geometric pools are the clearest ones.
The track then leads you down to the former Inca town. Not much more is left of it than the walls of groups of buildings. It gets more interesting at the end again, where you're allowed close to the rock to observe the Five Niches, an Inca temple cut out of the rock.
There may be not a lot left to see here, but the visit was very worthwhile. That's mostly because of the wonderful natural surroundings of the site. It is located in the Amboro National Park, with great mountain vistas and abundant birdlife. I think I even spotted a Condor (I saw one bird with a giant wingspan). I walked both ways to and from the site from Samaipata, 10km each way, which I can really recommend when you want to enjoy the natural beauty of this place. The site itself is well-cared for, even with so few visitors. There's a kiosk to buy drinks and snacks, and the circuit is partly made out of boardwalks.
---
peter de Vos (amsterdam)
Hallo,
Ik zag dat je gewoon uit Nederland kwam dus ik doe het dan ook maar in het Nederlands.
Ik ben samen met mijn vriendin in november 2002 in Fuerte de Samaipata geweest.
Het gebied rondom de tempel wordt (werd) goed onderhouden en er zijn overal loopbruggen en uitzicht torens bij geplaatst. Het is wel een heel gedoe om een kaartje te kopen om het complex op te komen maar dit lukt uiteindelijk wel.
Ik ben er met een taxi vanuit Samapaita naar toe gegaan en dat is best goed te doen. Aan te raden is wel om een vaste prijs af te spreken voor de retour trip (inclusief wachttijd)
---
G.J. de Jong
Hi there!
Recently I have seen photographs of El Fuerte after restauration by UNESCO. Great work! Me and my wife visited El Fuerte in 1998.
In the past years I have done some research on the meaning of 'El Cascabel':one of El Fuerte's most significant features.
The 263 diamantshaped curves on El Cascabel and the view direction of the two parallel shafts of El Cascabel ( azimuth 71"0')show the importance of Venus, the morningstar.
It was Garcilaso de la Vega in his ancient chronicles of Peru who mentioned this temple for the first time.
In his description he speaks about he stone images of two condors (cunturs) that could be found on this hill. One cuntur was depicted in flight 'as to swoop on it's pray' and one cuntur with 'it's back turned to the spectator as in shame'.
Both images still can be seen on El Fuerte although they haven't been published before and are also unknown by UNESCO.
Besides that one particular spot one El Fuerte should be protected very well because this spot marks the (unknown and not-published)images of the mythical Manco Ccapac and Mama Occlo and also the images of two Llamaheads (offers?).
The writings of Garcilaso de la Vega show us that El Fuerte was pretty famous in Cusco and he writes:
"the painting still existed in good condition in 1580. In 1592 I asked a creole priest who had come to Spain from Peru if he had seen it and what state it was in. He replied that it was very faint, and indeed scarcely perceptible at all, having been ruined by wheather and water and neglect for the preservation of such antiquities" (Garcilaso de la Vega, Chapter XXIII: a famous painting; the rewards given to the Inca allies)
I hope UNESCO will take care of these paintings now. I will reveal these places in personal communication with UNESCO.
---
Site Info
Full Name

El Fuerte de Samaipata

Unesco ID

Country

Inscribed

Type

Cultural

Criteria

2

3

Categories

Link
Site Links
Unesco Website
Official Website
Related
Visitors
48 Community Members have visited.