Coiba National Park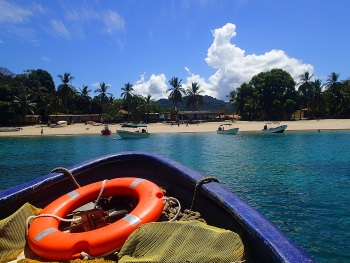 Coiba National Park and its Special Zone of Marine Protection comprise Coiba Island, 38 smaller islands and the surrounding marine areas that are important for the survival and study of many species of fish and marine mammals.
After Coiba got disconnected from the mainland (some 12,000 years ago), new fauna and flora species are being formed, turning the island into a scientific laboratory with a high level of endemism. Pelagic fish and marine mammals inhabit the reefs around the island.
Community Perspective: the park can only be reached with a day trip by boat that takes you surfing, snorkeling or diving. One reviewer calls it "nature at its finest and most untouched", the other "a disappointing experience".
Community Reviews
---
3.00 Chinese-Canadian - 28-Dec-19 -
What a disappointing experience. Coiba NP had potential but it is such a letdown to come here experiencing the park. The place gets glowing reviews though so what's up with that?

It's mainly from backpackers (i found mainly were German or Swedish) who just want to chill in dorms, cheap accomodations, snorkel for a day, have beers at the pool and maybe surf. Hey, that's all cool with me but that would be reviewing Santa Catalina and not Coiba. With the road now tarred and wifi reaching the village (there is even a pharmacy!) it is understandably a nice laid back place to vacation.

To get to the park itself you need to sign up for either snorkeling or scuba diving. I had prepaid 2 days diving. What follows is a rough and uncomfortable 70min long ride to the first group of islands. Those….suck. Definitely nothing spectacular to see at them. Sure they talk about the occasional whaleshark and manta sightings but the fishes are so sparse and there is no coral that it is almost like on a highway through the desert to spot vultures. You get to stop at one of these islands for surface interval and lunch and hope for some birds and mammals but nada.

Ok, what went wrong? You don't want to do daytrips. You want to do a multi day trip into the park to avoid the commute, plus you can stay inside the park and venture further to see bigger and better marine life. Mammals, macaws are touted as a big draw, and antelopes are seen only on the large Coiba Island. You will not go there. In one day out I saw one single bird crossing our path.

So whereas I'm a huge fan of wildlife protection and I understand that visiting edges of parks is never going to give you the real park experience, in Coiba it really seemed like there was a chance to experience that but there are so many better places to snorkel and dive especially without the rough boat ride.

Until now I also hadn't mentioned that it takes 5h from Panamá to Soná and 1½h to Santa Catalina so you will spend a whole day getting here. There are options to continue to del Torro if you don't want to get back the same way.
---
Taylor Kessel
I had the pleasure of spending an entire day surfing some of the most beautiful and untouched breaks of Coiba in the summer of 2006. After about an hour and a half boat ride from Santa Catalina, we arrived on an uninhabited paradise of jungle reaching down to the beaches and cliffs aiming towards the heavens. We explored many of the point breaks and did a bit of snorkeling near a few reefs sheltered from the larger waves arriving from the south. The highlight of the day trip including a two hour session surfing on the west side where I spent the majority of my time observing the Scarlett Maccaws flying overhead and landing on the beach only feet away! Be advised though, this island is nature at its finest and most untouched, which comes from my observation of several large shadows circling underneath my board at one point in time... My guess, bull or whitetip sharks investigating the strange creatures that had stopped by for a visit and to take in the wonders of this gorgeous island!
---
Site Info
Full Name

Coiba National Park and its Special Zone of Marine Protection

Unesco ID

Country

Inscribed

Type

Natural

Criteria

9

10

Categories

Link
Site Links
Unesco Website
Official Website
In the News
Visitors
26 Community Members have visited.