Cerrado Protected Areas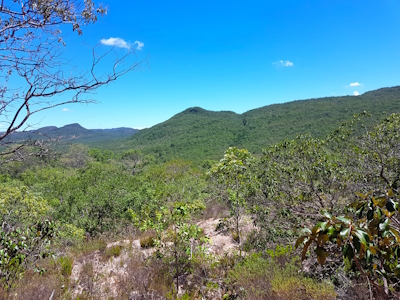 The Cerrado Protected Areas: Chapada dos Veadeiros and Emas National Parks represent the Cerrado Ecoregion, one of Earth's oldest tropical ecosystems.
Chapada dos Veadeiros National Park is located in the Chapada dos Veadeiros, an ancient plateau with an estimated age of 1.8 billion years. Many endangered species are found within the park's boundaries, such as the maned wolf, capybaras, rheas and others.
Emas National Park shows a typical cerrado ecosystem; a treeless savannah with tall termite houses and an interesting amount of wildlife: the giant anteater, the maned wolf, armadillos and the namesake greater rhea, among others.
Map of Cerrado Protected Areas
Community Reviews
---
Just a short drive north of Brasilia, you will find this incredibly beautiful National Park that is a part of the Unesco family, it's called Chapada dos Veadeiros; entrance is from the village of San Jorge where you can choose from different paths to trek, depending on the seaon, we have chosen a track about 10km return to some very nice waterfall (Salto II of the Black river) and natural pools for swimming. Guides are now no more compulsary, you can go by your own, and the different trecks are very well marked in different colours.
I recommend to stay in Alto Paraiso, there are many pousadas there waiting for tourists! Just make sure that you take the direct road from Brasilia, and dont ever attempt to pass Flores de Goias, eventhough the roads are on the map! It was a nightmare of a road, often looking rather like a riverbed, with no signboards, and even the navigation system did not work any longer, taking us about 5 hours longer than planned, but a real adventure.
---
I have just visited one of the two parks that make up the "Cerrado Protected Areas", that is Chapada dos Veadeiros. Cerrado is the Brazilian savannah, although much greener than other savannah areas of the world. In comparison to Amazon Forest it looks poor in terms of biodiversity, but 1/3 of all Brazilian species (flora and fauna) can be found in cerrado areas.
To enter the National Park of Chapadas dos Veadeiros one must hire a guide that leads you to the two possible treks, both with awesome waterfalls and natural pools to beat the heat. It usually takes a whole day to visit each one of the treks. The highest fall is 120 meters. With luck, some of the species of the cerrado can be sighted, in my case I could see the "gralha-do-campo", a black and blue bird.
The NP is only 230 km from Brasília with plenty of hotels around the city of Alto Paraíso de Goiás.
---
Site Info
Full Name

Cerrado Protected Areas: Chapada dos Veadeiros and Emas National Parks

Unesco ID

Country

Inscribed

Type

Natural

Criteria

9

10

Categories

Link
Site History
2001

Revision

Includes former TWHS Chapada dos Veadeiros National Park (1999)
Site Links
Unesco Website
Official Website
In the News
Visitors
14 Community Members have visited.