Brazilian Atlantic Islands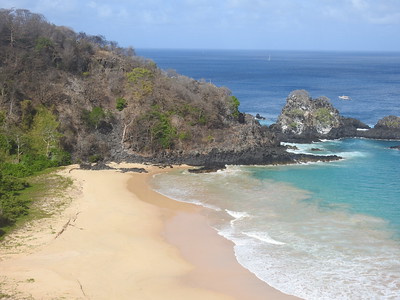 Brazilian Atlantic Islands: Fernando de Noronha and Atol das Rocas Reserves comprise two groups of islands with rich marine biological diversity, 340km off Brazil's coast.
The peaks of Fernando de Noronha, of volcanic origin, are also the only known occurrence of insular Atlantic Forest - a subtype of Atlantic Rainforest. The Atol das Rocas is the only atoll in the South Atlantic: an elliptical reef including two small islands surrounded by a marine reserve. The marine areas, which are considerably larger than the terrestrial core zone of both island groups, hold large volumes of tuna, sharks, dolphins, turtles and tropical seabirds.
Community Perspective: the added costs of flights and accommodation, plus the park fees and environmental protection fees, make this an expensive destination to visit, certainly, if you leave it to the last minute. Michael had to limit himself to the terrestrial areas but managed to see three of the island's endemic animals. Els checked out some hikes and did a boat tour, with spinner dolphins and the red-footed boobies as the highlights. And we even have a review from John who was shipwrecked for 20 days on Atol das Rocas…

Map of Brazilian Atlantic Islands
Load map
Community Reviews
---
4.00 The Netherlands - 08-Dec-22 -
Fernando de Noronha is one of the few islands in the South Atlantic – other notable ones are Gough Island, Tristan da Cunha, and St. Helena. That apparently makes it special enough to be considered a TCC 'country' and have its own Nomadmania region (though it is part of the state of Pernambuco), and about 70% of it is a WHS as well. Whether it is as good as Northern Atlantic ones such as the Azores, Cabo Verde, or even the Canary Islands, is questionable. It needed to team up with the more outstanding, more scenic, but inaccessible Rocas Atoll, 150 km away, to reach WH status. They are jointly known as the 'Brazilian Atlantic Islands'.
I stayed on Fernando de Noronha for 3 nights and allotted a day to its marine features and two to its land surface. On the first afternoon, I walked from the town of Remedios to the northern tip of the island. A first beach, the remains of two Portuguese fortresses and offshore volcanic islands can be seen. At one of those islands, I spotted my first noteworthy bird: the masked booby.
The next morning I took a 3-hour boat tour along the western coast. We first circled the Secondary Islands, the same ones I saw yesterday from the shore. Visually the most attractive one is Cuscuz Island, shaped like a bowling ball. Black lava flows are a common sight as this archipelago is of volcanic origin. The phallic volcanic plug which is the highest peak of the island, Morro do Pico, is always drawing attention as well.
Exactly in the famous Baía dos Golfinhos ("the only known place in the world with such a high population of resident dolphins"), we encountered the spinner dolphins. They moved around quickly in pairs but showed themselves well by jumping fully out of the water. On the way back we had time to swim at Praia Sancho; I stayed on board, scanning the trees along the coast, and found many pairs of red-footed boobies. Colourful tropical fishes could even be seen well from the boat, the water is very clear.
On the third day, I did a 6km long DIY hike along the southern sights. I started at Praia de Leão, the prettiest of the beaches that I've seen on the island (photo 3). It has the obligatory peculiarly shaped rock in its bay and an impressive set of natural pools. Among the rocks, I noticed a rock cavy, a cute rodent but an invasive species. Nearby lies the Sao Joaquim Fort: 4 rusty canons remain (photo 1). From there good views of Sueste Bay can be had. This Bay has many special values, such as being the breeding place for turtles and having the only mangrove of the South Atlantic and the last patch of Insular Atlantic Rainforest. Except for the mangrove, however, these are not easily seen or distinguished.
On the morning before my return flight, I visited the Baia Golfinhos and Sancho Beach. These were the two that I earlier already had seen from the sea. Baia Golfinhos is where the spinner dolphins have breakfast. They drop by and feed here before swimming off into the ocean. The lookout is open from 6.30, this is as early as they will arrive. I arrived at 7.30 and still saw plenty of small pods visiting (about 40 individuals in an hour's time). The viewpoint is right above a resting and nesting place of red-footed boobies, so I got better photos of them too. From the Bay, there's a 1200m long coastal trail to Sancho Beach, a very pleasant walk that brought a couple of lizards and more birds to my tally. Sancho Beach is the widest sandy beach on the island and the one most used for swimming.
Practicalities
Brazilians mainly seem to view it as a luxury beach retreat and foreigners don't come here much. Still, if you keep in mind a few things, it is as easy as any other place in Brazil:
Several daily flights connect it with Natal and Recife. They fly with small planes (50-70 seats). I paid 177 USD for the return trip.
Expect costs of accommodation, food, and tours to be at least double of those in mainland Brazil.
You have to pay a tax called TPA upon entering the island. The rates can be found here; they count per night (so 4-7 Dec was 3 days). It cannot be paid for beforehand online using a foreign credit card. Save the paper that you receive after paying at the airport, they will check it when you leave again.
Furthermore, there is the park fee, which currently is R$ 358 for foreigners and is valid for 10 days. You can visit the northern parts of the park and therefore the core zone of the WHS without it, but for the better areas, you need to have one. You get a pretty credit card-type smart card, which is scanned at the turnstiles of the access points and before entering a boat. This can be paid for online, but you need to get to the ticket office or an access point (called PIC) to pick up the card.
Tours can be easily arranged everywhere. A few trails to secluded beaches are only open to a limited number of visitors per day and/or need a guide. These are explained on the ICMBio website. You have to queue for those permits (following this process).
There's a handy municipal bus (R$ 5 flat fee) that crosses the island from north to south every half hour. It stops at all access points, towns, and the airport. As the island is only 17 square km, you can walk almost anywhere; there are good footpaths next to the main road.
Mobile 4g is accessible reasonably well across the island, wifi (if present) usually is slow.
Read more from Els Slots here.
---
Visit January 2020
My short visit to Fernado de Noronha was probably one that I should have skipped, but now that it is in the past I am happy to be able to include it to my visited Sites count. One reason that I should have changed my plans was that I have not been in perfect health for a couple of weeks, which, not surprisingly, cut down on my level of enjoyment. A more important reason, however, was that a visit to this island is significantly expensive, and, since I have been routinely exceeding my travel budget lately, I really didn't need another costly addition to my route.
When I first checked the airfares to the island several months ago, the costs seemed reasonable. Daily flights depart from Natal and Recife, but at this time flights from Natal stop at Recife first, so there is no good reason to start from there. Of course, as frequently happens to me, when it came time to book the flights, the fares had nearly doubled. I should also have also done more research into accommodations, because their costs are really off the charts. The place I eventually booked was around ten times more expensive than similar accommodations I had recently used in the Brazilian interior, and perhaps four times more than those in the more touristy coastal areas, with a generally similar, and fairly basic, level of amenities. There is also the Environmental Protection Fee, based on the length of stay, that is charged to all visitors upon arrival. For 2020, each of the first four days was approximately $US 18, for days 5 to 10, there is a notable discount, but after day 10 the per-day fee rises dramatically. So a one-day stay costs $US 18, a ten-day stay is only $155, but a twenty-day stay would be charged $536. Not that many tourists would want to stay that long, of course. Finally, the entrance fee to the National Park, which is needed if one wants to walk on, or swim in, the core zone, is another $US 55, though that is valid for a full ten days.
The areas of the island that are not within the Park, home to about 2,700 permanent residents, have been developed in a way that I found to be generally pleasing. All of the usual tourist facilities are there, but the town in neither overly glamorous, nor excessively plasticky. Speaking of plastic, Fernando de Noronha has recently initiated a program to become Brazil's first "zero plastic" island. I am not quite sure exactly how that is supposed to work, and for now most of the snacks, and similar items, available come in the omnipresent plastic packaging, so it may be that the plan is to strictly collect everything and send it all back to the mainland. Also on the mainland was my bicycle, which I decided not to bring along this time. It would have been nice to have it there, but the municipal bus provided easy access to most of the interesting spots on the island.
The universal value of this site is primarily the marine life that is still abundant in the oceanic areas of the Park. Therefore, getting the most out of that requires that one goes diving, snorkeling, or at least takes a boat tour. Unfortunately, my less-than-ideal condition at the time included a mild injury that prevented me from partaking in those activities. For my visit I spent most of my time in the terrestrial areas of the park. While that was enjoyable, botanically it is not particularly valuable, since most of the plant life growing on the island today are introduced exotic species. I did have an easy time locating the island's endemic animal species, the birds Noronha Vireo and Noronha Elaenia, and the reptile the Noronha Skink, which is pictured here, and that was adequate for me in this case. It was not impossible to also enjoy the marine environment from land, however, and I was pleased to spend some time watching the antics of two pods of Spinner Dolphins as they moved along the shoreline.
Read more from Michael Ayers here.
---
Deon Tulleken
I spent a few hours on atol das rocas in April 1999 when we anchored our yacht offshore. We offered the researchers on the atol a bottle of whiskey and they allowed us to surf a small wave nearby and walk around for a few hours.
This is undoubtetly one of the most remote and beautiful places i have ever been !!!!!!!!!!
Would love to go back someday.
---
John Stark
During 1979, while sailing from south Africa to Brazil on my yacht, I and 3 crew were shipwrecked and stranded for 20 days on Atol das Rocas. With little food and water we miraculously survived. We were spotted by a passing Brazilian Airforce aircraft, reporting our mishap to the Naval base in Natal, Brazil. We were rescued the following day by the corvette 'Iperanga' which I believe had since sunk off Fernando de Noronha after running aground. When we were on the Atol there was only 1 palm tree, a recent TV documentary showed about 10, I would love to return to the Atol someday.
---
Site Info
Full Name

Brazilian Atlantic Islands: Fernando de Noronha and Atol das Rocas Reserves

Unesco ID

Country

Inscribed

Type

Natural

Criteria

7

9

10

Categories

Link
Site History
2000

Requested by State Party to not be examined

Postponement requested for Fernando de Noronha Marine National Park
Site Links
Unesco Website
Official Website
Related
In the News
Visitors
28 Community Members have visited.