Brazilian Atlantic Islands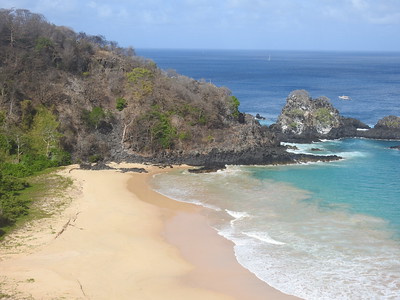 Brazilian Atlantic Islands: Fernando de Noronha and Atol das Rocas Reserves comprise two groups of islands with rich marine biological diversity, 340km off Brazil's coast.
The peaks of Fernando de Noronha, of volcanic origin, are also the only known occurrence of insular Atlantic Forest - a subtype of Atlantic Rainforest.
The Atol das Rocas is the only atoll in the South Atlantic: an elliptical reef including two small islands surrounded by a marine reserve.
The marine areas of this WHS, which are considerably larger than the terrestrial core zone, hold large volumes of tuna, sharks, dolphins, turtles and tropical seabirds.
Map of Brazilian Atlantic Islands
Load map
Community Reviews
---
Visit January 2020
My short visit to Fernado de Noronha was probably one that I should have skipped, but now that it is in the past I am happy to be able to include it to my visited Sites count. One reason that I should have changed my plans was that I have not been in perfect health for a couple of weeks, which, not surprisingly, cut down on my level of enjoyment. A more important reason, however, was that a visit to this island is significantly expensive, and, since I have been routinely exceeding my travel budget lately, I really didn't need another costly addition to my route.
When I first checked the airfares to the island several months ago, the costs seemed reasonable. Daily flights depart from Natal and Recife, but at this time flights from Natal stop at Recife first, so there is no good reason to start from there. Of course, as frequently happens to me, when it came time to book the flights, the fares had nearly doubled. I should also have also done more research into accommodations, because their costs are really off the charts. The place I eventually booked was around ten times more expensive than similar accommodations I had recently used in the Brazilian interior, and perhaps four times more than those in the more touristy coastal areas, with a generally similar, and fairly basic, level of amenities. There is also the Environmental Protection Fee, based on the length of stay, that is charged to all visitors upon arrival. For 2020, each of the first four days was approximately $US 18, for days 5 to 10, there is a notable discount, but after day 10 the per-day fee rises dramatically. So a one-day stay costs $US 18, a ten-day stay is only $155, but a twenty-day stay would be charged $536. Not that many tourists would want to stay that long, of course. Finally, the entrance fee to the National Park, which is needed if one wants to walk on, or swim in, the core zone, is another $US 55, though that is valid for a full ten days.
The areas of the island that are not within the Park, home to about 2,700 permanent residents, have been developed in a way that I found to be generally pleasing. All of the usual tourist facilities are there, but the town in neither overly glamorous, nor excessively plasticky. Speaking of plastic, Fernando de Noronha has recently initiated a program to become Brazil's first "zero plastic" island. I am not quite sure exactly how that is supposed to work, and for now most of the snacks, and similar items, available come in the omnipresent plastic packaging, so it may be that the plan is to strictly collect everything and send it all back to the mainland. Also on the mainland was my bicycle, which I decided not to bring along this time. It would have been nice to have it there, but the municipal bus provided easy access to most of the interesting spots on the island.
The universal value of this site is primarily the marine life that is still abundant in the oceanic areas of the Park. Therefore, getting the most out of that requires that one goes diving, snorkeling, or at least takes a boat tour. Unfortunately, my less-than-ideal condition at the time included a mild injury that prevented me from partaking in those activities. For my visit I spent most of my time in the terrestrial areas of the park. While that was enjoyable, botanically it is not particularly valuable, since most of the plant life growing on the island today are introduced exotic species. I did have an easy time locating the island's endemic animal species, the birds Noronha Vireo and Noronha Elaenia, and the reptile the Noronha Skink, which is pictured here, and that was adequate for me in this case. It was not impossible to also enjoy the marine environment from land, however, and I was pleased to spend some time watching the antics of two pods of Spinner Dolphins as they moved along the shoreline.
Read more from Michael Ayers here.
---
Deon Tulleken
I spent a few hours on atol das rocas in April 1999 when we anchored our yacht offshore. We offered the researchers on the atol a bottle of whiskey and they allowed us to surf a small wave nearby and walk around for a few hours.
This is undoubtetly one of the most remote and beautiful places i have ever been !!!!!!!!!!
Would love to go back someday.
---
John Stark
During 1979, while sailing from south Africa to Brazil on my yacht, I and 3 crew were shipwrecked and stranded for 20 days on Atol das Rocas. With little food and water we miraculously survived. We were spotted by a passing Brazilian Airforce aircraft, reporting our mishap to the Naval base in Natal, Brazil. We were rescued the following day by the corvette 'Iperanga' which I believe had since sunk off Fernando de Noronha after running aground. When we were on the Atol there was only 1 palm tree, a recent TV documentary showed about 10, I would love to return to the Atol someday.
---
Site Info
Full Name

Brazilian Atlantic Islands: Fernando de Noronha and Atol das Rocas Reserves

Unesco ID

Country

Inscribed

Type

Natural

Criteria

7

9

10

Categories

Link
Site History
2000

Requested by State Party to not be examined

Postponement requested for Fernando de Noronha Marine National Park
Site Links
Unesco Website
Official Website
Related
In the News
Visitors
23 Community Members have visited.