Bam Cultural Landscape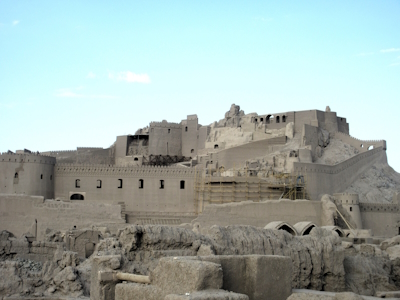 Bam and its Cultural Landscape is an outstanding example of a medieval Central Asian trading settlement in a desert environment.
The survival of the town is the result of an elaborate underground water mangement system (the qanâts). They are still in use today, together with their supporting social system.
The site consists of a fortified mud-brick citadel (Arg-e Bam) with part of the old town within its walls, and the surrounding countryside including other settlements and medieval structures such as mausolea.
Bam was almost completely destroyed in an earthquake on December 26, 2003. The quake had a magnitude of 6.6 on the Richter scale.

Community Reviews
---
Site visited in May, 2010. No doubt one of world wonders and certainly a must-see place while visiting Iran (together with many others). Once considered the biggest adobe (clay-based) building in the world, Arg-e Bam or Bam Citadel is currently slowly rising from ruins after devastating earthquake that struck in 2003 destroying the whole city.
Currently the traces of the earthquake are visible everywhere. Citadel is undergoing restoration process, still in scaffoldings, with many parts closed for visiting. Other are carefully restored and only on the tables with photos you can see the level of destruction (photos were taken shortly after the earthquake). Many parts of the lower city have already been restored like areas around bazaar, Tekiyeh (central square surrounded by chambers), stables or Garrison (barracs), other like Governor's Residence (upper part on the hill) or areas around Jameh Mosque are still under reconstruction. In fact it is possible to visit the lower part of the city (as well as certain part of town walls) while the part still under reconstruction is closed for visiting (especially Governor's Residence).
More about the earthquake and its consequences you can read here https://www.earth-auroville.com/bam_and_arg_e_bam_en.php
Entrance to site is currently paid (around 200 000 Iranian Rial). Unfortunately Iran still performs a policy of different (higher) fees for foreigners (not only in Bam but also in other major tourist attractions). But Bam Cultural Landscape includes not only Bam Citadel. In fact if you look at official UNESCO map (http://whc.unesco.org/en/list/1208/multiple=1&unique_number=1564), Arg-e Bam is just a small part of inscribed property. The majority of the area lies outside city walls to the south of Citadel. It is a vast area of former town with palm plantations, partly destroyed and party rebuild houses.

Bam Citadel you can easily combine with visiting another UNESCO site – Persian Qanat. There are two qanats close to Bam – look for brown signs Qanat Akbar abad & Qasem Abad (some 7 km from Arg) and if you walk there you will have to cross the area of Bam Cultural Landscape.
---
The curious thing with the Arg-e Bam is that I feel it was inscribed precisely in response to the loss of any potential Outstanding Universal Value it may have had. By all accounts it was very impressive prior to the 2003 earthquake which obliterated it and the surrounding town of Bam, but in its current state, it really is not particularly exciting. Actually, this assessment is probably too harsh, given many sites in worse states of repair are considered worthy; while the OUV may well still exist, its allure as a destination worth travelling to is now in question.
While the area around Bam is subject to various governmental travel warnings, it did not feel hugely different from elsewhere in Iran, apart from a police checkpoint along the highway. I visited with a taxi directly from Kerman, and thus avoided having to walk through the town of Bam itself, which admittedly did feel a bit more 'frontier' than elsewhere (this is probably simply because a lot of buildings aren't quite rebuilt after the earthquake), but the site itself was perfectly fine. A guard noted my nationality in his notebook as I arrived, with the usual surprise at the response of 'Australian'. Luckily this was not one of the multiple times this has been misheard as 'Israeli'. The arg was filled with various Iranian tourists, including a school group, and the omnipresent phenomenon of the Italian tour group.
Disappointingly, the main citadel is unable to be climbed, with access prevented past the courtyard at its base. The rest of the city is basically completely ruined; foundations up to waist height, with occasional walls and roofs of buildings deemed worthy of restoration. You would have to be very enthused by mudbrick to get excited by the remains. I had hoped to see active restoration in progress during my visit, but this was unfortunately not the case.
The peculiar highlight of the visit was a video in Farsi playing on loop in the gift shop. Running for 18 minutes, it shows footage of the arg before the earthquake, cheesy animation of it collapsing, and footage of the immediate aftermath. The shop attendant eventually stopped it, and tried to sell me an English language copy.
The visit was saved, however, by following the lead of all the Iranian tourists, and 'loosely' interpreting which areas were off-limits. After I saw the guards react with complete indifference to others climbing over barriers to take selfies, I decided to climb the outer wall of the complex. It was not strictly prohibited, as a gate was open and an obviously-worn path existed, but it probably wasn't really allowed. As expected, nobody cared, and the view was rather good of the arg and the surrounding palm plantations.
The site itself seems very proud of its WHS status, as multiple signs bear the UNESCO symbol, and a rock at the entrance bears a plaque listing the entire summary of its inscription, including each criterion it is inscribed on. I do not think I have seen a similar monument, with such specificity, elsewhere in my travels.
---
Site Info
Full Name

Bam and its Cultural Landscape

Unesco ID

Country

Inscribed

Type

Cultural

Criteria

2

3

4

5

Categories

Link
Site History
2013

Removed from Danger list
2004

In Danger

earthquake
Site Links
Unesco Website
Official Website
Related
In the News
Visitors
41 Community Members have visited.