ǂKhomani Cultural Landscape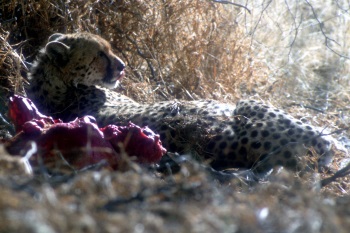 The ǂKhomani Cultural Landscape is a vast desert area associated with ǂKhomani San culture since the Stone Age.
The area amongst the sand dunes of the Kalahari Gemsbok National Park lies in a hostile, dry environment plagued by predators. It was used by the indigenous ǂKhomani San hunter-gatherers for water and (medicinal) plants. The tangible remains include archeological sites and graves.
Community Perspective: reviewers regret that natural aspects weren't part of the nomination, as Kalahari Gemsbok (the South African part of Kgalagadi Transfrontier Park) is a great park. Walter and Solivagant were relatively early visitors (1997 and 1998 respectively), when the access roads were still mostly gravel and the cultural aspects were not yet much emphasized. Tamas recently deep-dived into the cultural aspects on a 2-day tour.
Map of ǂKhomani Cultural Landscape
Load map
Community Reviews
---
Most rewivers complained about the missed cultural element of the site, so while planning my visit to South Africa I deliberately wanted to find some kind of clue how not to miss it. Finally I found a website - www.khomanisan.com - where - though there is absolutely no reference to the World Heritage status, I assumed, I can fulfil my desire. The site is maintained by the bushman council, so if anybody knows what the sam cultural landscape is about, they are surely the ones. The comunication with the admins war painstaikingly slow. After some weeks I got an aswer from the tour operator appointed by the council, Vinkie von der Westhiuzen, an email, that, yes, she is the one who is in charge and once she would send me some more information. It was in late November, and in January I got it. The two days cultural tour, though somewhat pricey, seemed to be interesting, so we booked it. What we got was really interesting - though in a certain sense somewhat patchy. We had two local guys - Elivs and Philemon - with us who tought us how to use bow and arrow (we were better, but even though did miss the coke can), how to recognise the excrement of different animals in the bush, which are th the plants with healing powers etc. This was real fun. We have also seen some tribal dancing around the fire with some stories told. The choreography was quite simple - but I think it's naturally like this.The accomodation in their camp was good - the tents are spacious, and the sky is sooo dark, that you can never see that in the developped world. The game drive was rather forgettable - but the sunset from the dry lake was glorious. The catering was great, and Vinkie - who despite her name is a member of the san community - happened to be a really lovely person. So the experience was good - but still should be improved. The program could be better organised, for example we would have been interested in the actual life of the san community now. Talking with Philemon and Elvis (do not sound really san, but that were their actual names) we learned a lot - e.g. that their actual mother tongue now already Afrikaans, and they just learn some san in school, or that their biggest income ins the meat of the game, that is marketed as biltong, but it could have benne better, if better organized. Also it was by chance that they saind that yes, they know the people, who worked on the nomination file - just they did not think that it is woth to mention. So we learned, we stayed in the middle of the core zone.
---
3.00 Chinese-Canadian - 16-Nov-19 -
ǂHelloǂ
This park seems quite average at best, no elephants means "oh my god why would anyone want to come here if no elephants", right? Well I have never been to Kruger and don't really plan on it because at Kgalagadi have ticked off soooo many animal species in just one day going straight through the South African part. But wait, there's more! You can go to all three countries in one visit if you go to Botswana first, then out into Namibia (it doesn't have any of the park and correct, the Botswana part is not a UNESCO site). Well, the cultural aspect of the park is totally lost on me because in 7 days inside the park I didn't come across a single San person, or Bushmen as the Botswana guide calls them, and he even showed me 'Gods Must Be Crazy' to entertain me on the trip! So unfortunately this isn't a site I can say it's possible to appreciate the meaning of the inscription. I have a feeling that the San people are really into having visitors anyway.
So I was with guide and 4x4, 2 extra tires that were barely enough as we went through the wet roads to look for animals. The dry days gave us plenty including lazy lions, a cape cobra, but the wet days obviously very little. It was fun, I think it is a great park and I met lovely people - but then again this isn't why anyone interested in WHS alone would come here and probably check out Kruger instead :)
---
Walter's comment in his recent review that "The !Xam Khomani Heartland corresponds in fact to the Kalahari Gemsbok National Park" has come indeed as a very pleasant surprise to me - even if he also indicates that the Nomination has been recommended for "deferral" this year!! This because we had a very memorable visit to the park just 1 year after Walter's, way back in Aug 1998, and it therefore gives me the "right" to post my favourite Lion Photo taken inside the Park in the South African sector. I had just not previously realised that this Cultural nomination encompassed the entire South African part of the Kgalagadi Transfrontier Park. I have re-read the UNESCO Web site T List entry and it is very opaque about the boundaries, referring to areas south and north of Upington and "restitution of land to the south of the Kgalagadi Trans-frontier Park, the original home of the community, and restoration of certain land use rights within the Park" – hardly evidence of a nomination based entirely on the Park. Indeed we discussed the regrettable non inclusion of Kgalagadi park on the List on the Forum earlier this year. However, the ICOMOS evaluation in this year's WHC papers includes a map which confirms that the Nomination does indeed follow the S African Park boundaries.
We had picked up a rentacar in Capetown and driven all the way up to Etosha in Namibia. Our route back was scheduled to take in the Namaquland flowers but, given the vast distances we were already covering (6145kms in 24 days), a "small" detour from Keetmanshoop to Kalahari Gemsbok didn't seem an unreasonable way of filling a couple of spare days! After a drive of 325kms during which we met no traffic we reached the Twee Rivieren entrance camp where we had lunch and the rangers radioed around and found a place for our little 2 man tent at Nossob a further 150kms north.
In 1998 this route consisted of a dirt road following the Nossob river (Today Google maps show a different route) – this appears as thin blue line on maps but is actually totally dry and the road followed the river bed much of the time criss-crossing between RSA and Botswana with the frontier marked by boundary stones every few hundred metres. The road was dirt and sandy in places but perfectly adequate for our saloon car.
South African campsites have strict rules about latest entry times and it was already getting late when we came across 4 lions walking along "our" road still some distance from the campsite. We felt able to "give" them half an hour (there was no other traffic) and they started taking a distinct "interest" in our little car - as if they saw it as a "creature". But there was no real aggression. The wing mirrors seemed particularly attractive, almost as if they were the "ears" of the creature (Photo). There was also no real evidence that they saw us inside as being "separate" from the totality itself and were trying to get inside to reach us – though I must admit I kept my hand very close to the ignition key! My diary does note that at one point I and the lion made eye contact! Quite an experience.
The next day we drove further north in the morning before returning to Nossob for lunch and booking our dinner and camping spot at Twee Rivieren by radio from there. On the way south we had another fine wildlife viewing experience watching a cheetah at a kill – again totally on our own. We also saw the eponymous "gemsbok". My diary notes that it was VERY cold overnight! And there was still time for another early game run the following morning before we went south to Upington.
This review makes absolutely no mention of course of the San people who are the focus of the current nomination to the total exclusion of the wildlife. I do remember a few very poor and decrepit villages of local tribes people just outside the Park. Whilst some of the workers at the camp sites were clearly of San ethnicity, back in 1998, this "cultural" aspect of the Park received absolutely no mention. Maybe such cultural remains as there are, were situated well away from the road but there were no signs to rock paintings etc. This was presented entirely as a Wildlife Park. It was still only 7 years after the end of Apartheid of course and things do appear to be changing. The AB review mentions that a "portion of the southern edge of the KGNP has been set aside for use by the ǂKhomani San people, to practice and rejuvenate aspects of their culture, such as traditional hunting, collecting medicinal and food plants, accessing the dunes and carrying out other economic activities. This land forms the !Ae!Hai Kalahari Heritage Park." This thin sliver of land was only gazetted in 2002 but does appear to be trying to present and benefit the local people . RSA has already created 2 other Cultural landscapes along its northern borders to recognise tribal cultures there - but perhaps it is trying too hard in this case. It does seem perverse to have nominated this magnificent wildlife park solely on cultural criteria!
---
3.00 Switzerland - 05-Jun-17 -
The ǂKhomani Cultural Landscape, otherwise known as the The !Xam Khomani Heartland corresponds in fact to the Kalahari Gemsbok National Park. To add some more confusion, together with the Bostwana Gemsbok National Parks, if forms the African Kgalagadi Transfrontier Park.
South Africa justifies the OUV with the association of the red dunes of the parks and the ǂKhomani and related San people, who descend directly from the ancient population that inhabited southern Africa around 150,000 years ago.
Back in 1997, as I was discovering South Africa, driving from Pertoria to Namibia, I decided to go to the Kalahari Gemsbok Park, is the search of the San people territory. I had been fascinated by a 1980 movie, The Gods must be crazy, telling the story of an isolated San tribe which is disturbed by a glass Coca-Cola bottle fallen from a plane.
As often, getting there is half the fun. The entrance to the park is now a 2 and a half drive from Upington, the nearest « town ». The new road to the entrance is now tared, but back then it was a 4 and a half hours drive on a gravel road. Driving from Pretoria is a long 10 hours drive (equal time from Cape Town), which make this area one of the remotest in South Africa.
Nature is here at its best. Far less travelled than Kruger Park, you get the chance to have all kind of different animal for yourself. I saw cheetahs from very close, with their cubs, lions, gemsboks, spingboks, and giant nest of weavers (see picture). The landscape is desertic, with large reddish dunes. Vegetation is sparse, with occasional trees, and river bed most often dry.
I slept two nights in rest camp in the Park, in Mata Mata. They was basic rooms and a small shop, enough to buy some meat for a traditional South African braai (barbecue). Nowaday, rest camps have swimming pools, but they still is wilderness camps, with small chalet or tents. Staying overnight and eating a braai in the middle of the African desert is a magical experience.
Back then, and even more now, crossing to Botswana is allowed, without visa or passport control, as long as you stay in the Kalahari-Gemsbok and the Gemsbok National Parks (forming together the Botswana-South African Kgalagadi Transfrontier Park). Driving to Namibia from Mata Mata was not allowed back then, but now possible if you spend two nights in the Park.
The justification of OUV extensively refers to the ǂKhomani and related San people who have been surviving by hunting and gathering in this arid environment. It mentions the unique technology and way of life and their cultural practice and tradition. The natural aspect of the ares is not included in the justification of OUV. I regret it, because the natural landscape are magnificiant, and wildlife fascinating.
Back then, apart from seeing some people walking along the road in the middle of nowhere, and some isolated houses, I did not see much of the ǂKhomani Xan culture. It was not emphisaized back then, no signs or information plate. It seems easier to see nowadays, as there is a some of the area has been declared Heritage Park, with an open air living museum and a lodg managed by the Xan people.
Was it worth the long road to get there ? I would say yes, especially if you like off-the-beaten tracks travelling and avoidind crowds.
Is it of OUV ? I would also say yes, but I would have gone for a mixed cutural and natural justification. ICOMOS seem to agree and recommends to defer the nomination.
---
Site Info
Full Name

ǂKhomani Cultural Landscape

Unesco ID

Country

Inscribed

Type

Cultural

Criteria

4

5

6

Categories

Link
Site History
2017

Advisory Body overruled

ICOMOS advised Deferral, overturned after amendment of Angola
Site Links
Unesco Website
Official Website
Related
Visitors
20 Community Members have visited.