'Uruq Bani Ma'arid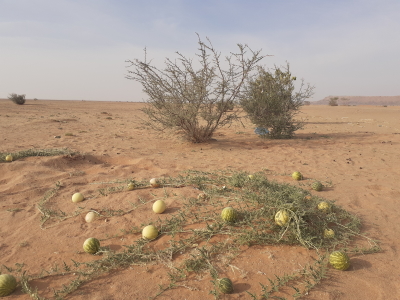 'Uruq Bani Ma'arid covers the western part of the largest sand sea on Earth, the Ar-Rub' al-Khali (Empty Quarter).
The site covers more than 1.27 million ha of hyper-arid desert landscape, which holds a great variety of sand dune formations. It also includes the southern end of the Tuwayq limestone escarpment with its many wadis and salt flats. Arabian Oryx, Arabian Sand Gazelles and Arabian Mountain Gazelles have been successfully reintroduced in the reserve.
Community Perspective: this site has been unreviewed so far.

Community Reviews
---
2.50 Chinese-Canadian - 22-Sep-23 -
I "accidentally" visited the nature reserve when trying to visit Al-Faw, the nearby cultural site that is locked down and requires hefty arrangements to visit. Keeping in mind that my visit was several years ago (2019?) and the entire "visit" is driving past it on the main road and several offroad experiences that end up in fences. In the end if you have a 4WD you can take some unmarked paths and try to look around but I think unless you venture deep you will not get to see much. After doing some research I believe one has to arrange a tour that camps in the park. At the main road you will not see animals due to the, well, the road, and because of the fences keeping them in the large area beyond. Most of the animals were also re-introduced so I have to question that natural state of the park, although I suppose they aren't much different than the oryx and gazelles that were here before. So unfortunately I can't really give much insight into what you can expect from the park but a drive-by will definitely not do it.
---
Site Info
Full Name

'Uruq Bani Ma'arid

Unesco ID

Country

Inscribed

Type

Natural

Criteria

7

9

Categories

Link
Visitors
4 Community Members have visited.