Rural Temples of Cusco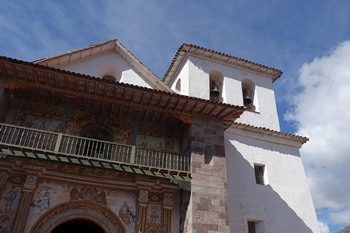 Rural Temples of Cusco is part of the Tentative list of Peru in order to qualify for inclusion in the World Heritage List.
Rural Temples of Cusco is a group of ten churches whose architectural style and artistic components reflect a unique style resulting from the mixture of indigenous and European knowledge and techniques. These temples contain outstanding examples of paintings, murals and sculptures from the Cusco School of Art. The objective behind the construction of these churches was to impress and educate the indigenous populations in order to foster their evangelization.
Map of Rural Temples of Cusco
Load map
The coordinates shown for all tentative sites were produced as a community effort. They are not official and may change on inscription.
Community Reviews
---
Looking for an easy way to travel from Cusco to Puno, I settled on a tourist bus that would make several stops along the way. Itineraries for all companies seem to be quite similar (Andahuaylillas, Inka ruin Raqchi, lunch, mountain pass La Raya). Only stop that I was initially interested in was Raqchi as it's part of the Qhapaq Nan sites.
When we rode into Andahuaylillas (the town) we found a rather sleepy rural town, scenically located below a mountain range. The church is in the city center and from the outside there is little to set itself apart from other churches. However, when we entered the church I was awed. All parts of the interior is richly decorated. The style is named Barroco Andino. It is not a poor reproduction of European ideals, but a unique blend of European ideas with Latin American culture, symbols and heritage. Calling it "Sistine Chapel of the Andes", though, is overstating the case. It's a lovely rural church for and by the local population.
OUV
I am always happy, if my "should be inscribed" post in the forum later materializes with the state party making a proposal. For Peru, I posted in 2017 that Barroco Andino had clear potential:
I have only seen the splendid church of Andahuaylillas and supposedly there are more sites like this. Stellar and unique with the local influences. Again, I would heavily favor inscription of these churches. The artistic level is superior to the similar Popocatepetl churches in Mexico.
In 2019, Peru added the Rural Temples of Cusco to their tentative list. I happily stand by comment from 2017 that this would be a great addition.
Getting There
If you are travelling between Puno and Cusco by tourist bus, a stop at Andahuaylillas is included. It's probably the easiest way to visit.
While You Are There
You are in the heart of the Empire of the Inkas with plenty of epic sites to visit. The road between Puno and Cusco is dotted with Qhapaq Nan sites as it follows the historic road. In the direction of Puno is another Baroque tentative site, the Baroque Temple of Collao (T). Not sure how this relates to the rural temples of Cusco. Puno itself is the gateway to Lake Titicaca (T) and Bolivia.
---
California - United States of America - 08-Aug-19 -
The Church of San Pedro Apóstol de Andahuaylillas, the "Sistine Chapel of the Andes" was mostly lost to me in 2009. Its hard to appreciate such a structure without information and during a pit-stop on the way to Puno! Granted, the church does not take much time to explore, its murals and elaborate interior are exceptional. Considering this nomination has 10 components, this can barely be counted as a visit. However, since The Church of San Pedro Apóstol de Andahuaylillas is one of the key properties I though I would write a review.
Between Cuzco and Puno, bus routes can be organized (at least as far back as 10 years ago) to stop at Andahuaylillas and Raqch'i for a limited amount of time. As I sleepily exited the bus, I appreciated the exterior of the church, but it's something else altogether to cross the threshold into the church where gold and murals await. Unfortunately, I did not take pictures of the interior (or I tried), but the light was poor and the images were immediately deleted because of poor quality. I also remember having battery issues with my camera at the time, leading to a tight economy on pictures!
The proposed nomination may be underwhelming for some, but Peru is under-represented on the world heritage list and even their average tentative list entries are arguably worthy of inscription. Sites like the Church of San Pedro Apóstol de Andahuaylillas were built over a pre-columbian ceremonial space, the emphasis on indigenous murals, and the importance of these churches as the doctrine temples of the indigenous people in the vicinity of Cuzco might be enough to claim OUV.
Read more from Kyle Magnuson here.
---
Community Likes
Site Info
Full Name

Rural Temples of Cusco

Country

Added

Type

Cultural

Categories

Link
Site History
2019

Added to Tentative List
Visitors
28 Community Members have visited.