Archaeological site of Ancient Messene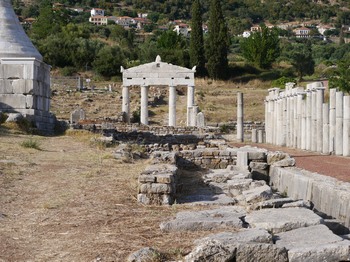 Archaeological site of Ancient Messene is part of the Tentative list of Greece in order to qualify for inclusion in the World Heritage List.
Ancient Messene is located in the southwest of the Peloponnese at the foot of Mount Ithome and was the capital of the Messenia region in ancient times. The area of Messene was not destroyed or overbuilt by later settlements. The surviving remains date mainly from the 4th century BC, the period after the end of Sparta's hegemony. The most significant remains are the ruins of the theatre, the stadium and the temple of Asclepeion.
Map of Archaeological site of Ancient Messene
Load map
The coordinates shown for all tentative sites were produced as a community effort. They are not official and may change on inscription.
Community Reviews
---
We visited this site in Feb 2022 en route from the Mani peninsula to Olympia. I would definitely recommend a visit and a car to get there. Our GPS took us there via some rather obscure back roads and our first glimpse of the site was from above as we came down from the mountain to the east. Our visit on site was equally pleasant as the ruins are well kept and laid out. I think what I liked the most was that each element of the former city is spaced out and clearly identifiable and I could get a feel for the full layout without getting an impression of clutter or trying to cut through more modern development like most other ruins. As mentioned in the previous reviews the best is saved for last. At the far end is the fantastic stadium.
As well presented as the site is there is still evidence of much more left to be uncovered. The nearby museum is small with just a few local artifacts. As for the fortifications, it is possible to see some elements of the walls in the distance from the ruins. We left by driving to the west and after a km or so passed through the large Arcadian gate and got a good look at the walls.
This should be an easy addition to the WHS list if Greece ever decides to submit it.
---
Travelling without car can be a bit challenging in Greece. Each district has their own local KTEL (bus company). The only priority for each KTEL seems to be to offer frequent connections to Athens. E.g. there are two daily busses to Athens from a village like Andritsaina, but there are only two weekly connections from e.g. Sparti across the mountain range to neighboring Kalatama.
This was the conundrum I faced when planning my visit to Ancient Messene. Generally, I had time for a visit, but I could not work out a leisurely connection. Being in Mystras/Sparti I would have to backtrack to Tripoli. There I would hope (or wait) to catch the bus from Athens on its pee break at the Tripoli bus station. For a trip that would have taken 1h by car, I had to plan 3h by bus. Minimum.
My inclination was to simply skip the site and opt for the easier option of continuing straight via Tripoli to Pyrgos for Olympia. That is, had it not been for the glowing review by Thibault (thanks!). His review peaked my interest, so much so that I didn't want to forego the site. Eventually, I settled on the stressful option of going for the connecting bus to Kalamata and then catching a cab in Kalamata to the site.
It started off rather badly, as the bus from Sparti was really slow. The trip to Tripoli should have taken less than an hour, it took 80min. I was afraid of missing my connection, but luckily, the other bus was late, too, so I managed just fine. In Kalamata, the hotel quickly arranged a surprisingly reasonably priced cab and off I went.
When you enter, you first see a restored amphitheatre that is too modern to impress. I was worried what I got myself into. But wandering around on the premises, the site grew on me. Unlike most other Greek archeological sites the site felt well documented and accessible. It really opens up and gives you an idea of the city.
And then there was the wow moment... It was when I reached the stadium. For all the Roman/Greek sites I have visited as part of my travels, I have not seen anything like it. It's just great and it felt like being sent back in time.
Unfortunately, I did not manage the fortifications. Those seem further out and I had not planned for it.
In sum, I was really happy of having made the trip. Interestingly, Messine is not a well funded excavation. So it's quite likely that they will unearth even more treasures in the future.
OUV
One may question the point of inscribing yet another classical ruin, but... Messene is a fine one at that and distinct from the other archeological sites I have seen in Greece so far. The site is well presented and has a different flair to Olympia (sports!) and Delphi (oracle!). You get a good feeling for the town itself and the highlight is without doubt the stadium (wow).
Getting There
Hate to repeat myself, but... If you see an "archaia/ancient" in front of any city name in Greece, it points to there also being a "nea/new" city that may be quite far apart. In the case of Messene, it's 30km or so between old and new town, so there really is no point in travelling to New Messene. You may as well go to Kalamata, the principal city of the area.
Kalamata has frequent connections to Athens via Corinth/Isthmus and Tripoli as well as 1-2 connections a day to Pyrgos (Olympia) and Patras. Meanwhile, getting to either Megalopolis (Amphitheatre (T), Bassae) or Sparti (Mystras), the neighboring cities in the neighboring districts seems nearly impossible. I connected from Sparti to Tripoli and got lucky to catch my connection to Kalamata. In addition, Kalamata has a tourist airport with (in pre Corona times) connections all over Europe.
In Kalamata I ordered a cab via my hotel. Cost was below 60€ which seemed fair for the travel distance and travel time (45min each way).
While You Are There
I didn't much enjoy Kalamata, so not much to say.
---
I have discovered Messene (not to be confused with the modern town Messini 20km from there) on my way from Mystras to Bassae, in Peloponnese. Messene was founded in 369 BC and became the capital city of the Messenian state for centuries before falling under Roman rule. The archeological site displays an impressive number or structures including fortifications, a 9,5 km wall with monumental gates and defensive towers, a theatre, several temples and an impressive stadium with facilities. The most impressive part of the fortifications (including so called Arcadia Gate) can be seen on top of the hill few kilometers from the archeological centre. To me, the site is one of the main missing WHS in Greece considering the extensive remains and uniqueness of certain attributes such as the monumental fortifications.
---
Site Info
Full Name

Archaeological site of Ancient Messene

Country

Added

Type

Cultural

Categories

Link
Site History
2014

Added to Tentative List
Visitors
21 Community Members have visited.