Desert Castles of Ancient Khorezm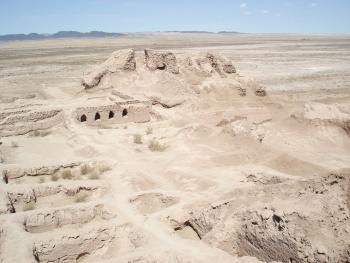 Desert Castles of Ancient Khorezm is part of the Tentative list of Uzbekistan in order to qualify for inclusion in the World Heritage List.
Desert Castles of Ancient Khorezm is a serial nomination with the ruins of 8 castles surrounding and protecting the Khorezm Oasis in the Amy Darya delta. The area was settled in the Neolithic, and became fortified in the 7th century BC. Khorezm was part of the Persian Empire before becoming independent from the 4th to the 1st century BC. The fortresses are on hills in the surrounding desert.
Map of Desert Castles of Ancient Khorezm
Load map
The coordinates shown for all tentative sites were produced as a community effort. They are not official and may change on inscription.
Community Reviews
---
What a difference a different location makes ... Coming from Nukus by shared cab, I had exited my cab at Beruni to visit Pil Qala. It was a 15min walk from the junction to the ruins and I figured I could always get a ride to Urgench and Khiva (I managed).
Pil Qala was fairly underwhelming. It's pretty small, surrounded by a town and itself heavily reconstructed. Admittedly, the castle being made of clay means it has to be reconstructed regularly. But still: This felt underserving of being on the list. Too little.
I had ticked this one off mentally, when I found the option of doing more castles as stopovers on my way to Bukhara. I didn't want to take the train and drivers are surprisingly cheap, so: Let's go!
The next morning the driver picked me up at my hotel at 8 a.m. We first passed Kyzyl Qala (not included) and then arrived at Toprak Qala. This was already nice. A fortified hill with plenty of clay ruins. I limited my exploration as the trails felt slippery and a tiny bit dangerous.
From Toprak Qala we drove on to Ayaz Qala and this is where the site clicked. Seeing the upper castles and the lower castle on approach was stunning. The site is large and there is so much to see. And you are standing in the desert with the green, arable lands that the castle protects on the horizon to the South.
Ayaz Qala also features in the world monument fond, unfortunately as a world monument in danger. As stated, these are all earthen/clay structures that will wither in the elements unless protected continuously.
As last stop before taking the long highway through the desert to Bukhara we visited Big Guldursun. I was a bit tired by then and felt with Ayaz Qala I had seen the best already, so I only did a brief exploration.
OUV
No doubts about it: Ayaz Qala belongs on the list. Throw in Toprak Qala for good measure and you have a great site. Big Guldursun was large (felt a bit GoT like for some reason), but it failed to convey the same awe as Ayaz Qala. Pil Qala meanwhile should be removed from the nominated sites.
Getting There
Tourist hub for the area is Xiva/Khiva. Or Urgench if you must.
You can arrange day trips from Khiva. In high season, Islambek travel offers a shared day tour at 9 a.m. if you want to split costs. You can also get a driver for the day.
Alternatively, you can do this as stop over when travelling between Khiva and Nukus or Bukhara. I recommend Nukus for Toprak Qala and Ayaz Qala, as both are more in the direction of Nukus than Bukhara. Big Guldersun is a better stop when going to Bukhara. Generally, Nukus-Khiva is a shorter trip than Khiva-Bukhara, so doing stops is easier between Nukus and Khiva. For Bukhara, I would recommend leaving at 7 a.m. and limiting yourself to the main sites: Toprak Qala, Ayaz Qala and Big Guldursun. The drive from Khiva to Bukhara takes 6h without detours and delays.
---
Site visited during round-Uzbekistan trip (April, 2010) – since Clyde described particular sites I will try to focus on practical aspects / description of different places. All prices were as during the time of journey (but since they will be given in USD they may be valid today – at least the level of expenses)
The sites are commonly known as Eliq Kala (Fifty Fortresses) and embrace relatively big area east of Amu-Daria river in autonomous region of Karakalpakstan. Selection for TL takes only 8 locations – maybe the most prominent / best preserved but there are much more in the area. I was travelling from central Urgench, where found a taxi driver (unofficial) with car. Unfortunately the guy was from Taskent and didn't know the area. LP Central Asia claims that you should be prepared for the price around 50 USD for full day trip – after long negotiations I paid 40 USD but have in mind that the driver was not familiar with the area. Frankly speaking I also had vague idea about the places I wanted to visit, no good maps, just a few names of the most important castles that were enlisted in LP. The driver had not even this but at least he had a car and knowledge of local language.
Having in mind that I was lucky to see at lest 3 places from tentative selection: Big Guldursun fortress, Toprak Qala and Ayaz Qala. Moreover, I managed to see also Kyzylkala Fort, Little Qırq Qız qala and three other unnamed fortifications (badly preserved – I couldn't identify them with known resources).
Big Guldursun (or Big Gu'ldu'rsin) qala is a rectangular citadel measuring 350 by 230 meters. The layout is fully preserved - some part of the walls are around 15 meters high. To the comparison there is not much left with the walls. Fort was built in XII century only to be partly destroyed by the Mongols in 1221. Site fully accessible, unfenced.
Toprak Qala – one of the biggest excavation sites in the area. The place seems to be inhabited in the I century AD, the town was mostly active within II and III centuries. Later on it was abandoned. The best preserved is a part in north-western corner where citadel or High Palace once stood. The walls up to 9 meters high were built on artificial platform (14 meters high) – see the cover photo. As other places the site is fully accessible.
Ayaz Qala – the highlight in the area, the site consists of 3 different castles form different periods. Fortified town (Ayaz Qala 1 located on the plateau from 4th century BC), feudal fort from 6th century AD (Ayaz Qala 2) located on the top of small hill and fortified garrison (Ayaz Qala 3) from 1st century AD. Very close to the site there is famous Ayaz Qala Yurt Camp.
Kyzylkala Fort – google coordinates 41.94586928091693, 60.77709696630886 was partly restored / reconstructed – you can try to find current photos by typing the name of the place, the link is too long for copying. When I was there it lied completely in ruins so it may be good to compare the state of partial reconstruction with those left alone on their own. Kyzylkala Fort lies very close to Toprak Qala.
The main problem of all the castles of ancient Khorezm is the building material – adobe and wood, obviously unstable, especially in the desert area. For better understanding the case – what we can admire today as town walls in Khiva (very impressive) are mostly result of XX century conservation process. After 50-100 years all that must be restored / conserved with utilization of the same techniques. In the case of Khorezm castles they were built sometimes more than 2 thousand years ago, destroyed or abandoned several times from the period of construction. Anyway, what was left is still impressing.
Comparing all silk-road related sites in Uzbekistan all these places are among the most interesting. The sites look as much better preserved than, already inscribed, other Silk Road sites of Tian-shan Corridor in Kazakhstan (Talgar) or Kyrgyzstan (Ak-Beshim)
Practicalities: stayed overnight in Otabek Hostel (inside Itchan Kala, Khiva), pleasant but rather budget accommodation (around 8 USD per single room), get to Khiva from Urgench and vice versa by local bus (quite cheap and efficient), organized full day taxi for Eliq Kala near the train station in Urgench. On a way there are some shops (local) in villages but much more in bigger towns like Beruniy, Boʻston, Toʻrtkoʻl. Prepare detailed map of the sites you want to visit with correct names of the places. I have no idea how it is organized right now (maybe there are dedicated trips ?) but if wanted to go independently be prepared that taxi drivers try to exaggerate prices (the maximum I heard was around 500 USD for a trip) or minimize the number of places. Most of them knew Ayaz Qala and tried to limit the journey only to that location. Also be prepared with correct google coordinates of the places as well as its names as even the locals do not know them or at least mix them.
The best site I have found about Castles of Ancient Khoresm with detailed history, different maps, description of all castles (in fact much more that those 8 locations, they have tried to identify all the places by google coordinates) – www.qaraqalpaq.com/tourancient.html (unfortunately I got it after visiting the place)
Places on the photo, bottom left, than clockwise: Toprak Qala (view of citadel), panorama of Ayaz Qala complex (Ayaz Qala 1 on the big hill to the left and Ayaz Qala 2 on the top of smaller hill to the right), inside the fortress of Ayaz Qala 1, Big Guldursun Qala (external walls)
---
I visited this tentative WHS as a day trip from Khiva. I wanted to see the remains of these castles/fortresses in the Kyzyl Kum desert, Karakalpakstan to try to appreciate further the importance of the ancient Khorezm empire. Not much is left, but much more than the fortresses of Turkmenistan's inscribed Ancient Merv and Nissa combined!
I visited the remains of the fortresses in Ayaz Kala and the ancient settlement of Toprak Kala (top left photo). The latter is quite similar to the remains in Nissa, Turkmenistan in a way with more desolate surroundings than the mountain scenery near Ashgabat.
To explore the fortresses in Ayaz Kala well, a great deal of climbing is involved either on sand dunes, on dry mud mounds or on more dangerous rocky hills. Bring sturdy shoes and plenty of water here. The panoramic views from the different fortresses are similar to the US national parks on the west coast, mostly Monument Valley (top right photo).
The Ayaz Kala desert castles (bottom right photo) are interesting as unlike other castles of ancient Khorezm, there are unfortified rural settlements and residential buildings, each enclosed by a low brick wall. These indicate that the process of separation of individual households from a tribal community had already begun at that time (I-VI century AD).
Among dozens of unfortified farmhouses in the Ayaz-Kala complex, three fortresses-buildings stand out for their significant size. These are Ayaz 3, a giant fortress with a large courtyard surrounded by strong walls with towers and a maze near the gate (bottom left photo with the maze below the brick wall ruins).
I don't know if these sites will ever get inscribed but I really enjoyed my visit to these off-the-beaten-track sites and I'd recommend them if you have a day to spare near Khiva.
---
Community Likes
Site Info
Full Name

Desert Castles of Ancient Khorezm

Country

Added

2008

Type

Cultural

Categories

Link
Site History
2008

Added to Tentative List
Visitors
23 Community Members have visited.