Lake Atitlán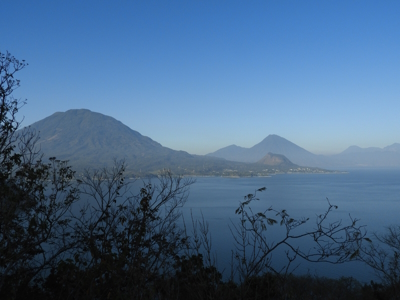 Protected area of Lake Atitlán: multiple use is part of the Tentative list of Guatemala in order to qualify for inclusion in the World Heritage List.
Lake Atitlán, in combination with the three volcanoes at its southern shore, is of natural scenic beauty. It is an endorheic lake, feeding into two nearby rivers. The lake fills a volcanic caldera. continuing volcanic activity has built three volcanoes in the caldera. Volcán Atitlán lies on the southern rim of the caldera, while Volcán San Pedro and Volcán Tolimán lie within the caldera.
Map of Lake Atitlán
Load map
The coordinates shown for all tentative sites were produced as a community effort. They are not official and may change on inscription.
Community Reviews
---
Chinese-Canadian - 11-Apr-20 -
"multiple uses" of a lake? Already that raises questions. If you read the short description on the official website, which I could paste here but let me get through it instead, it looks more like a placeholder as well as a "let's throw this on a list so that tourists go there - not that the place requires to be promoted any more.
Their first point about natural beauty could easily be granted. The setting is beautiful from every spot on around the lake. I stopped at lookouts as I was driving to Chichicastenango and the sunset was breathtaking. Now as for the archaeological sites they mention are probably also there but I sure didn't see any. Indigenous communities these days are more or less tourist towns. There is still a very "infamous" (as per local Guatemalans) hippie town - one of which I had the pleasure to meet up in Tikal later on my trip, the rest of towns were more or less markets and bars which boatmen trying to attract you to the lake crossing.
Maybe this was a great place in the 80s before mass tourism took over but at this point I would consider it a tourist hotspot without any unique value worthy of the name UNESCO.
---
Interesting comments earlier. I always understood that it was Aldous Huxley who described Atitlan as "too much". This was in "Beyond the Mexique Bay" (1934):- "Lake Como, it seems to me, touches the limit of the permissibly picturesque, but Atitlan is Como with the additional embellishment of several immense volcanoes. It really is too much of a good thing." Any evidence that O'Keeffe said it first would be of interest!!
The potential for the ecological destruction of the lake is worrying - I tend to regard many similar claims around the world as having an element of exaggeration by Green activists who seem unable to avoid "overegging the pudding" of their argument even when the basic argument has validity - let us hope that that is the case here too. But my own 2 visits to Atitlan in 1985 and 1995 certainly indicated a massive change brought about by tourism alone - Panajachel had become unrecognisable (and much less "pleasant") in just 10 years - I fear for what the subsequent 15 years have wrought. Has a surfaced road around the lake been constructed yet? That would certainly change the lakeside villages enormously. But what is to be done - the locals deserve a better standard of living and, by going, I too contributed to the destruction of what was there! The maxim "go there ASAP - it won't be as good in n years!" applies everywhere in the World I fear.
---
Jennifer Bigman
Canadian living in Guatemala - 11-Mar-10 -
I am a Canadian living in a village on the shores of Lake Atitlan these last 20 years. This lake grabbed me with its beauty, with its three volcanoes overlooking it and the continuous changes of light and colour. For the Mayans, it is a holy place to which they come to do ceremonial events. To the local economy, the tourism brings a livelihood from which they have become dependent. Unfortunately the entire life around Lake Atitlan has become endangered as the phosphorus pollution and the lack of government funds is endangering the very life of the lake and consequently its people. Georgia O'keefe said of lake Atitlan that it was 'too much'. She was overwhelmed by its beauty and could not paint here! From here she went to New Mexico. Aldous Huxley described it also as the most beautiful lake in the world.
It is curious that maybe because of its size and maybe because of the overpowering presence of the volcanoes, one is left with the overwhelming feeling that it is a very special place which needs to be firmly placed not on the tentative list of heritage sites, but one which the world should look on as important enough for its attention.
---
Community Likes
Site Info
Full Name

Protected area of Lake Atitlán: multiple use

Country

Added

Type

Natural

Categories

Link
Site History
2002

Added to Tentative List
Visitors
38 Community Members have visited.