The Ribeira Sacra, Lugo and Orense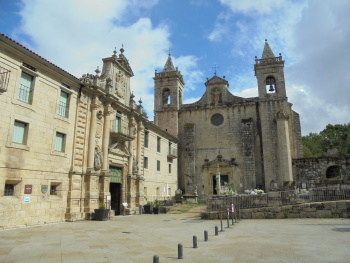 The Ribeira Sacra, Lugo and Orense is part of the Tentative list of Spain in order to qualify for inclusion in the World Heritage List.
Ribeira Sacra is a wine-growing region on the banks of the Sil and Miño rivers in the provinces of Lugo and Ourense in northwestern Spain. It is believed that the region's name, Ribeira Sacra (Sacred Riverside), dates back to the Middle Ages. Between the 6th and 12th centuries, numerous monasteries and hermitages were founded, which are located in the almost inaccessible gorges and steep slopes of the area.
Map of The Ribeira Sacra, Lugo and Orense
Load map
The coordinates shown for all tentative sites were produced as a community effort. They are not official and may change on inscription.
Community Reviews
---
Unlike most of the year, November in Spain in general and more specifically in Galicia is anything but dry. It rains frequently and heavily. Which is a pleasant surprise if you packed no serious hiking gear and plan to visit the Canon del Sil. Luckily, I had already noted a few days prior in Madrid that my luggage and the weather did not match and made a short visit to the local shopping mall.
Main focus of my trip were the many inscribed sites of Northern Spain. With the Ribeira Sacra scheduled in the next year, I made an effort to visit.
The train line from Monforte de Lemos to Ourense cuts right through the proposed core zone and follows the Sil for a few kilometers. I took a morning train to Santo Estevo. When I exited the train, it was already clear that I would get soaked.
From the train station, I walked a little to the bridge across the Sil. The views with the clouds covering the canyon were stunning. I then hiked up to the Monastery Santo Estevo de Ribas de Sil where I visited the church, before descending again.
OUV
Disclaimer: Nowadays, I wouldn't bet against Spain. Even if neither me nor ICOMOS can spot OUV. So take my judgement with a grain of salt.
With that out of the way, I have to say that the landscape was great and I would have enjoyed spending more time (with less rain) exploring the area. But Santo Estevo de Ribas de Sil itself was nothing to dial home about. Part of it has been converted to a modern hotel (Parador = Spanish state hotel). I am not sure if the other locations are better; if so, I could see the monastery being struck from the inscription. If the monastery is already the best component, I would not favor a cultural inscription. I could see a stronger case, for a mixed nomination; the scenery around San Estevo Do Sil is pretty stunning.
Getting There
The two major towns of the area are Monforte de Lemos and Ourense. Both towns are well connected by bus and train.
I visited from Monforte as a day trip. The bus station and the train station in Monforte are North of the town center and require some walking. You can catch multiple buses a day to Lugo (Monbus). Several trains go to Ourense (West) and Ponferrada (East).
The designated area is really rural. Trains run along the Canon from Monforte to Ourense regularly, but only stop at San Estevo Do Sil twice a day: in the morning from Monforte, in the evening going back. Indeed, the train conductor was a bit surprised to see where I wanted to get off; I was the only one and it was raining heavily. Note: San Estevo Do Sil is really rural, no cafes, no nothing. Bring everything you need. Don't expect to get a ride back, some hiking will be needed.
From the train station, you need to cross the river via a car bridge and follow the road for a while, till you reach a sign post. From there, you follow a trail up to the monastery of Santo Estevo de Ribas de Sil. A nice hike. Google maps does not know the trail.
On my return, I hiked to Sober (there is a second foot bridge). The views at the Mirador a Pena do Conde were very nice. I think if it hadn't been really cloudy, I would have gotten good views of the monastery. From Sober, I took a cab back to Monforte. And from there took a bus to Lugo.
While You Are There
Monforte seems to be part of the Camino or some Camino derivative. If you travel in the area, you quickly lose sight of what is and what isn't on the Camino. I saw the shell imprinted on the road in town.
Lugo with its Roman Walls is close. As are Las Medullas, Santiago, and A Coruna.
---
Site visited in September, 2020. I am very much in favour of inscription of this area. Landscape is pretty spectacular, while monastic monuments are well maintained and preserved even while they mostly do not serve its initial function.
Travelled from Las Medulas towards Ribeira Sacra I passed through amazing Mirador de Pontenovo (mouth of river Navea into Bibei, close to Central Hidraulica de Pontenovo). Although it is outside the designated area it is the perfect example of what you can expect in Ribeira Sacra – deep canyons, rocky mountains and rivers. From there I passed through mountainous area towards Parada de Sil.
I stayed overnight in Casa Pepe – upper level budget accommodation, there are also a few other hotels as well as restaurants in the village together with some shops and tourist information (main municipality building, maps and hints of the area available). It may be a good starting point to begin exploration of eastern part of Ribeira Sacra.
From Parada de Sil there is a direct asphalted road to Balcon de Madrid (not far from the village). One of the best picturesque places in the whole Ribeira Sacra. Local legend says that its name was taken from women that were watching for their husbands who were travelling to Madrid. Obviously it is just a legend as the main view from Balcon de Madrid is to the north (while Madrid lies to the south) and is located too far to be visible. While in the area do not miss a wolf (fox) trap (Foxo de cabrita de Parada de Sil, 42°23'22.3"N 7°33'54.1"W)
Monastery of Santa Cristina de Ribas de Sil is located around 5 km from Parada de Sil (asphalted road or hiking path). Romanesque church from IX- XII centuries that was recently carefully restored. Small entrance fee (1 Euro) goes to the local community. On the way to the monastery there are several view points (miradores) of Sil Canyon.
Monastery of Santo Estevo de Ribas de Sil located further west (some 18 km from Parada de Sil) is the biggest in the area. Its origin goes back to VI century but most of the buildings were transformed in XVI century in the Renaissance style (cloisters). Also carefully restored now houses a big hotel (Parador) but church and cloisters may be visited free of charge.
San Estevo of Atan church is located further north-west on the bank of Mino river (Igrexa de Santo Estevo de Atán, 42°30'01.8"N 7°42'11.4"W). Church belonged to the ancient monastery from the VIII century (not preserved). Current church was built in Romanesque style in XII – XIII centuries except of the tower that fell down in XX century. In fact, even if it was rebuilt with original stones it looks a bit different. Currently the church is surrounded by a modern cemetery and wineries (Ribeira Sacra is famous for its wine production).
The last of the nominated churches from Ribeira Sacra area is located in Chouzan village (to be specific it is close to the village, Igrexa de Santo Estevo de Chouzán, 42°31'04.8"N 7°43'27.0"W). Initially built in Romanesque style in XII century it was moved into current location in 1953 due to construction of the reservoir in Peares. The church looks as occasionally used. From the church ground there is a small path to the village (some 0,5 km, Chouzán) – traditional stone houses and slate roofing.
One day may be good for just brief viewing of some designated places but Ribeira Sacra requires a bit more time if you want to explore the area carefully. There are plenty of hiking paths, other monuments, picturesque traditional villages and the most important, landscapes of exceptional beauty.
Places on the photo, bottom left, than clockwise: Monastery of Santa Cristina de Ribas de Sil, Monastery of Santo Estevo de Ribas de Sil, detail of San Estevo of Atan church, Santo Estevo de Chouzán
More information on https://turismo.ribeirasacra.org/
---
Ribeira Sacra is the official candidate site for Spain in 2021. The name could translate into "Sacred river bank" for the high number of churches and monasteries that were built over centuries along the Sil and Minho rivers. In this area of Galicia, these two rivers run in deep valleys, which sometimes look like canyons. First Christian hermits settled there in the 6th century, looking for remote and difficult to reach places, a tradition that originates from Middle East. Monasteries were then built at different periods, in different styles, and one of them is still active today. The nomination file focuses on this aspect of continuous occupation for religious purposes and claim it was the first area to develop in such way in Europe. The nominated area covers the canyons of Minho and Sil rivers until the point where they merge, plus three additional small areas with one monastery each, a few kilometres apart.
We first visited San Pedro de Rocas monastery. This is the oldest settlement of the nomination and the church was partly dug into the rock, as the name says it. It was first mentioned as early as 573 AD. The church was closed when we visited, but you can easily look inside through the grid that closes the entrance and appreciate how walls and rocks mix ; plus you can also freely walk around the buildings and spot medieval tombs carved into the rock, take a picture of the bell tower built on top of a balanced rock, and walk the small path to the mysterious San Bieito source nearby (which is said to help to cure warts).
We then went to Santo Estevo monastery, which is by contrast the main and biggest one in the area. It has been restored and now houses a hotel (Parador), but its three cloisters from different periods (two from Renaissance, one mixing roman and gothic) and the roman church (with baroque front) can be freely accessed. We parked (also for free) at the underground car park of the Parador, which entrance is opposite of the hotel gate.
We finally visited the monastery of Santa Cristina de Ribas de Sil (small entrance fee), which is a pure roman one. The church has been restored recently, and half of the cloister has survived next to it. It lays deep into the Sil canyon, with only the bell tower emerging from the chestnuts trees forest that covers the area. The door leading to the monastery is richly decorated. This is the place we liked most in our day. Do not miss one nearby chestnuts tree with icons and offerings, evidence of mix of different believes – Christian and pagan. Some of the oldest chestnut trees around have hollow trunks and walking through them would help to cure you if you are sick – who knows?
Roads in the area are winding and sometimes narrow, it takes time to drive short distances so we could only cover part of the proposed area. We were there on a Sunday in August, and the area seems quite popular with locals too. The "main" road is on the edge of the plateau, but runs mainly through forests, so you almost never see the canyon and the Sil river. For this, we had to stop at sign-posted view points. We picked-up "Cabezoas" and "balcones de Madrid", with the latest being advertised one of the most famous, however the views were partial on the river. Vine is also grown in some parts of the canyon, on narrow platforms. The nomination file refers at "cultural landscape" but does not primarily focuses on vines (although those make the most famous pictures of the Ribeira Sacra). We believe it is part of the strategy for inscription, with so many vines already on the world heritage list.
It is difficult to appreciate the "universal value" of this site. There is nothing truly exceptional, nor something that would not be covered by one of the already inscribed sites. But many efforts have recently been done to restore the monuments and make this place known, and I would not be surprised to see long discussions in favour or against inscription in future WHC meeting(s).
---
Community Likes
Site Info
Full Name

The Ribeira Sacra, Lugo and Orense

Country

Added

Type

Cultural

Categories

Link
Site History
2021

Requested by State Party to not be examined

Was recommended for Not Inscribe
1996

Added to Tentative List
Visitors
23 Community Members have visited.