Wood Buffalo National Park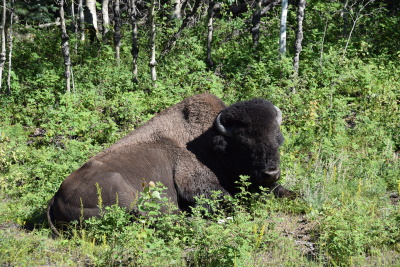 .
Wood Buffalo National Park is the largest national park in Canada, established in 1922 to protect the world's largest herd of free roaming Wood Bison.
Their population is currently estimated at more than 5,000. It is also the only known nesting site of whooping cranes.
It was designated a World Heritage Site for the biological diversity of the Peace-Athabasca Delta, the world's largest inland delta, as well as the massive population of wild bison.
Map of Wood Buffalo National Park
Legend
Community Reviews
---
Emilia Bautista King, U.S.A. 27-Jun-06
Wood Buffalo National Park is the second largest national park in the world (the first being in Greenland) and it just boggles my mind that the park only receives 9,000 visitors a year. I know that it is an effort to get there. We drove for 17 hours from Jasper National Park in Alberta to Wood Buffalo's entrance in Fort Smith, Northwest Territories. We were greeted by friendly Parks Canada staff at the visitor centre and watched an informative video on the park's scenic and varied landscape. Due to time restrictions, we only visited the Salt Plains, where the World Heritage site plaque is located. This unique ecosystem supports a variety of wildlife, including bison, moose, bears, wolves, and waterfowl.
Wood Buffalo National Park is also known to have the largest population of roaming bison, as well as the largest population of whooping cranes in the world. The entrance to the park is free, which is another reason to visit! When you go, make sure to go around the town of Fort Smith, where the indigenous people like the Metis will provide you with any information about the park and surrounding areas. Also, be careful driving on the gravel roads on Canadian Highway 5, which leads you to the entrance to the park. I was sad to learn from a local that the park only receives $70,000-$80,000 a year from Parks Canada to help with the maintenance of the park. This is absolutely not enough, considering the size of the park and the fact that Jasper National Park receives this amount of money DAILY! I was even more surprised to hear that the park does not receive any funding from UNESCO as a World Heritage Site. Therefore, do this park a favour and do yourselves a favour: visit Wood Buffalo National Park and journey on the road less travelled!
---
Community Rating
Community Rating 4.00. Based on 1 votes.
Your Rating
Site Info
Full name: Wood Buffalo National Park
Unesco ID: 256
Inscribed: 1983
Type: Natural
Criteria: 7 9 10
Site Links
Unesco Website
Official Website
In the News
Connections
The site has 12 connections. Show all
Visitors
8 community members have visited Wood Buffalo National Park.