Western Caucasus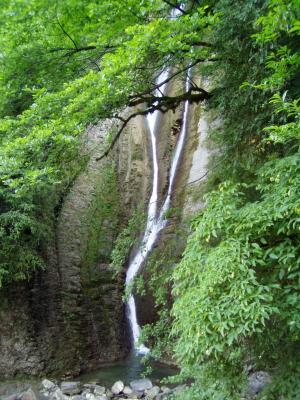 The Western Caucasus is one of only two large mountain areas in Europe that has not experienced significant human impact.
Its habitats are exceptionally varied for such a small area, ranging from lowlands to glaciers. It's also a centre of plant diversity. Fauna includes wolf, bear, lynx, wild boar and the reintroduced European bison.
Community Perspective: Iain managed to enter two of the included parks, but did not get far. Martina visited the same two and recommended Adygea for a good local experience. The most accessible component lies near Sochi, and Alexander seems to have found the easiest way in.
Community Reviews
---
On our weekend trip to Sochi on 30 June 2018 to watch Uruguay-Portugal game, we visited Zoo in Laura (close to Krasnaya Polyana). This Zoo is a part of inscribed Caucasian State Nature Biosphere Reserve. A number of animals from Caucasus is well represented here, including mountain bison, lynx, wild forest cat. black griffon and many others. At the time of visit they were also arranging a new cell for very rare Asiatic leopard, which will arrive soon. There is also information centre about the Reserve and also booking and entrance point for a number of ecological hiking trails inside the Reserve. The trails (about 15 in total) vary from 1 hour to 6 days, those lengthy ones have to be pre-arranged in advance (and some close to borders also require special permit from Security Service). In order to properly visit the site I think it would also be advisable for the future to take some hikes inside the Reserve.
---
Russia's natural beauty is something to behold. Even though I'm not a fan of hiking myself and I much prefer city landscapes, after being dragged kicking and screaming, and, sometimes even crying (hello Avachinskiy volcano), I would stop, marvel at the beauty around me and appreciate something much older and bigger than myself.
This WHS comprises of several sites. We visited the Caucasus Nature Reserve from two sides: once from Krasnaya Polyana near Sochi and once from the Adygea Republic. The first visit was during our summer visit to Sochi and Abkhazia. The trip to the grounds of the Nature Reserve was surprisingly easy: you take the ski lift to Gazprom ski centre in Krasnaya Polyana and then either hike to the grounds of the park, or if you're super lazy like me, ride on a horseback. It's an hour-long ride at a comfortable pace and no particular horseriding skills are required - the horses are trained to follow the horse-behind in frot of them.
The next time we explored it better, through a weekend trip to Adygea. We spent two nights in Guzeripl' and entered the core zone from there. Apart from forest trails there are also old dolmens and a museum. Then we rode to the other side of the mountain and hiked around Lago Naki plateau. Bear in mind that Russian natural trails aren't very well marked so either get someone who knows their way, or be prepared to get lost. In that case, know how to kill a bear with your bare hands, navigate using only the moss on trees and stars as your guiding points and how to survive in the wild. The trail markings in Lago Naki particular are very vague, pointing you in some kind of general direction with no trail visible - you make your own way as you go.
Fortunately we managed to return to our car in one piece and with beautiful pictures. So which one to choose? Sochi if you're looking for more tourist-friendly option with other places to see while you're there. Day trip to Abkhazia is highly recommended, just bear in mind you have to have a double entry visa. Unfortunately, Sochi has become much more expensive in last two years due to popular demand. Homestays in Krasnaya Polyana village intead of expensive hotels in Roza Khutor or Esto-Sadok are a good budget option. There's a regular train connection between Sochi Airport, Adler and Krasnaya Polyana/Roza Khutor. Taxis are also reasonably priced.
Adygea is a good budget choice that provide the most local experiece you can get. Krasnodar is the main transport hub, from there you can get to Maykop easily and from there take a taxi or marshrutka. We rented a car in Krasnodar airport and drove ourselves. Also, note that local supermarkets (look for Magnit in particular) have the local Krasnodar wine Fanagoria in stock. It's dirt cheap (3 euros per bottle) and the payoff is fantastic. From red ones, go for the Georgian Saperavi variety, Aligote when you're more into white and take their Brut sparkling wine whenever you see it available, it's great! And make sure to visit the Rufabgo waterfalls on the way, the easy hike or more strenuous walk takes about an hour and the views are beautiful!
---
UNESCO describes this site as "...one of two large mountain areas in Europe that has not experienced significant human impact." And I can vouch for that. This human found it very difficult to have any impact on it.
In 2011, with wife Freda and son Euan, I based myself in Sochi for a few days as we tried to find a way into this vast area from the southern side. We went north by bus to the end of the line at Krasnaya Polyana and from there took a cable car up the mountain. From here we could see (within the WHS) beautiful green mountainsides topped by grey rocky crags but we could not get amongst them. Whether even this is possible now I do not know as the area will have been transformed by the works undertaken for the 2014 Sochi Winter Olympics.
For 9 of the last 10 years the site has been the subject of reports to the WHC because of threats to its OUV. These threats usually arise from the activities of some branch of government for example, road building or tourist development, or are, at least, officially connived at, for example, logging and grazing of livestock. The WHC has threatened to threaten the relevant authorities with placing the site on the Register of WHS in Danger and the relationship with UNESCO remains difficult.
In June 2016, alone, I approached the area from the north in a hire car picked up when I arrived at Krasnodar airport. I stayed the night in Dakhovskaya and next day early drove to Guzeripl where there is an entrance to the park and a small Visitor Centre. Here, in the forest I came to a fork in the track and chose what seemed to be the road less travelled. This led for several hours, during which time I saw almost no-one, through beautiful green trees in dappled sunshine till I judged I must turn back if I was to have time to investigate the other branch of the track. This soon led, alongside a swiftly flowing stream, to a small, not very interesting, museum and a kind of dolmen erected over some large rocks.
On the basis of this little excursion I would not say I have gained any substantial knowledge of the site. I found almost no useful literature at the site and signing was poor. However I am disinclined to spend any more of my declining years trying to penetrate it and with a clear conscience I stake my claim to be one of the first of Els' people to visit this site
---
Site Info
Site History
2004

Not approved

Extension not approved: recommends a comprehensive assessment of the Western Caucasus to identify all potential sites that may merit inclusion in a serial World Heritage site
Site Links
Unesco Website
Official Website
In the News
Visitors
29 Community Members have visited.